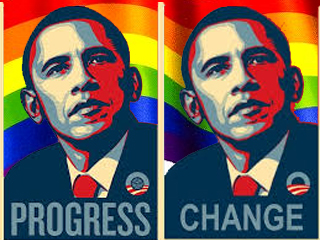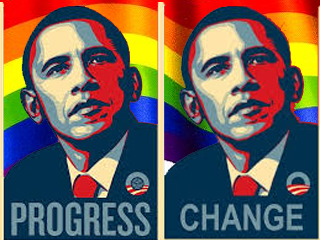 Today, President Obama told the press that he will take Executive action in order to end discrimination against the LGBT community on the work floor. 16 million Americans working in one way or another for the Federal government will no longer have to go to work each morning fearing that they may be fired simply because of who they love. The decision came after Republicans in the House continued to block the Employment Non-Discrimination Act (ENDA), bill introduced by Rep. Barney Frank (D-MA) in April 2011.
As a June 2011 poll from the Center for American Progress has shown, 73% of likely voters support the bill, support that, moreover, cuts across political party affiliation, as 66% of Republican voters agree with workplace nondiscrimination laws for gay and transgender people (http://americanprogress.org/issues/lgbt/news/2011/06/02/9716/polls-show-huge-public-support-for-gay-and-transgender-workplace-protections/ ).
Once again, Republicans are doing EXACTLY the opposite of what a majority of their own base wants them to do. And once again, they hope that ignorance will allow them to nevertheless keep their job, as 9 out of 10 Americans don't even realize that in the 21st century you can be an American citizen and nevertheless be fired because of your sexual orientation. The vast majority of Americans believe that the Constitution itself makes such a blatant inequality before the law totally impossible. They are wrong, the GOTP knows it, and they prefer to cultivate this kind of inequality rather than to do their job and represent the people who elected them. Which is just one more reason why, come November, we should ALL stop voting along party lines and start looking at the record of our Reps and Senators, and replace every single Congressman and woman who consistently refuses to allow the majority a vote in Congress.
That being said, it's NOT just Republicans who are to be blamed. It is well-known that part of the progressives in this country tend to stay home during congressional elections, allowing a minority of ultra right-wing citizens to dictate the balance of power in Congress, and, as a consequence, the nation's legislative agenda. And WHY are certain progressives doing so? Because they tend to spontaneously believe the big headlines on 'progressive' newsblogs such as the Huffington Post, which have a reputation for cultivating cynicism.
The headline announcing Obama's most recent Executive Order is only the latest illustration of that phenomenon. This afternoon, the HP wrote:
"At last: Obama taking action on LGBT discrimination" (www.huffingtonpost.com).
A headline like that suggests that during his more than five years in office, he didn't do anything about LGBT discrimination yet, idea that is completely false. Here's a comprehensive list of all the LGBT achievements of the Obama administration:
http://www.whitehouse.gov/sites/default/files/docs/lgbt_record.pdf
Of course, repealing DADT was only ONE of those achievements, even if it may have been the most 'spectacular' one until now.
The idea that Obama did NOT do anything on LGBT equality is something that the HP has been suggesting almost from the very beginning of his first term. The same goes for his record on job creation. At the very moment that the historic decisions taken by President Obama (the biggest stimulus package in history, for instance) were producing its first effects, the HP was eagerly joining the GOTP choir that was all of a sudden crying 'Where are the jobs?'. The only big issue that the HP immediately got right was Obamacare. So WHY did they fail to see the truth when it comes to jobs and LGBT rights?
To me, the main reason why the HP often reacts in a very cynical way to things happening at the White House or on Capitol Hill, is because they lack a CLEAR conception of HOW progress can be made in a radical, non violent, democratic way. Many Republicans don't have any idea of this kind of 'strategy' neither, nor do part of America's progressives. As a consequence, each time 'Washington' is taking a SMALL step forward, they cannot but become even more desperate, fearing that if it's a matter of small steps, we'll never get to the finish. But that's forgetting that people like Saul Alinsky, the intellectual father of community organizers, belonging to the great philosophical school of Chicago 'Pragmatists' (together with William James, John Dewey and others) have shown that the ONLY way to get to the finish is to have the courage and the guts to go standing in the mud and fight hard in order to achieve one small step after the other, all while keeping your eyes on the finish and not letting yourself be discouraged by those who stand at the sideline and start yelling as soon as you're trying to move forward.
It's because people don't see HOW step by step change can result in a radical AND perfectly democratic revolution, that they react in a cynical way each time such progress is made.
The Huffington Post is led by a former Republican turned into a 'progressive'. Maybe Arianna Huffington should study the books of community organizers a little bit more, if she really wants to THRIVE as a progressive, and use a newsblog to allow Americans to create a more vibrant and thriving democracy.