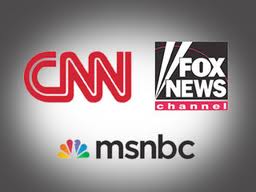 Thanks for coming, have a seat. I wanted to talk to you about your cable news stations. I've just had them in for an examination and I have something difficult to tell you so please prepare yourselves. Your cable news stations are suffering from Alzheimer's Disease.
You may or may not have noticed some of the symptoms, telling the same stories hour after hour, day after day as if they've never told them before. They become fixated on small things, have bouts of fantasy about what might be happening at a given time or in the future and seem incapable of being a part of a rational conversation.
I know you care about your news. Sometimes when you're really close to something, you find ways of rationalizing away the signs of decline. You might have told yourself, my tv news is just a little confused or it's just having a bad day. However, when you look at the big picture of its behavior over a long period of time, putting aside your desire for tv news to remain competent year after year, the sad truth becomes quite plain.
While I was examining CNN, it became caught in this conversational loop, talking about a Malaysian plane and how it was missing. No matter what questions or comments I made about things that were actually happening today, it just kept repeating and embellishing on stories about a plane being missing. One moment it was talking about the cause being terrorists, aliens or black holes swallowing the plane up, next it was having a running conversation with itself, asking itself what it thought about the thoughts it had about the plane. It was a convoluted and confusing discussion with no real purpose but it seemed to make perfect sense to itself. CNN also seemed wholly unaware that it was drooling the whole time and interspersing shouts of, "Where's my money?" throughout it's rambling conversation.
When I walked into the examination room Fox News was waiting in, it was facing the smallest corner of the room with a distant, angry look in its eyes while chanting "Benghazi!". I attempted to engage it in a conversation but it kept shutting me off with exclamations of "Pinhead!", instead espousing one paranoia-based conspiracy theory after another, often blaming "females" "heathens" and "coloreds" for plotting against them and causing all the ills of the world throughout history. Fox would exhibit flashes of hostility when anything it said was challenged. It began hording whatever supplies it could find in the drawers and cabinets, claiming, "That's mine!" and "You can't take this away from me!". Quite by accident, I found that by giving it a piece of extra white bread that it could suck on, it became more docile and submissive.
While I was in Fox's examination room, I could hear MSNBC pounding on the connecting wall and by the time I actually got in there, its face was flushed and it had worked itself into a lather, with an actual froth around its mouth. It kept repeating all of the angry exclamations that it heard Fox making and was furiously shaking its head, "It's a lie! They're liars! They lie!". I did my best to convince MSNBC that I had heard what it said and thought but hour after hour, it just kept repeating what it claimed were terrible lies then denounced them as such. MSNBC would have almost identical lengths of lucid periods in which it could express cogent thoughts but they were immediately followed by 30 second statements that came off as devious and dishonest, stating just the opposite of what they were stating at length just moments before. There was disorientation as well, it would present it's right hand but would call it "Left". As I was leaving the room, MSNBC looked up at the ceiling and started smiling and waving. I asked it who it was waving to and it said, "My shareholders!"
My recommendation at this point is not to institutionalize your cable news networks but keep them in a protective environment to give them full time care they need and so they're not a danger to themselves or anyone around them. Also, they should never be left alone as if they could be responsible for making good decisions on their own.
I wish you all the best with your cable news stations. Just remember not to take anything they say too much to heart, especially the more hostile words, it's just part of their disease.