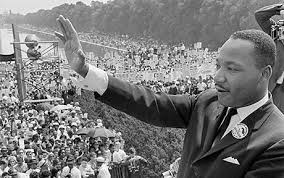 The difficulty of the struggle Martin Luther King undertook against racism and for equality is so poignant all these decades later. Today we confront the open racism of the anti-Obama Republicans, their spite towards the poor and their hatred towards immigrants and those of other-than-Christian religions.
As bad as we may feel it is today, Martin Luther King confronted much more violent and widespread racism and stood up in the face of it despite the personal risk. The movement he led for civil rights put his and his colleagues under threat on a daily basis, they accepted the dangers and possible sacrifice as the price they were willing to pay to make the lives of millions of others better, then and in the future. There can't be a more noble life than one dedicated to such selfless work.
The courage and commitment to conscience Martin Luther King demonstrated resonates forward through us as a people and our nation's history. Who he was and what he accomplished remains remarkable and inspirational. Many of the battles he fought against those who are the philosophical parents and grandparents of the prejudiced people we see today in the GOP remain as guiding lights to those fighting for equality today. Though taken from us, he continues to be a beacon of morality and humanity.
It is a tribute to the nation to have come together to set a day aside as a holiday to commemorate this remarkable man and the invaluable contribution he made to our country. Such people rarely walk the Earth, they should be appreciated and revered but most importantly, kept alive through words and actions that reflect the value and dignity he believed that each and every human being deserves.
Happy Martin Luther King Day!