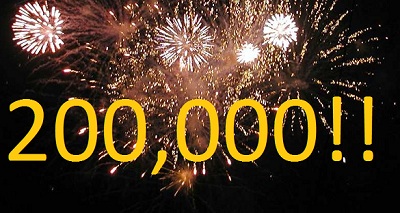 Last evening, unbeknownst to her, Choicelady posted the 200,000th comment on PlanetPOV!  A big congratulations to Choicelady and to all of our wonderful members who have contributed their insights, creativity, opinions and humor more than 200,000 times here at The Planet.
Here is a link to our 200,000th comment by Choicelady.
To celebrate our reaching this threshold, we are sending Choicelady one of our highly sought-after Morning Blog mugs. We are also holding a Comment Contest. You're invited to post below about your favorite PlanetPOV posts and/or comments and we will enter all those who post a comment below in the contest, randomly picking a member's name out of a hat and awarding them a brand new Morning Blog mug (they make your coffee taste even better!).
A free Morning Blog mug just for posting a comment below? Yep, it could be yours! What are you waiting for?
Once again, we're so grateful to all of our members for bringing The Planet to this remarkable orbit! You're the most appreciated bloggers in the universe!!!