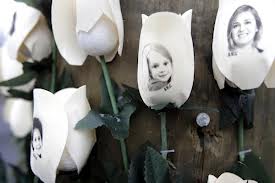 There are around 35,000 Americans killed every year in this country by guns, 1 million Americans have been killed by guns since 1980.
4 Americans were killed in Benghazi, Libya last year by foreign terrorists.
Guess which number of deaths are an outrage to Republicans? Yep. This is how you do Republican math (you don't even want to know how to do Republican science, it involves the Bible and a DVD of "The Best of the Flintstones"):
If 1 million American deaths are caused by products from an industry that finances our election campaigns

and

If 4 American deaths can be used for political purposes to attack a President and potential President from the other party

then

4 > 1,000,000
It really is "simple math" (by simple-minded people). For many Republican politicians, there is a rulebook as to which American lives matter and which Americans' deaths are of no importance. The single principle of the rulebook is, "If they further our quest for power, deaths matter. If they don't, they don't."
So it was a no-brainer (or as known in Republican circles, a "Gohmert") for Republicans to vote against background checks, an assault weapons ban and a gun magazine limit. And it was just as easy for them to continue to be "outraged" by the deaths of four Americans in Benghazi.
But it's not unique to those two issues. All down the line, it's the same story.
Republicans will howl self-righteously against abortion, quoting The Bible and the Ten Commandments that "Thou Shalt Not Kill"…while they coincidentally benefit from affirming and energizing their Right Wing Religious base but when it comes to the death penalty, well, they discover an asterisk to that inescapable commandment from God (He needed a better lawyer when he was drafting the Ten Commandments to close off the loopholes).
Here's a section of the above mentioned Republican checklist for deaths of Americans that matter and don't matter:
Republican Checklist – Deaths That Do and Don't Matter

DEATHS THAT MATTER
WHY
DEATHS THAT DON'T MATTER
WHY
4 killed in Benghazi
Could have helped ruin Obama's re-election, undermine his second term  and harm Hillary's campaign for President.
1,000,000 killed in the U.S. by guns since 1980.
Campaign checks from the NRA always have the intoxicating aroma of spent gunpowder.
Imagined elderly deaths from "Obamacare" death panels.
As Sen. Jim DeMint said, if Republicans can beat Obama on this, it will be his Waterloo and break him.
45,000 American adults and children dying annually due to a lack of health coverage
Campaign checks from the health insurance industry come with a gift box of Oxycodone.
Embryos that may or may not grow into people.
Our Right Wing religious base says they matter so to fire them up to vote Republican, we do too.
6,518 Americans in the U.S. Military killed in Iraq and Afghanistan (41,000 wounded and up to 200,000 non-U.S. civilians)
Campaign checks from the U.S. Military Industrial Complex help us build Campaign Defense Shields.
Terminal patients living each day in agony
All life is sacred (ain't that right Religious Right?).
Criminals sentenced to the death penalty
Campaign checks from the U.S. Prison Industry come with Get Out of Jail Free cards (and it makes us look Tough On Crime).
What may be a bit ironic is that it was Republicans who exaggerated fear over the Affordable Care Act ("Obamacare") by claiming a group of people would decide over which Americans' lives mattered and which didn't.
It seems now that their outrage may have been more that of professional jealousy.