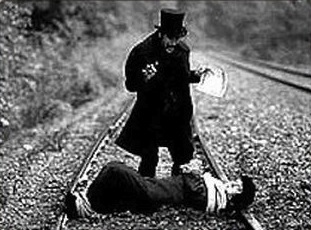 If you've been keeping up with The Perils of Bobline, when we last left Bob Woodward, he was tied up and left on the railroad tracks by the evil Snidely Obama who threatened him that if he didn't pay the mortgage, he would foreclose on his publishing house and let the train run over him.
In response, Bobline cried out in a high pitch, "Help! Help! Oh please, someone help poor little growing irrelevant me!"
But it was too late, the train of media opinion ran over the melodramatic Bobline and his professional credibility was killed.
Poor Bobline Woodward. Many years ago he used to be relevant and meaningful in the world of journalism. Now, he's the equivalent of a 1980's sitcom star trying to do anything he can to get on "Dancing With the Stars".
In an attempt to get the attention he used to receive in his past glory days, Woodward trumped up an exaggerated story to try and reapply the image of Brave Journalistic Crusader Threatened By Presidents.
The problem is, since his charges are dishonest, he has instead cast himself as, Hysterical Cowardly Old Has-Been Who is Desperate For Attention.
Here is the situation in a nutshell:
Some members of the press and others took to Twitter to joke about Bob Woodward's claims of being "threatened" by the White House, saying that the full text of the emails don't back up the Washington Post reporter.
http://www.politico.com/story/2013/02/media-others-tweet-on-bob-woodward-88234.html#ixzz2MDZDP200
Here is the full email exchange courtesy of Politico:
From Gene Sperling to Bob Woodward on Feb. 22, 2013

Bob:

I apologize for raising my voice in our conversation today. My bad. I do understand your problems with a couple of our statements in the fall — but feel on the other hand that you focus on a few specific trees that gives a very wrong perception of the forest. But perhaps we will just not see eye to eye here.

But I do truly believe you should rethink your comment about saying saying that Potus asking for revenues is moving the goal post. I know you may not believe this, but as a friend, I think you will regret staking out that claim. The idea that the sequester was to force both sides to go back to try at a big or grand barain with a mix of entitlements and revenues (even if there were serious disagreements on composition) was part of the DNA of the thing from the start. It was an accepted part of the understanding — from the start. Really. It was assumed by the Rs on the Supercommittee that came right after: it was assumed in the November-December 2012 negotiations. There may have been big disagreements over rates and ratios — but that it was supposed to be replaced by entitlements and revenues of some form is not controversial. (Indeed, the discretionary savings amount from the Boehner-Obama negotiations were locked in in BCA: the sequester was just designed to force all back to table on entitlements and revenues.)

I agree there are more than one side to our first disagreement, but again think this latter issue is diffferent. Not out to argue and argue on this latter point. Just my sincere advice. Your call obviously.

My apologies again for raising my voice on the call with you. Feel bad about that and truly apologize.

Gene
===================
From Woodward to Sperling on Feb. 23, 2013

Gene: You do not ever have to apologize to me. You get wound up because you are making your points and you believe them. This is all part of a serious discussion. I for one welcome a little heat; there should more given the importance. I also welcome your personal advice. I am listening. I know you lived all this. My partial advantage is that I talked extensively with all involved. I am traveling and will try to reach you after 3 pm today. Best, Bob
And here is the soap opera, "Oh my word! I'm gettin' the vapors, I may faint!" portrayal of that exchange by Woodward (also courtesy of Politico):
"It makes me very uncomfortable to have the White House telling reporters, you're going to regret doing something that you believe in."

"Come on, I think if Obama himself saw the way they're dealing with some of this, he would say, 'Whoa, we don't tell any reporter 'you're going to regret challenging us.'"

They have to be willing to live in the world where they're challenged. I've tangled with lots of these people. But suppose there's a young reporter who's only had a couple of years — or 10 years' — experience and the White House is sending him an email saying, 'You're going to regret this.' You know, tremble, tremble. I don't think it's the way to operate."
http://www.politico.com/story/2013/02/woodward-at-war-88212.html#ixzz2MDcq1dIQ
And where is Woodward running to today to show off his new hair-on-fire hairstyle while shouting, "The President's comin' to get me!"? Sean Hannity at Fox News.
Unknown to Bob "Hyperventilation" Woodward, PlanetPOV has obtained a couple of other emails which he has also represented as threatening. Decide for yourself:
From Local Girl Scout Troop 172 to Bob Woodward:

"Hi,

We're having our annual cookie sale and we hope you'll want to buy our delicious cookies again! Buy them soon or it may be too late for you to get them since we do run out.

Thanks!

Sincerely,

Girl Scout Troop 172"
=======================
Response from Bob Woodward to Bill O'Reilly at Fox News:

"Unfortunately, I can't see this as anything other than intimidation and a veiled threat from Girl Scout Troop 172, saying that "It may be too late for me." Fortunately for me, I've been to this rodeo before but had another younger and more promising reporter received a heavy handed threat like this, they would probably have stabbed themselves in the chest with a machete and jumped out the window of a high rise into a wood-chipper."
Here was another email:
From Society For Good Homes For Puppies to Bob Woodward:

"Dear Mr. Woodward,

Our group is dedicated to the protection and happiness of puppies. We are hoping that due to your previous interest in our group, you may be interested in giving one of our cute and cuddly puppies a home. We could contact you by email with details on available puppies or else you could come to our shelter to meet our puppies and play with them. Many are already housebroken and would make loving pets.

Thanks for your consideration,

Society For Good Homes For Puppies"

Response from Bob Woodward to Washington Times:

"What I have to admit is a bit threatening here is their use of the phrase "or else". Or else what? Sure they cover their tracks by saying one thing but there is a clear attempt at using fear to silence me by both this organization and the puppies themselves. Trying to lure me into some kind of shelter where animals are locked in with me is intimidation, pure and simple. And they can try to threaten me about puppies breaking into my house but I'll get a restraining order against those puppies, they'll never lick me!"
We are currently seeking to uncover the email from "The Alliance of Kindly Loving Grandparents Who Like to Give Money as Birthday Presents" to see how it squares with Woodward's claim, "They are a vicious hate group bent on seeing me gagged and waterboarded…after being choked unmercifully with hard candies."