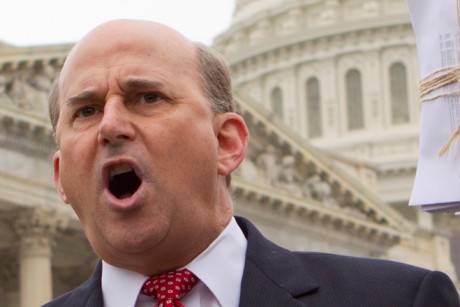 The horrible tragedy of the shooting in Colorado is barely twelve hours old and yet a disgusting excuse for a human being exploits them for his own agenda. Rep. Louis Gohmert of Texas rushed to stand on top of the dead and wounded in Colorado and proclaim that the true victims in all of this are himself and the religious extremists of the Right Wing:
"You know what really gets me, as a Christian, is to see the ongoing attacks on Judeo-Christian beliefs, and then some senseless crazy act of terror like this takes place."

"Some of us happen to believe that when our founders talked about guarding our virtue and freedom, that that was important. Whether it's John Adams saying our Constitution was made only for moral and religious people … Ben Franklin, only a virtuous people are capable of freedom, as nations become corrupt and vicious they have more need of masters … We have been at war with the very pillars, the very foundation of this country.

"People say … where was God in all of this? We've threatened high school graduation participations, if they use God's name, they're going to be jailed … I mean that kind of stuff. Where was God? What have we done with God? We don't want him around. I kind of like his protective hand being present."
http://www.usnews.com/news/articles/2012/07/20/congressman-gohmert-says-colorado-shooting-linked-to-attacks-on-christianity
Not one iota of compassion for those whose lives were so terribly taken, not one crumb of empathy for the wounded or the families of those who were attacked. The deaths of innocent people are only deserving of being exploited to further their own extremist agenda. Welcome to the Dominionist Christianity of the Religious Right. It is a travesty of Christianity and the message of peace, love and compassion that was central to the teachings of Jesus.
This cult version of Christianity instead obsesses about dominance, hatred and the triviality of the lives of any who aren't directly supporting or promoting their goals. It is a form of Christianity that packages up all of the traits of their alleged adversary, The Devil, and coats them with a sweet veneer of victimhood, self-righteousness and superiority that makes it easy for them to swallow all that nastiness and keep it inside of them in the name of "faith".
Consider the image of God that Gohmert portrays. Either God is Tinkerbell, who needs our constant applause to have the power to save us from all natural and man-made disasters or he is a petty, selfish teenager who lets people die as a way of getting even with their society for saying "Happy Holidays" instead of "Merry Christmas".
So the Dominionist Christian God is in essence, an insecure, vindictive asshole. In their case, they have apparently created God in their own image.
According to Gohmert's way of thinking, God intentionally allowed innocent people to be killed because He was pissed off that he isn't being praised enough at high school graduations. That'll teach us! And the flip side of what Gohmert is saying is that if we praised his twisted version of God at graduations and let cities put Nativity scenes on government property at Christmas, God will become a superhero who will swoop down and protect everyone from everything bad. Aside from these religious zealots, what human being above the age of three would believe such a ridiculous scenario?
If insanity was a religion, the Dominionists would be out of business…or be taken over in a merger.
It's not hard to recognize how this religion of hate seems so intertwined with the GOP, they share a hunger for power at any cost. The Dominionist Christians, the Republicans and their standard bearer Romney display "Christian values" that are instead most of The Seven Deadly Sins. In The Book of Proverbs, King Solomon describes the Seven Deadly Sins as:
A proud look.
A lying tongue.
Hands that shed innocent blood.
A heart that devises wicked plots.
Feet that are swift to run into mischief.
A deceitful witness that uttereth lies.
Him that soweth discord among brethren.
http://en.wikipedia.org/wiki/Seven_deadly_sins
How can any reasonable person not see all of these traits in the GOP, Romney and the Religious Right, as part of the core of who they are and what they do?
A poignant question would be, do any of them truly believe in God? Aren't they perhaps more atheistic than Christian? If one truly believed in God and The Bible, would one commit so many terrible acts knowing that they could keep them from going to Heaven? Or…wouldn't doing such immoral things reflect that one has no concern of ever having to pay a price for them in an afterlife?
It is impressive that those on the far right have been able to act so immorally while simultaneously being able to hide behind a facade of Christianity. This dichotomy seems so obvious that one would think there would be a greater outpouring from true Christians against the exploitation of their religion by those who demean it through their actions and representations, all in the pursuit of those very Jesus-like traits, grabbing as much wealth and power as possible.
A great example of this is how a group of Catholic nuns have come under attack by The Catholic Church for focusing on the poor and the welfare of human beings instead of attacking American society on abortion and gay rights…because this is what Jesus would have wanted.
Religion and politics have always been entwined to one degree or another. Theocracies were the original governments (and what Gohmert and his ilk are determined to bring back). Democracy has existed along the way but is always in the cross hairs of the power hungry, including the wealthy and the rabid religious fanatics…which is one key reason why they make such a solid coalition in the GOP.
I think atheists and religious people would both appreciate a revival of basic principles in our society, the same ones that are the basis for most religions. Love, compassion, helping those who are in need, treating each other as we would like to be treated, those with more sharing with those who have less and respect for all human life.
When a tragedy like this horrible shooting in Colorado occurs, we should be able to come together as one people, one society and offer our hearts to our neighbors and their families who have been so terribly harmed. Faith should be a path towards being a better person and bringing about a more compassionate and just society. Those who use "their" God and religion to inspire division and hatred, in their single-minded pursuit of power are undeserving of being validated as people who have any connection to spirituality. These are all traits of greed and there is nothing divine about that destructive trait.
For these types, the old Gordon Gekko phrase just needs a little tweak, "Greed is God."
For the rest of us, those with religious beliefs and atheists alike, such obscene human beings as Louis Gohmert and others like him who use religion only as leverage to pursue their own selfish goals, should bring us together to publicly condemn them as the frauds and hypocrites they are and affirm that we can and need to share values that represent what is best in us as human beings.