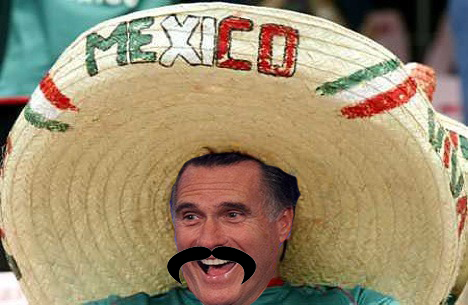 The Mainstream Media's financial stake in trying to keep the Presidential race close may explain why the most damaging gaffes by Mitt Romney about the Latino community have been kept out of the news but thanks to a mole in the Romney camp (as opposed to the weasels in it), PlanetPOV has exclusively obtained a list of  them. Here they are:
ROMNEY: "I like Mexicans food, it's just the right taste. My wife and I often have a case of dillas, typically with cheese."

ROMNEY: "I'd like to begin with a traditional greeting for my Latino friends that I learned when I was a child, "Ay yi yi yi, I am the Frito Bandito."

ROMNEY: "I know what a hardship it can be, being Latino instead of white. My car elevator attendant has shared stories with me of the hardship he's had to endure, on nearly every one of the seven days a week he works for me."

ROMNEY: "Out of respect for our Latino friends out there, I remember the Alamo only in quiet rooms."

ROMNEY: "I won't speak long this afternoon, I know it's about the time you all take siestas under your comically large sombreros."

ROMNEY: "What's this item on your menu? 'Burrito'? It's not a problem, my father was born in Mexico so I can speak a little Spanish, I'll have the 'little burro' for lunch with extra jew-wack-a-mole. What's that? Oh yes, guacamole."

ROMNEY: "If you, the Hispanic community, elect me President, I will get rid of all government regulations against leaf blowers!"

ROMNEY: "Bwana Nachos! It's great to be here tonight with so many people who have bravely chosen to be Hispanic!"

ROMNEY: "You know, my favorite cartoon character was always Speedy Gonzales. As an amusing Latino rodent who was constantly being chased by fat cats, he was a great introduction for people like me to your community."
Word has it that there are many more Romney gaffes about the Latino community that will come to light soon. As always, PlanetPOV will keep you updated!