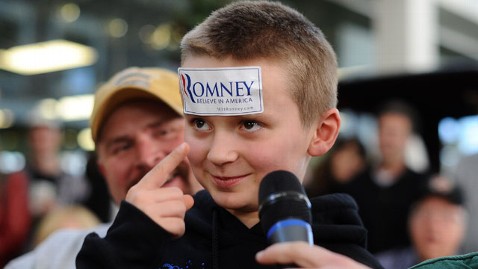 On the heels of the news that the Romney campaign's foreign policy adviser, Richard Grenell, was forced out due to pressure from the Religious Right over his being gay, comes today's revelation that Romney's key strategic campaign adviser is an eight year old boy, Wyatt Dorfman.
Mitt Romney discovered Dorfman during a campaign stop in New Jersey when he caught him scratching a key into his limousine to write, "Kiss my but! (sic)". Caught red handed by Romney in the midst of the act with the key in hand and scraped off paint on his sleeve, Dorfman proclaimed to Romney, "I didn't do anything! It was already like that!"
"Something about that kid struck a chord with me, I'm not sure what it was," Romney explained after forcing a chuckle for over a minute. "And by the time he got around to accusing me for having done it, and he was very convincing, he'd really won me over."
Romney said that through this exchange, he was instantly convinced that he had found a diamond in the rough, the ideal person to be groomed as his campaign strategist. "A political campaign is just like a schoolyard fight and who better to have in your corner than a school boy?" Romney explained in a pleasant while detached voice.
Even though he's only eight years old, Dorfman comes with quite a history. He's been suspended from school half a dozen times for reasons that include stealing lunch money from kids, picking on smaller children, lying to his teacher and insider trading. Most of his classmates describe Dorfman unfavorably, as a bully, a liar and mean to girls. Dorfman's best friends deny all of those charges and insist that they got all their noogies, wedgies and Wet Willies by accidentally falling down the stairs at home.
Romney swiftly brought Dorfman on board and the two became a solid team. When asked what initial political advice he had for Romney, Dorfman replied, "Um, first I told him that if you did something or said something that you'd get in trouble for, you gotta just smile and say you didn't do it. Then I told him, if someone keeps calling you a liar, you just say, 'I know you are but what am I?' or 'I'm rubber and you're glue, what you say bounces off me and sticks to you!"
Romney chuckled, "It may sound silly at first but once we rolled it out, we were really impressed at how effective this strategy was. Oh, did I chuckle yet?"
Dorfman went on to describe his political strategies, "When you want kids to like you more than another kid, you gotta make up lies about him so everyone at school thinks he's a jerk. And ya gotta do a lot of them so kids will think at least one of them's gotta be true. Like, he wets the bed, he's wearing girl's underpants, he's an alien, he eats bugs, he's got an anti-colonial mentality, you know, that kinda stuff and you gotta keep it up every day. You also gotta make fun of everything he does. Like if he gets an 'A' on a test, you call him 'Brown Noser'. If he gets and 'F', you call him, 'Dumbo'. If he makes a good shot in basketball, you say, 'What a show off!' and if he misses a shot, you say, 'Loser!'. The main thing is, no matter what he does, you say something bad about him every day and after a while, at least some of the kids will like you more just because they like him less. It works. that's how I got kids likin' me, even the ones I do titty twisters to!"
"He's really brought our campaign up a notch, we're running in a much more sophisticated way now," Romney explains. "As Wyatt says, 'A lie is only a truth that can't be proven…and if it hurts people you don't like and saves you from getting punished, how can it be wrong?"
As time has gone by, Dorfman's role has expanded into advising on issues. He's moved Romney to the position of girls having cooties and requiring girls to carry them to full term, calling people 'gay' as an insult (or letting others do so before firing them), stealing lunch money and grants from kids at school and supporting "Stand Your Playground" laws that protect bullies from being punished when they launch preemptive attacks against younger and smaller children who they believe could one day grow up to pose a threat to them.
There are complications that go along with having an eight year old as your campaign adviser, keeping a constant supply of chicken fingers and chocolate milk on hand, setting up playdates for him with Rick Perry and Herman Cain and having to discipline the adult staff to "act their age" so they're on a par with him.
Some have called this inappropriate and even illegal child labor but Romney just laughs it off…though he does laugh before saying most things, "Either we want full employment in this country or we don't. And full employment means ending age discrimination against children. Childhood is not for every kid, we should give them the freedom to decide what's best for them. Except for the girls of course, we'll decide that for them."
Asked if he sees a Republican political office in his future, Dorfman responded, "I lie, I steal, I beat up on kids…and I can get paid for doing that when I grow up? Hells yeah!"