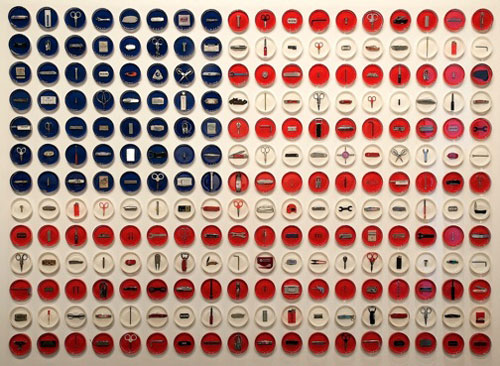 Agar is a gelatin material that's used in Petri dishes to grow microorganisms such as bacteria. When stepping back to look at American society as a whole, it seems to be submerged in a sociological agar that cultivates the growth of a bacteria that continues to eat away at the nation.
Whether it's a fair and sustainable economy, our political system, a constructive level of discourse, a sense of community, education, racial and religious tolerance, many of the aspects of America that have been points of pride in the past, continue to decline and in doing so, corrode American society.
There are a variety of "cultures" in modern day America's agar-rich Petri dish that are decaying what America is capable of being but among the most toxic is injustice.
Americans have been eyewitnesses to crimes committed by the wealthy and powerful and have seen that typically, they escape justice. Wall Street clearly robbed trillions from the world's economy through sophisticated fraud, the Bush Administration violated the Geneva Convention by using torture and violated our Constitution by secretly spying on the American people, even the Supreme Court has been an accomplice to the wealthy rigging and buying our elections…and no one pays a price.
No one goes to jail. No one is fired. No one is held responsible for their actions. At least, not when they are wealthy or politically connected.
On the other end of the spectrum, we see police let the white murderers of young black men walk free and harsh criminal sentences applied against young men of color.
We see those fervent about their superiority through religion or race given equal time and presented as "balance" against those who stand for equality and justice.
Some may ask at times why some people plan and do such cruel things to others but simply put, an unjust society is an incubator for terrible things. It creates an environment where some feel they have the right to express their own prejudices and pursue agendas that harm the many while benefiting them and the few like them. They have permission because society doesn't insist on and enforce justice as an absolute and necessary principle.
Living in an unjust America breeds a sense of discouragement and resignation among many that it is just the way things are that the wealthy are above the law and the expectation of simple human decency.
What does that do to the Petri dish of American society when injustice is virulent? Doesn't it create an ideal breeding ground for the kind of racism, intolerance, chauvinism and venomous "debate" that has become so mainstream today? Doesn't it foster the growth and broad acceptance of hateful extremism such as that which has overtaken the Republican Party? In fact, could today's GOP exist as it is if not for being in an "agar" of injustice?
If Americans witnessed on a regular basis that no one is above the law, especially the wealthy and powerful, might there not be at least some shared belief in justice and fairness amongst most Americans? And if that was the case, might there be more common ground and civility expected of each other?
Instead, in an environment where the law only applies to "the little people", living in an unjust society is eventually taken for granted by the majority and they become more accepting of seeing that reflected all around them.
By the time the Dems won back Congress in 2006, Nancy Pelosi had already promised in the campaign that Democrats would not seek to impeach Bush for crimes he clearly committed. It's easy to understand her caution, she likely was concerned that such an action could boomerang against them and generate greater support for Bush, as well as dominate their new term and keep them from accomplishing much of anything.
However, one could connect a direct line between that decision and the decline of the nation's faith in their government, let alone the rise of the racist Tea Party and the de-evolution of the GOP into a hate machine. We had a President who violated our Constitution and international law (not to mention seizing an unprecedented expansion of power for the Executive Branch) and yet, out of political expedience, the other political party chose to give him a Mulligan because of political considerations.
After that, did anyone really expect that the CEO of Goldman Sachs might go to jail for criminal acts? Or BP execs whose intentional skirting of safety rules caused a platform to explode that killed people and destroyed the livelihoods of many others?
The public outcry and protest to bring George Zimmerman to trial for shooting the unarmed Trayvon Martin was a victory that people can be proud of but consider that in 2012, the functioning of justice in this nation is so hobbled that it required a huge public groundswell just to arrest a white man for killing a black teen.
The entire GOP/Mitt Romney platform is amazingly built right on the principle of injustice. The wealthy should have more, the majority and the poor should have less and give more of their tax money to enrich the wealthy. Health Care and education should only be available to the wealthy, corporations should be free to poison most Americans and be unfettered from robbing them of fair pay and their nest eggs.
How can such injustices be so broadly presented as a viable platform to run on? Of course, the rabid Right Wingers just want Repubs to win, they're too tunnelvisioned to see they're voting against their own futures and interests but as the media presents such injustices as reasonable, many others climb on board.
It seems surreal that most all of the historic injustices exhibited throughout American history including racism against blacks and Hispanics, religious intolerance, male domination of women and their rights, the wealthy dominating the majority and their democracy, homophobia, The Confederacy's animosity and opposition to The North, all of these hateful and unjust sensibilities are all rolled into the basis of the 2012 GOP.
The media cooperates by presenting the GOP and their commitment to injustice as an equal alternative to the Democrats' views of a fairer society. Really? Prejudice is equivalent to tolerance? Greed is equivalent to fairness? Hate is equivalent to compassion?
Of course these are not equivalents and presenting them as such undermines what should be shared principles of all Americans.
Though I think it is only a weak camouflage for greed, I could accept a GOP that believed in Trickle Down economics as more viable than Keynesian economics…as long as they shared the principles of compassion for Americans who weren't among those promising to trickle down wealth. I don't think it would be a better world if there was only one party in America, there is a role for a GOP in American politics but not as a party of unrestrained greed and hate. Those are not constructive political values, they are instead what have traditionally been called sins and failings of human beings.
A number of Americans appear to be so fed up with injustice that they have become activists and rise up against them when they appear.
As Americans, we sit back and hope for our nation's economy to be repaired so we can get back to where we were. When it comes to justice, that's not the way it works. It will take the people continuing to gather behind the principles that unite us all as Americans and make it clear to the rest of our society, including the media and the GOP, that we won't accept injustice as a reasonable alternative to what is just, we won't accept having it constantly presented or proposed as an equivalent or valid position on any issue.
If there is justice for all in our economy, politics and society, many of the problems we face today as a nation could be addressed. People will accept sacrifices for the greater good when it is fair and all people, rich and poor, are asked to reach down just as deep to help. And in a society where justice prevails especially against the wealthy and powerful, there is no breeding environment for the hateful prejudice and class warfare of the current GOP.
There can be confidence again in America's government and society but not until there is a return to being a nation of laws and justice. Americans are empowered and work together in a culture of justice and fairness, they become apathetic and divided when injustice dominates.
People need to be held accountable for their actions, no matter who they are. Allowing people to be "Too Big to Jail" and refusing to apply justice due to political calculations, no matter how well intended, is a miscalculation.
Americans need to see that we have a just society, they need to have some universal values such as a sense of fairness to be able to live and work together on the big problems we face. And the huge partisan gulf in this nation needs to be bridged, greater injustice won't do that.
As a kid, I must've recited The Pledge of Allegiance thousands of times but did the meaning of the words really register? Though I'm not a rabid nationalist and not too sure about having national Pledges of Allegiance, the final part of it should be listened to repeatedly by the MSM and the GOP until it sticks:
…with liberty and justice for all.