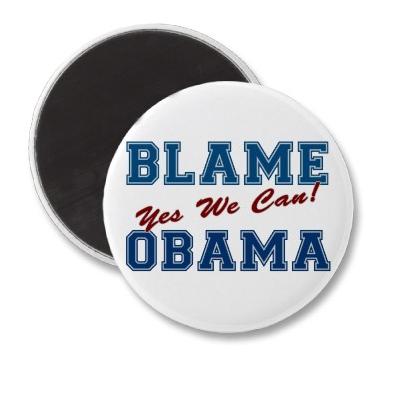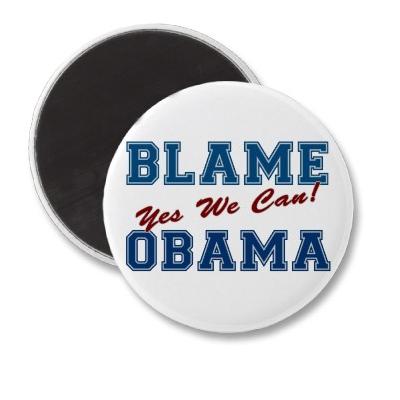 In an unprecedented move, the five major corporations which own the Mainstream Media have banded together to announce that in order to keep the Presidential race the kind of competitive contest that Americans deserve, President Obama will now be blamed for the gaffes of anyone who ever supported or voted for him.
Their press release, which they handed out to each other, details that this is not only a pro-democracy policy but a pro-recovery one.
"So far, the 2012 race for the Presidency has been very one-sided, with the eventual Republican nominee, Mitt Romney, making self-damaging statements on a near-daily basis while President Obama makes stirring speeches," explained Time Warner Executive Vice President, Dick Douchington. "This has so far led to a not very competitive race in the polls which is bad for democracy…and our ratings and ad revenue…which coincidentally means it's bad for the US economy."
"So, in order to stimulate greater viewership in our news channels, which will generate more commerce in America and strengthen the recovery while energizing our democracy, we are banding together to support a new policy that evens the Presidential playing field, " Douchington added with a brief fondling of his crotch. "From now on, we will present the statement of anyone who is a Democrat, supports or voted for Obama in the past, whether or not they have ever represented President Obama or even have met him, as statements he is responsible for."
Douchington gave an example, "For instance, an 87 year old Democrat in a retirement home in Iowa said yesterday, 'Women should go back to the kitchen and make me Wheatina.' We have instructed the hosts at our news channels to present segments today asking how this will damage President Obama among women and all Americans who prefer cold cereal and whether President Obama's delay in responding to this situation we have just that instant reported, will hurt his chances for re-election."
This is an issue of fairness, Douchington insisted. "If a professional boxer and an uncoordinated amateur boxer who keeps accidentally punching himself in the face were in a fight for the world championship, how is it fair to the promoters who need ticket sales and the fans who paid a lot watch the fight (and could sue for refunds), if it's not a close fight? You can't make the terrible boxer better so isn't it respecting the sport and the public to equalize the boxers by blindfolding the professional, tying his ankles together and shooting him with tasers whenever he gets too far ahead on points? What could be fairer than that?"
Douchington added that thanks to the tens of millions of Democrats and Obama-supporting Americans whose words appear in blogs, emails and ramblings in insane asylums, there will be a plentiful supply of damaging comments to blame Obama for from now until the November elections.
"The press has an important responsibility to the American people and our democracy," Douchington stated. "What that responsibility is, we may not know, maybe it's keeping Americans informed about how caring the oil industry is or maybe it's confusing them with false equivalencies. Either way, we make money and that's why our Founding Fathers believed in a free press."
According to Douchington, hotlines and special web pages are being setup by all news channels so the American people can participate in this celebration of democracy and increased ad revenues by reporting the "craziest-assed things" they hear from anyone anywhere who might be a Democrat.
"There is no 'too crazy'. Our industry's motto is, 'If it's hate, we bait," Douchington explained, making it clear that the Mainstream Media isn't directly referring to its pro-masturbation policy in this particular instance.