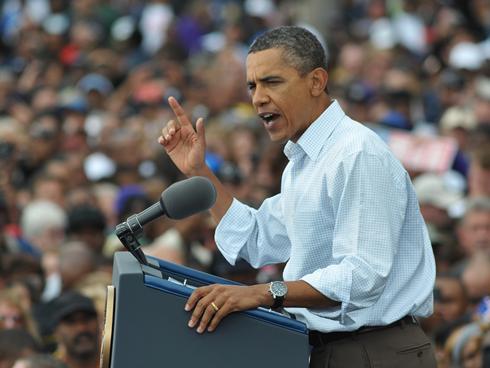 In the ramp up to the General Election, it's a good time to consider what has occurred under President Obama's first three years and how those actions could be reversed under a Republican. To begin, here's a trailer from the Obama Campaign's upcoming documentary, "The Road We've Traveled":
Clearly, President Obama's biggest accomplishment was preventing the nation from plunging into a new Depression through the passage of the Stimulus Bill and other economic decisions. Passing Universal Health Care was pretty huge as was ending Don't Ask Don't Tell and of course, tracking down Osama Bin Laden.
It's easy to lose perspective on events when one is in the midst of them but the argument could fairly be made that more profound decisions and actions have taken place under President Obama in the short span of three years, despite a viciously polarized Republican opposition, than under any other President in recent memory. And for the most part, those decisions appear to have paid off for the American People.
The propaganda from the GOP and their poor excuses for Presidential candidates proliferates the airwaves and the nation, pushing "facts" such as President Obama is a failure, he's damaged the economy and jobs, he's weak on foreign policy, etc. Though many of these falsehoods can instantly be seen as such by those who are informed or just live in reality, it is helpful to refresh one's memory of what President Obama has accomplished and what there is to protect from being erased if a Republican was to win the Presidency this November.
So, here's a partial list of President Obama's accomplishments, a subset of a much larger list of the campaign promises he made when he ran for the Presidency in 2008 and kept, thanks to Politifact (you can read details of each item and see Politifact's complete nine page list here):
Campaign Promises Kept by President Obama
Catch/kill bin Laden

Direct military leaders to end war in Iraq

Begin removing combat brigades from Iraq

Sign a "universal" health care bill

End the use of torture

Require insurance companies to cover pre-existing conditions

Repeal "Don't Ask, Don't Tell" policy

Close the "doughnut hole" in Medicare prescription drug plan

Work to overturn Ledbetter vs. Goodyear

Extend unemployment insurance benefits and temporarily suspend taxes on these benefits

Reverse restrictions on stem cell research

Create new criminal penalties for mortgage fraud

Raise fuel economy standards

Support network neutrality on the Internet

Establish a credit card bill of rights

Fully fund the Violence Against Women Act

Extend child tax credits and marriage-penalty fixes

Reform No Child Left Behind

Push for enactment of Matthew Shepard Act, which expands hate crime law to include sexual orientation and other factors

Create new financial regulations

No permanent bases in Iraq

Extend the Bush tax cuts for lower incomes

Create an Advanced Manufacturing Fund to invest in peer-reviewed manufacturing processes

Increase minority access to capital

Expand loan programs for small businesses

Give tax credits to those who need help to pay health premiums

Require large employers to contribute to a national health plan

Require children to have health insurance coverage

In non-competitive markets, force insurers to pay out a reasonable share of their premiums for patient care

Fully fund the Veterans Administration

Provide $30 billion over 10 years to Israel

Increase the size of the Army and Marine Corps

End the "Stop-loss" program of forcing troops to stay in service beyond their expected commitments

Make U.S. military aid to Pakistan conditional on anti-terror efforts

Release presidential records

Reduce subsidies to private student lenders and protect student borrowers

Expand Pell grants for low-income students

Champion the importance of arts education

Strengthen the levees in New Orleans

Rebuild schools in New Orleans

Stop the development of new nuclear weapons

Ban lobbyist gifts to executive employees

Invest in all types of alternative energy

Invest in public transportation
Again, this is just a partial list from the nine pages of President Obama's actions classified under "Promise Kept" at Politifact. To date, there are also three pages of promises that are classified by them as "Compromise" and others they classify as "Promise Broken".
The above are just some of what's on the table to keep or lose this November. As tempting as it is to watch the GOP primary and become confident that Obama's re-election is a lock, there will be powerful and wealthy forces who will be spending hundreds of millions of dollars to reverse some or much of the above by smearing Obama's record to elect a Republican to the White House.
For those who support many of the items listed above, it will take a good deal of time and energy this year, invested in the campaign to re-elect President Obama, to protect them and pave the way for further accomplishments like these.
It is painful to imagine what a President Romney's "Promise Kept" list would look like, motivation indeed for working this year for a better America.