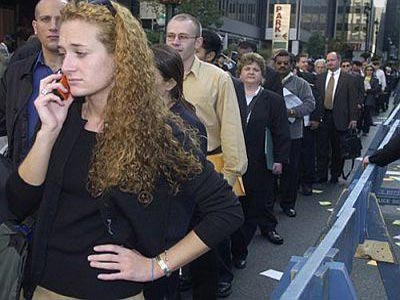 Welcome to the new normal, it's called high unemployment…and high underemployment. The hollowing out of the nation by Wall Street and Corporate America has progressed to a new level and it's one that many Americans haven't realized as yet.
Anyone who is looking forward to the time when major corporations will start hiring Americans for good paying jobs again in big numbers, are among those who don't know what the "new normal" is for corporations.
There is no job recovery coming, at least not from the corporate world. The stock market could hit 20,000 and it won't translate into many well paying jobs because a new dynamic has been adopted by corporations and proven effective. Corporations have learned how to operate by employing fewer Americans to work as full time employees and are enjoying record profits as a result. What corporate CEO would be interested in changing that?
This is not doom and gloom so hang in there and you'll see some suggestions for solving this situation but before a problem can be solved, as they say in AA, you first have to admit you have a problem. And like an alcoholic, America, in general, is in denial. Corporations have been transferring the wealth of the Middle Class to themselves for decades. Simply put, they don't want a Middle Class possessing the assets that could, and in their minds, should be theirs. A society of haves and have-nots insures a low cost of labor and an inordinate amount of power in society and government in the hands of the few who have enormous wealth.
Americans want to believe in the American Dream which corporations and their political arm, the GOP, preach about like evangelists. However, the biggest threat to it has been and continues to be the very same corporations and political party that hide their American-Dream-destroying policies behind their banners and balloons celebrating it.
This concerted effort by corporations to reduce American jobs isn't new, it's just been accelerated thanks to the economic collapse of 2008 that they helped cause…like being hit by a car then watching the driver rush over to you just to take your wallet before speeding away.
Over the past decades, as corporate greed chipped away at unions, pensions, health care, 40 hour work weeks, raises and upward mobility, the central pillar of the employment relationship was being chipped away at as well. That is, corporations were avidly seeking ways to shrink the costs of having so many full time Middle Class Americans as their employees. It's not that corporations were unprofitable, it's that the salaries, bonuses and stock options for top executives at those corporations became far richer when each quarter's profits were greater than the previous quarter's and hopefully exceeded expectations.
So, there first came a cocktail of corporate employment that gradually blended full time employees, part-time employees,  temporary employees and consultants.  The great thing about all of these categories of workers that aren't full time employees is that they cost much less than full time employees, chiefly because health insurance is not part of the arrangement. Also, the more fragile, limited and/or temporary the employment relationship is, the more insecure the employee feels and the more leverage the employer has on freezing or reducing wages  (the "You can be replaced" arrangement).
Going into greed overdrive in the 2000's, there was a corporate race to outsource employment around the world to countries with impoverished people who would work as virtual slaves for them, being paid a miniscule fraction of what a full time American worker would cost. Thus, the cost to corporations of providing humane working conditions and providing living wages disappeared.
According to the the U.S. Commerce Department, U.S. multinational corporations, which employ a fifth of all American workers, cut their work forces in the U.S. by 2.9 million during the 2000s while increasing employment overseas by 2.4 million. In contrast, in the 1990s, they added 4.4 million jobs in the U.S. and 2.7 million abroad.
ThinkProgress created the following graphic based on this info:
ThinkProgress' insightful article also provides this graph based on responses from major corporations at their 2009 Strategic Outsourcing Conference, convened by these corporations to discuss how to send American jobs overseas in the aftermath of the 2008 economic crash:
So even before the financial crash that many of these same corporations participated in causing, corporations were bent on eliminating full time American jobs wherever and whenever possible. Then comes the crash and an economic slowdown does in fact take place. Corporations slash jobs as is typical in such times. Before too long, Wall Street and the major corporations recover but oddly, American jobs don't reappear. Wall Street and corporations begin making record profits and yet oddly…American jobs don't reappear.
Or maybe not so oddly if one simply refers to what corporations have been openly saying for some time…their plan is to keep reducing American jobs, never increasing them.
So, as usual, the numbers, facts and actual statements by the principal parties involved prove the GOP to once again be engaged in another dishonest scheme in the name of class warfare, to defraud Americans in order to further shift their wealth to the top 1%.
If corporations have made clear through their literal statements, their indisputable practices and track records and their sitting on $2.5 trillion right now that is doing nothing but staying in a bank, that they will not add American jobs if it is at all avoidable, the GOP's representations for their policies can only be seen for the scams that they clearly are.
In fact, it's adding insult to economic injury to methodically re-brand those who have made it clear they don't want to employ Americans as "Job Creators". This is not a coincidence, the Corporate/GOP PR machine loves using the Atwater/Rove tactic of calling things the opposite of what they are (calling the NAACP racist for decrying their racism, calling any attempt to block or reverse their class warfare against 98% of Americans, "Class Warfare" by Democrats, etc.). George Orwell's "1984" isn't fiction to them, it's a how-to book.
We hear time and again, echoed by the corporate media/news outlets, that the reasonable and alternative path the GOP suggests to bring back American jobs is to cut taxes for corporations, let them bring money back into the US from overseas (where they've stashed it to avoid paying taxes on it) for free or with next to no taxation, reduce regulations on oil companies, Wall Street, etc. Even though these news stations and papers have all the facts in their possession that appear above, even though they know it is Corporate America's position NOT to grow American employment instead of employment in other countries…they present these conceits unchallenged as if passing along a party's propaganda without comment is what a responsible or impartial news entity does.
And then there's my personal favorite of these manipulations, the biggest and most cynical lie, that corporations aren't hiring or investing in the US economy because of "uncertainty". If you don't have your
GOP-to-English dictionary handy, here's the translation: 
GOP to Plain English Dictionary

un·cer·tain·ty/ˌənˈsərtntē/Noun

1. The state of not having all laws and taxes unfairly favor the wealthy and corporations over all Americans. "Job Creators aren't creating jobs because of uncertainty."

2. A false claim that can't be disproved as a cause for corporate economic decisions or that can be claimed no matter how many concessions are made to corporate greed: "We gave them 10 years of Bush Tax Cuts, decades of stagnant employee wages, tax credits for shipping jobs overseas, pork barrel bonanzas, no-bid contracts, trillions of dollars worth of tax loopholes, subsidies to help them pay the expenses of their own billion dollar profits business and cut the deficit as they wanted but the reason corporations aren't hiring is because of uncertainty." 
As we all know, the American economy has always been certain in every decade except this one. In the 1960's, there were no leadership, economic or social conflicts to make things uncertain, nor in the 1970's, 1980's, 1990's or the 2000's. No market bubbles, no boom and bust, no attacks or wars, nothing but stable economic times for all. If only we could return to the halcyon days of Gerry Ford's Whip Inflation Now (WIN) buttons, corporations would be hiring Americans like mad.
With things as they are, any further laws that give corporations one penny more than they are getting right now, unless it mandates hiring American workers at decent wages, is nothing other than continuing the greatest transfer of wealth in American history from the many to the few.
As the saying goes, if you don't know you're in a war, you've already lost.
There is a preponderance of economic and historical evidence to prove that no matter how much money Wall Street and corporations have, no matter how you cut their taxes or give them subsidies and no matter how high the economic indicators or the Dow Jones Industrial Index go, they simply will not create anywhere near the amount of decent-paying jobs Americans need to sustain a middle class.
However, there are other directions to go to create those jobs. Here are a few suggestions circulating around the White House, the web and others that come to mind (please feel free to suggest your own as well) that could turn things around to one degree or another:
1. A New WPA/An Infrastructure Bank 
Boehner says he got 98% of what he wanted in the Debt Ceiling deal and with the global market crash and US credit rating downgrade that followed his brilliant economic planning, he probably got the remaining 2%. Okay, we've tried it their way again and again, Bush Tax cuts, deregulation and now budget cutting in the middle of a jobs recession.  It would be an exercise in futility to try and pass another stimulus bill with Tea Baggers controlling The House  but if Obama's support for an Infrastructure Bank was brought to fruition, which would not add to the deficit but reduce it as a revenue generating service, a new WPA program could be fired up across the nation and good paying jobs, repairing this nation, could be generated swiftly.
2. Tax Credits to Businesses for Hiring Americans/Revoking Tax Credits for Outsourcing Jobs Overseas
Currently, US tax law pays corporations to move American jobs to other countries. In a jobs recession, these tax loopholes need to be closed permanently. Even if the GOP can't find or be pressured into finding that crumb of patriotism or compassion needed to agree to closing those loopholes, maybe they can be convinced into giving businesses more tax cuts?  Pres. Obama has proposed such a tax credit for hiring those who have been in the military which is good but why not provide it for all Americans? For the many reasons stated above, I doubt corporations would find it as appealing as hiring more people in their sweatshops elsewhere in the world but for small and local businesses, it could be very effective.
3. Enhanced SBA Loans for New Businesses
A real job engine for this nation may be the growth of new businesses and industries that create and innovate. The consumer side of the economy is shaky so startups will need to be able to develop and sustain themselves for a while which is where the SBA could come in. This isn't a giveaway nor should standards be loosened to allow fraud or exploitation, it could be an enhanced loan program that offers greater and more loans and delays repayment for a period deemed sufficient for the consumer economy to have recovered sufficiently. These would be loans that are repaid with interest so this would represent increased revenue to the US, not debt. The self-sustaining aspect of this is that as new and viable businesses are supported, they are creating good paying jobs across the nation that are helping to build that very consumer base they need to flourish. The SBA could even set up a networking between companies it lends to so they can find opportunities to work together to support and sustain each other.
4. Leverage the Bush Tax Cuts Expiration into Killing Loopholes for the Wealthy and Corporations
A natural instinct for Democrats is to insist on finally killing the Bush Tax Cuts for the wealthy. Of course, this would feel to Republicans like having their tea bags cut off but in reality, how much of a win would it be to increase the tax rate the wealthy and corporations are technically supposed to pay but in reality, like Exxon and GE, they could still continue to pay no taxes because of loopholes, subsidies and tax credits? The GOP whines about the tax burden on the wealthy but as recent statistics show, those wealthy people who can't avoid paying their taxes as others do, only pay on average 18% in federal income tax. So, put aside the gross number and focus on the net. If Obama and the Dems do so, they can paint the GOP into a real corner. They could even propose lowering rates slightly from where they are, below the Bush rates in exchange for removing the loopholes and tax credits for the wealthy and corporations.  Even if the top tax rate was lowered to 29%, GE and Exxon would go from paying zero to 29% of profits. The average wealthy person would go from paying 18% to 29%. The huge boost in revenues would allow for funding the social programs the Deficit Deal might otherwise cut, reducing the deficit and providing revenues for infrastructure repair and other job creation programs (assuming that in 2013, when the Bush Tax Cuts would expire anyway, the Dems re-take the House and keep The Senate and White House).
As all of the above reflects, it seems likely that the only sizable Middle Class job creation that there can or will be, won't ever come from major corporations again, it can only come in this era from government and small and startup businesses that aren't the committed adversaries of The Middle Class that major corporations have shown themselves to be.