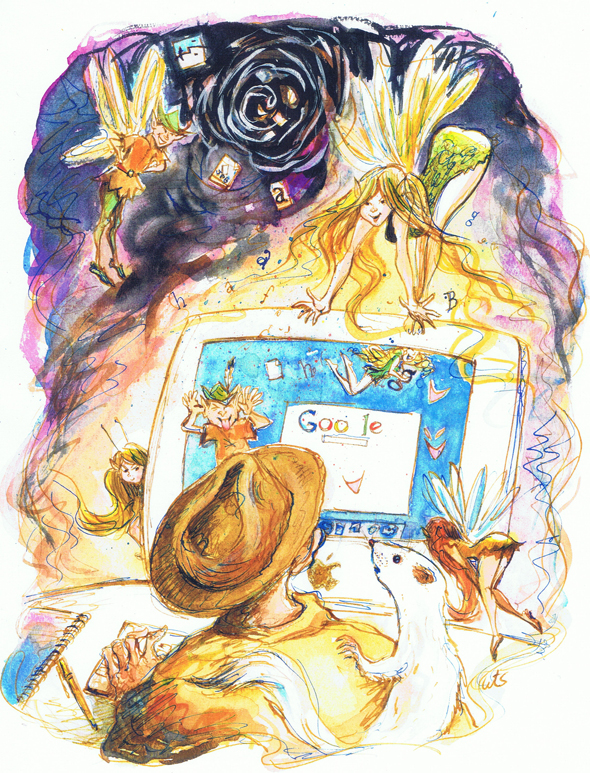 Here's my tribute to those adorable, impish critters, without whom the Digital Age would seem oh-so-mundane, the cyber pixies! Just as their woodland cousins delight in visiting mischief upon humans who happen upon their forest dwellings, these little rascals are responsible for all the foibles, mishaps and just plain goofiness that occurs as we traipse through cyberspace.
Cyber pixies are the ones who induce amnesia in you just as you are about to attach a file to your outgoing email. They place all those double "and"s and "for"s into your text, after you have thoroughly proofread it! They lure important emails from prospective employers into your junk file, cause reply emails to go out from you with no message attached, and send you the exact same email three or four times. Why do they do these things? Why, because it's fun, of course!
But where they really work their malicious magic is on the blogosphere. They perform a kind of hypnosis on online readers so they always take messages in ways they weren't intended. They cause you to feel humiliated, angry, jealous, all those nasty human emotions you supposedly moved into online relationships to get away from! So far, the only defensive weapon humans have come up with to defeat their hypnotism is emoticons, but it's the cyber pixies who generally get the last lol.
So the next time you have to apologize for yet again forgetting to attach a file to your email, rewrite a paragraph that suddenly and inexplicably disappeared into the ether, or spend an afternoon in a funk because of something someone wrote on a blog that you know was directed at you, blame the cyber pixies. Every computer ever created is infested with them, so you might as well just learn to live with 'em. They're here!