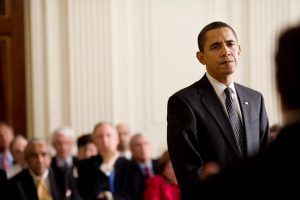 There are those on both the Right and Left who assail President Obama for not doing enough as President (or for some on the Right, for doing too much). Some have stated that he has not kept his campaign promises, others say that he has compromised himself and his principles in far too many cases.
Presented for your review, here is just a fraction of items from the list at Politifact.com of campaign promises kept by Pres. Obama. I recommend visiting their site to review the complete 7 page list, it is impressive http://politifact.com/truth-o-meter/promises/obameter/rulings/promise-kept/ :
A SAMPLE OF CAMPAIGN PROMISES KEPT BY PRESIDENT OBAMA:
No. 4: Extend child tax credits and marriage-penalty fixes
No. 16: Increase minority access to capital
No. 33: Establish a credit card bill of rights
No. 36: Expand loan programs for small businesses
No. 37: Extend the Bush tax cuts for lower incomes
No. 38: Extend the Bush tax cuts for those making less than $250,000 (couples) or $200,000 (single)
No. 48: Close the "doughnut hole" in Medicare prescription drug plan
No. 51: Require insurance companies to cover pre-existing conditions
No. 53: Give tax credits to those who need help to pay health premiums
No. 55: Require large employers to contribute to a national health plan
No. 56: Require children to have health insurance coverage
No. 57: Expand eligibility for Medicaid
No. 58: Expand eligibility for State Children's Health Insurance Fund (SCHIP)
No. 63: Require health plans to disclose how much of the premium goes to patient care
No. 65: Establish an independent health institute to provide accurate and objective information
No. 69: In non-competitive markets, force insurers to pay out a reasonable share of their premiums for patient care
No. 70: Eliminate the higher subsidies to Medicare Advantage plans
No. 93: Reinstate executive order to hire an additional 100,000 federal employees with disabilities within five years.
No. 105: Increase the Veterans Administration budget to recruit and retain more mental health
No. 109: Fully fund the Veterans Administration
No. 113: Expand the Veterans Administration's number of "centers of excellence" in specialty care
No. 121: Fully fund the Violence Against Women Act
No. 125: Direct military leaders to end war in Iraq
No. 126: Begin removing combat brigades from Iraq
No. 132: No permanent bases in Iraq
No. 161: End the abuse of supplemental budgets for war
No. 167: Make U.S. military aid to Pakistan conditional on anti-terror efforts
No. 172: Open "America Houses" in Islamic cities around the globe
No. 182: Allocate Homeland Security funding according to risk
No. 195: Seek verifiable reductions in nuclear stockpiles
No. 196: Extend monitoring and verification provisions of the START I Treaty
No. 197: Stand down nuclear forces to be reduced under the Moscow Treaty
No. 215: Create a rapid response fund for emerging democracies
No. 222: Grant Americans unrestricted rights to visit family and send money to Cuba
No. 225: Establish an Energy Partnership for the Americas
No. 229: Expand the Nurse-Family Partnership to all low-income, first-time mothers
No. 239: Release presidential records
No. 241: Require new hires to sign a form affirming their hiring was not due to political affiliation or contributions.
No. 244: Provide affordable, high-quality child care
No. 247: Recruit math and science degree graduates to the teaching profession
No. 259: Reduce subsidies to private student lenders and protect student borrowers
No. 269: Increase funding for national parks and forests
No. 275: Expand Pell grants for low-income students
No. 290: Push for enactment of Matthew Shepard Act, which expands hate crime law to include sexual orientation and other factors
No. 293: Repeal "Don't Ask, Don't Tell" policy
No. 315: Establish 'Promise Neighborhoods' for areas of concentrated poverty
No. 359: Rebuild schools in New Orleans
No. 371: Fund a major expansion of AmeriCorps
No. 411: Work to overturn Ledbetter vs. Goodyear
No. 422: Create new financial regulations
No. 427: Ban lobbyist gifts to executive employees
No. 433: Sign a "universal" health care bill
No. 435: Create new criminal penalties for mortgage fraud
No. 449: Raise fuel economy standards
No. 458: Invest in all types of alternative energy
No. 483: Invest in public transportation
No. 495: Double federal spending for research on clean fuels
No. 500: Increase funding for the Environmental Protection Agency
No. 507: Extend unemployment insurance benefits and temporarily suspend taxes on these benefits
No. 513: Reverse restrictions on stem cell research
Again, please keep in mind that this is only a fraction of the promises he has kept. I don't think there is another president in recent history who could present such a list.
Instead of opinion-based memes, I invite those on the Left and Right to consider the facts of what President Obama has accomplished to benefit the majority of Americans and if they maintain a negative view of him, list what items Bush accomplished to benefit most Americans in the first two years of his presidency or what a Repub candidate in 2012 would do in the first two years of theirs.