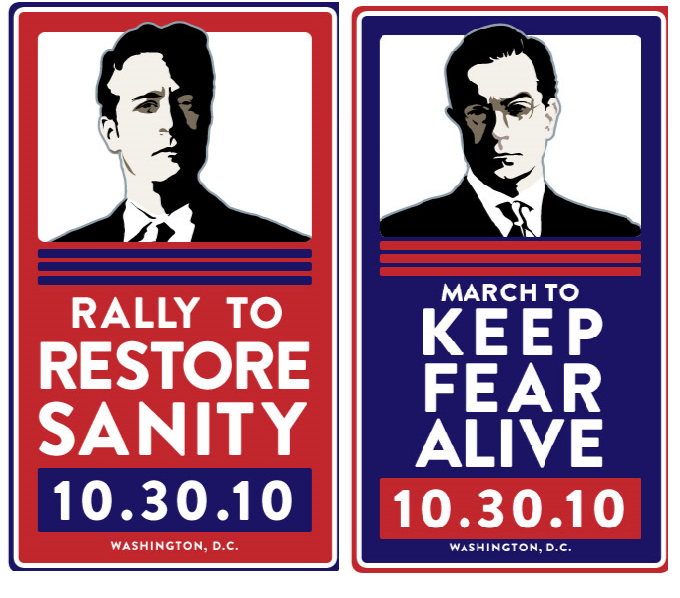 Earlier this week I posted a proposed speech for President Obama, based on suggestions and comments from our members, that amazingly mirrored a speech he gave just a couple of nights later at the Congressional Hispanic Caucus.
You can check out that post and the comment showing the speech here.
We are so damn on the cutting edge here folks!
The inspiration for writing and planning on sending him this speech was the frustration of many here that the hatred in this nation has been getting out of hand and it was high time a national leader made a high profile demand that this insanity end.
Still, we were seeking a much more publicized and televised response to tamp down the flood of anger than Pres. Obama's speech provided on Wednesday night. Little did we expect that thinking the same thing at the same time as us and stepping up to make that big public push back on the hate would be…not Obama…but Jon Stewart and Stephen Colbert!!!
If you missed their shows last night, they announced a joint rally in DC at the Washington Mall on 10/30/2010 which Stewart is calling, "Rally to Restore Sanity" but the evil Colbert is calling, "March to Keep Fear Alive".
Here now are the clips from each show last night:
Here's the link to their initial site: http://www.rallytorestoresanity.com/
If well attended, might this help push back on the ongoing narrative in the MSM that the inmates are on track to run the asylum? Might it be the spark that helps nudge Dems and other sane folks to get engaged and energized to vote in Nov? Who knows but it should be quite entertaining! At the very least, I hope there will be lots of people with hilariously misspelled absurdist signs! And images of Jon Stewart with a Hitler moustache and Colbert Photoshopped to look like The Joker!
I won't be able to attend but if any members here might be able to attend, please let us know and we'll set up a post for you to provide your exclusive reports!
Otherwise, take comfort in knowing that the sanity of the majority of Americans will soon be on display in DC! And using my Michelle Bachman calculator, I predict 18 trillion people will show up!