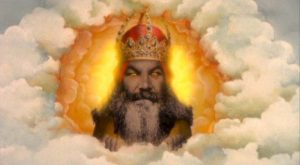 On Saturday, Glenn Beck and Sarah Palin stood on the steps of the Lincoln Memorial and spoke to tens of thousands of blindingly white, patriotically obese, special needs Walmart shoppers, claiming to speak for God and urging a return to the halcyon days of religious domination of our democracy which brought America such historic hits as morally justifiable slavery, the slaughter of "heathen" Native Americans, Manifest Destiny, women as second class citizens without the right to vote, prohibition and its resulting in the explosion of organized crime and teens having lots of oral and anal sex in order to honor their Promise Rings.
As a result, as Monty Python once sang, God got quite irate. So, as He is nowadays accustomed to venting his wrath, He blogged the following and asked me to post it for Him:
GOD'S BLOG – 8-31-2010

Let me begin by saying that neither Glenn Beck nor Sarah Palin speak for me. The tip offs are, I never use chalkboards, I don't drop the last letter of "ing" words to be folksy and lastly, I usually make sense.

Being omnipresent, I couldn't help but watch these two and their colleagues give their speeches on Saturday at the site and on the day of my dear friend's "I Have a Dream" speech. Though I don't see anything wrong with the way I've made male dogs mark territory as their own, it is a bit off putting when people use dogs as role models for that trait (wish they copied the unconditional love and loyalty stuff instead).

What can be a little frustrating about being all-knowing is that you never get to say, "What the hell is wrong with that guy?!", you already know. I do see all living things as my children but some days, your kids can really drive you nuts, you know what I'm talking about?

Glenn claimed that his rally was about returning honor, going back to Me and less overtly, returning power in America to White Christians. That's like urging people to come together to build and paint a majestic cross just so you can set fire to it.

Believe me, I don't have an inferiority complex. I'm not stomping around Heaven, upset that people aren't ruling more countries in my name. In fact, that's exactly what would get me upset, have you seen what happens in most countries when people declare I chose them to be the leader (my lawyers did send George Bush a Cease and Desist).

Earth is for you folks to take care of and figure out how to run. I've totally delegated all executive decisions to all of you, I just want to be invited to the company picnics.

Glenn Beck also urged people to sublimate themselves to me, to get on their knees and make sure their children saw them doing so. I guess the best way to do that would be to get in front of the tv and pray…though I'd guess the kids would just crane their heads around to keep killing people in Call of Duty: Modern Warfare 2.

I think this could send the wrong message. First, kids may think that their parents are praying to the tv, that I am in the tv or that Tivo is God (which it is in some households).

Second, I think kids should see that strong moral beliefs are what make their parents stand up and become leaders in their own lives. Impressing subservience is like wiring a weakness into oneself or one's kids that less principled folks than yours truly can then use to manipulate them to further unprincipled greed and lusts.

Which brings me back to Glenn Beck. He spoke of restoring honor…and did so by dishonoring one of the most honored Americans, Martin Luther King and the Civil Rights movement he did so much for. Next time, I assume that Glenn will want to campaign on protecting endangered species by hunting them.

So, we can put aside this clearly illegitimate claim as the purpose of this rally, along with a reverence for me because love and respect and power for all races and religions is my thing. Also, despite the claims in their prospectuses and press releases, I am not a wholly owned subsidiary of FreedomWorks, Fox News or the GOP.

I just wish such wolves wouldn't use me as their sheep's clothing. The ironic thing is that in order to be so comfortable in using me to promote a self-serving agenda, such people would have to not believe in me (they clearly have no fear that they'll ever have to face me for their transgressions).

So my suggestion is, the more you hear someone use me or their love of me to justify their actions and schemes that benefit themselves personally, the more of an atheist they probably are.

And BTW, some of my best friends are Atheists (I tell them that whether or not they believe in me, I believe in them and they'll usually buy me a drink anyway, nice folks) so that's not a bad thing but it does lend a bit of perspective to these situations.

Satan plays the same game as Glenn but as a practical joke, after a while, he always blurts out, "Just joking! I'm not really speaking for God and there is no barbecue tonight!"

Too bad Glenn doesn't even display the decency of Satan. Still, it will be hilarious in a number of years, when Satan gets the chance to pull that on Glenn! Man, will he freak!