My trip in April had initially been planned as a D.C. trip, and a predominant amount of time was spent in our nation's capital and traditionally defined Mid-Atlantic states. In a loop around these states I did make a jaunt through the Commonwealth of Virginia. When I started this series, I had not yet decided if I would do the whole thing, so if there be any lingering criticism of my title, know the following. I could have gone straight from Charlottesville to the Historic Triangle. But, I was looking for an overall Southern experience. Indeed, when I first visited Arlington National Cemetery, though it be in the Beltway, I got a little thrill to be setting foot on Southern soil and seeing Lee's mansion (silly did I feel when it registered that Reagan airport is in Virginia).
The following may indeed be controversial in its own right and some images deemed offensive. It is not out of romanticization, but a fascination with history, and even the culturally taboo, as well as the burden of my own partial Southern Identity (to borrow from the title of C. Vann Woodward's book) that took me to Richmond – particularly those sites most connected with the Confederacy.
Upon entering Richmond, I must say that it has probably seen better days. The virtual segregation was also very apparent. Of course, having been through D.C. and Baltimore, this is not only a Southern legacy, nor is it limited to the East Coast. Nevertheless, for whatever reason, being in the South, there was just a different, palpable feel to driving through the black neighborhoods. Maybe it was because of my own preconceived prejudices towards images of the South (much has changed dramatically, after all), but I wondered just how much has really changed. Indeed, race and socioeconomics are not just a Southern problem. But, in a black majority city such as Richmond, I can't help but wonder why it took until 1993 to change the city flag from this.
My first stop was Hollywood Cemetery. One of my favorite sites in the whole trip. It was like it was taken right out of a Gothic novel.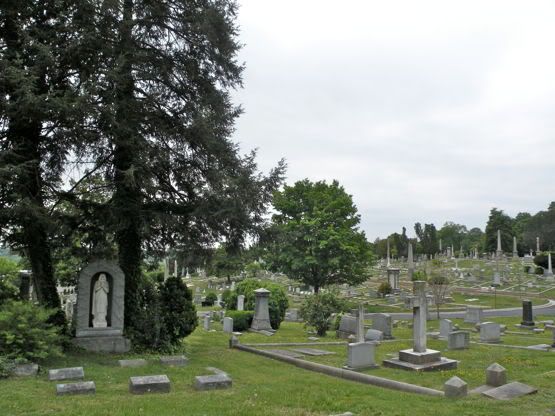 There was a distinct Southern character to it.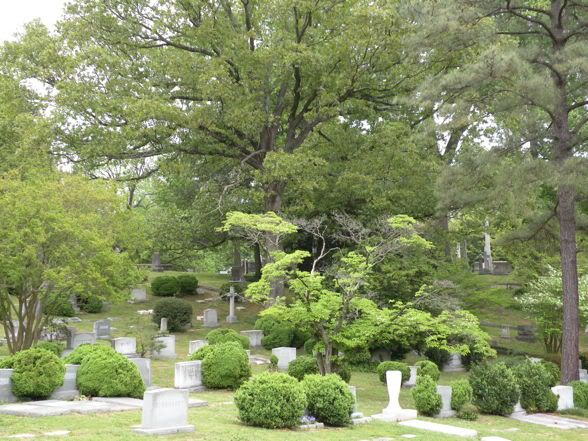 I could think of few more peaceful scenes to spend my eternal repose.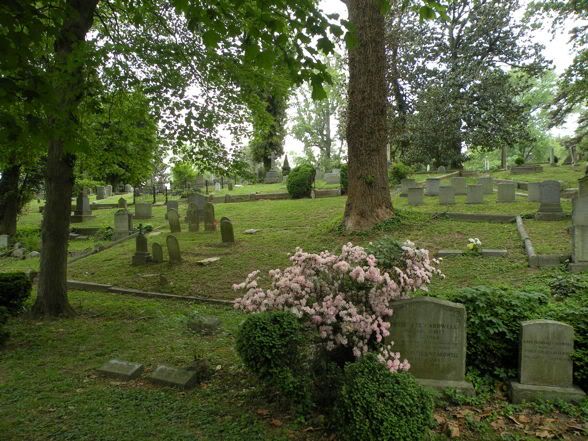 While some may rightfully see mausolea as the height of human vanity and cemeteries as a waste of space, I view cemeteries as parks of a sort, and mausoleums, like this, can even be cute.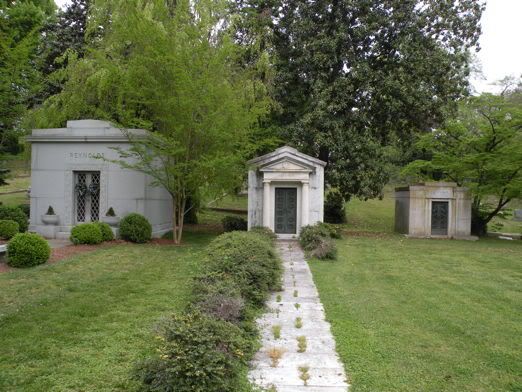 This was my favorite. I especially liked the touch of purple ribbons on the wreaths.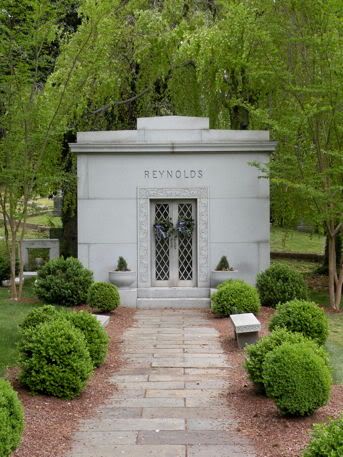 They can also be more dramatic.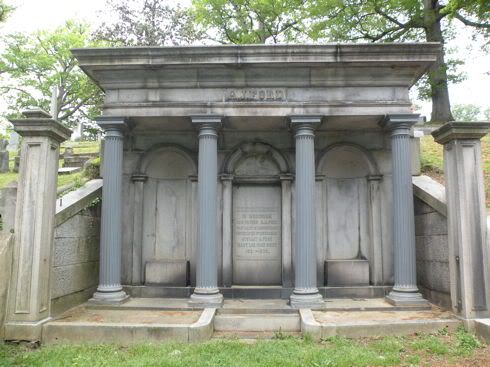 Or Art Deco.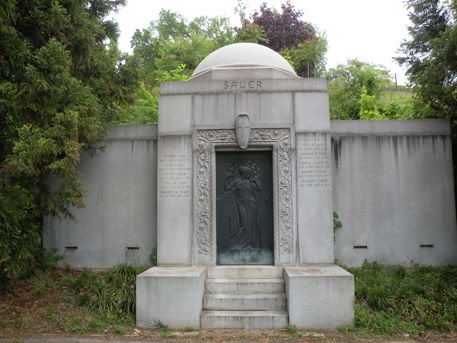 President John Tyler's grave.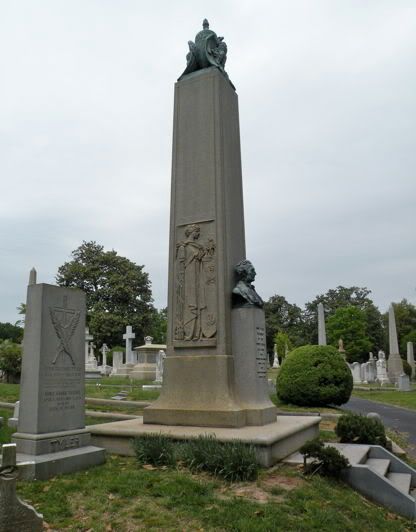 Possibly the coolest presidential final resting place ever. President James Monroe, I like your style.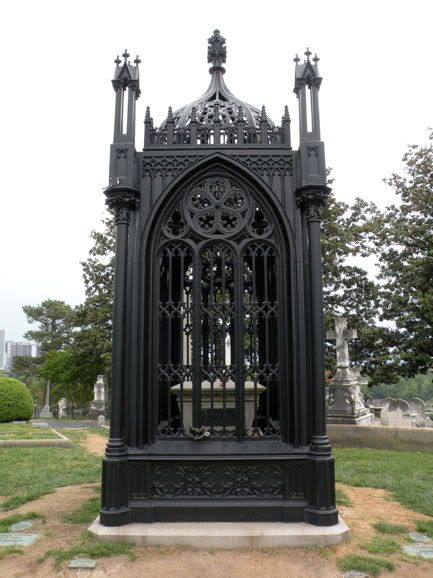 Both presidents were interred near each other, as this shot shows.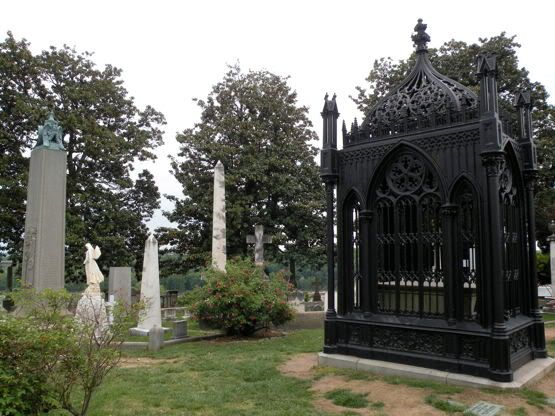 This is how epitaphs were meant to be written. "I shall go to him, but he shall not return to me."
The whole section was striking.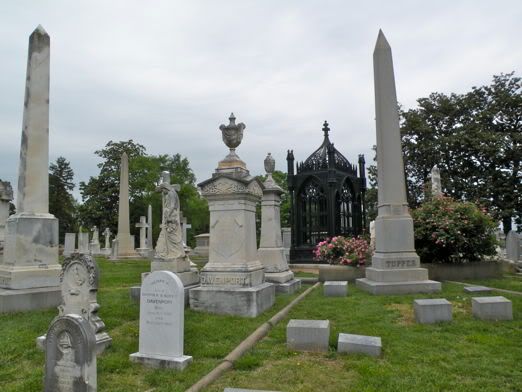 Turning around from this view, towards James River. As a kid, every school morning I passed over this bridge showing what was then the James River paper mill. Though part of (Koch brother owned) Georgia-Pacific now, I will always think of that slough as James River, stubbornly lodged in my head from foggy childhood memories.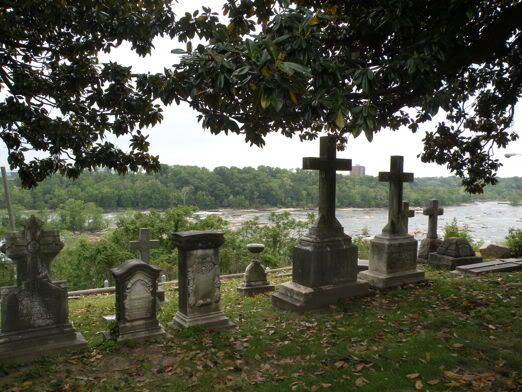 This one of Lewis Ginter, had its own sundial in front, with manicured hedges and even a little bench and pathway under a shade tree to its left.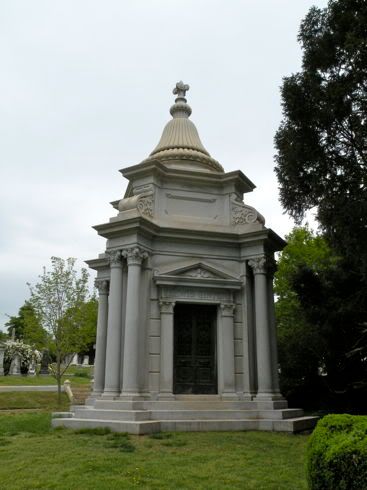 The stained glass window was a nice touch, too.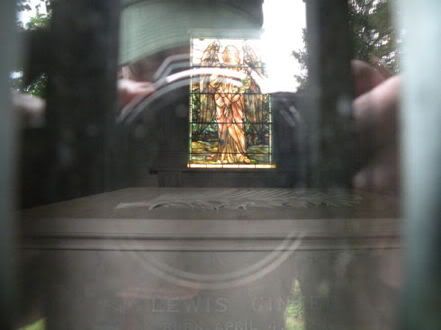 I mean, c'mon, how is this not totally awesome?! (by now it being firmly established I am totally weird)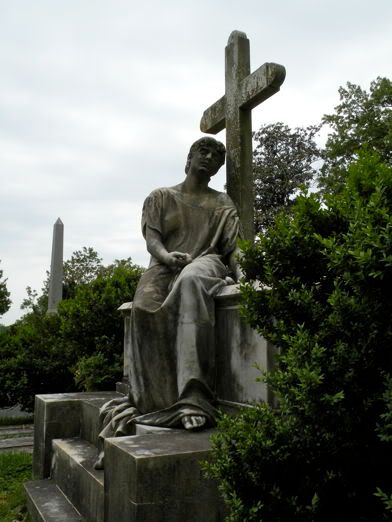 I saw a lot of family names in this cemetery. More so than in any other I've ever been to. Not actual relations, but owing to the concentration of Scots-Irish and English in the South, lots of familiar surnames. My paternal grandmother's and mother's maiden names I saw numerous times dotting the cemetery. And, let's just say they aren't Smith or Johnson. Unfortunately, I never saw them etched into stone as extravagant as these:
The last picture is on Davis Avenue, so whose grave do you suppose we'll see next?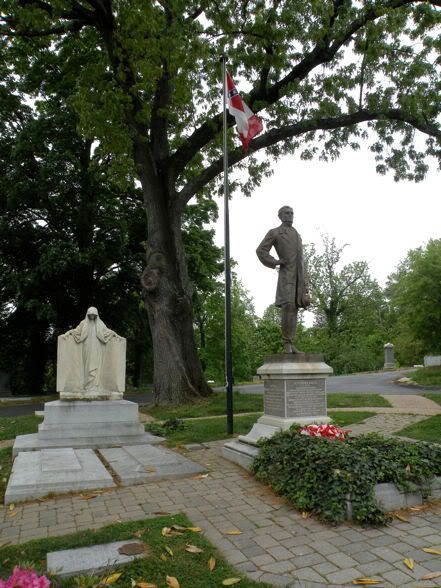 Yup, that's right.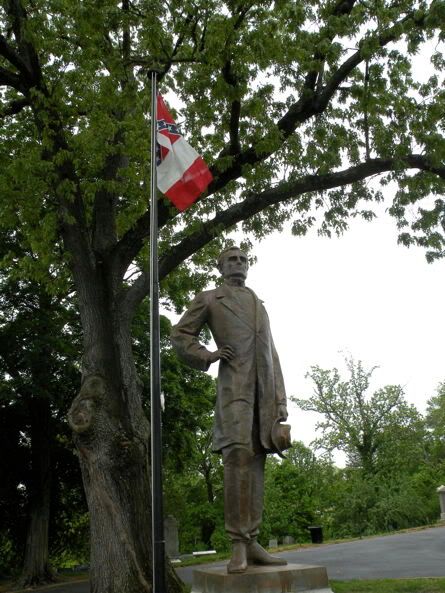 On the front of the pedestal is "Jefferson Davis./At Rest./An American Soldier./And Defender of the Constitution." This goes on to list his congressional, cabinet level and military career in the US government. Here is what is on the reverse. Gotta love that verse about being persecuted, right?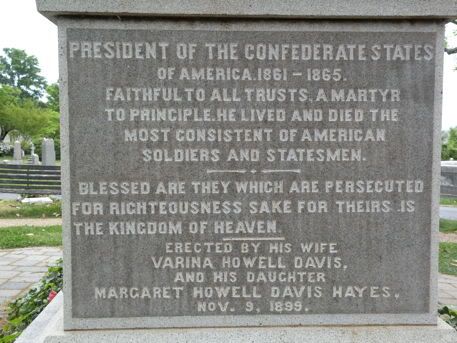 A view of Richmond.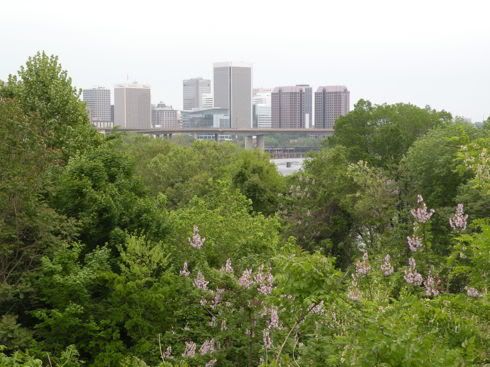 And not far from this spot, turning around. The flag in the foreground marks Jabez Lamar Monroe Curry, I presume. In the background, the Davis family section.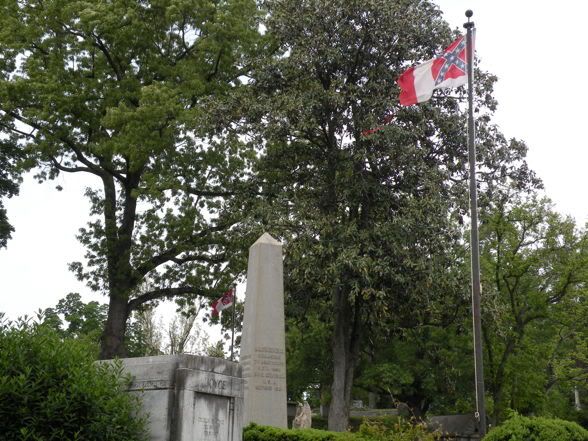 Margaret Howell Davis Hayes. She is the only one to have children (or at least marry) and thus heirs to Jefferson Davis, I think. Also, another really damn cool monument, æsthetically speaking. To the rear, on the book's spine, reads PAX.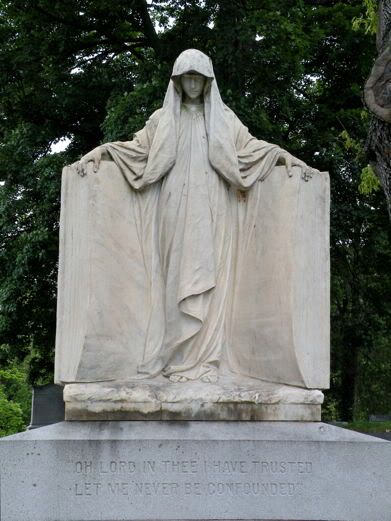 You know, I just hate people. Can't stand 'em. Groups especially. And, in this case, a stupid church group in a local Baptist van. Being local, and likely Southern Baptist, made me wonder as to the intent of their visit to this fine location, but my bigger immediate concern was that they totally ruined my shot. I kept biding time, but they just wouldn't leave. No, they had to have a picnic and run in and out of my shots. I mean, they showed up right after I did, and there was no one else there. It was as if they were sent just to bug me. And furthermore. I can understand people's lack of concern for others, but they too had cameras. There was no designated parking. There was nobody else parked there and plenty of space. I parked down a bit and *gasp* walked (God bless our drive-thru culture). Why the hell couldn't you move your damn van 15 feet out of your own shot, and mine as well? Fer chrissakes. God, I hate people.
So, the only full-ish shot of this section I have looks like this.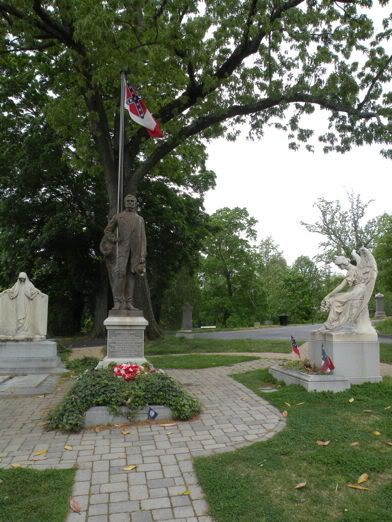 A side view. Oh, and thanks for the bumper in my shot.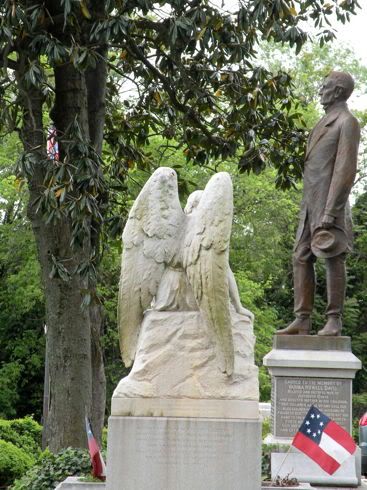 Varina "Winnie" Anne Davis. The Daughter of the Confederacy. So called as she was born in 1864 (also the same year that they lost their son, Joseph, whom fell to his death at the age of five and is buried feet away).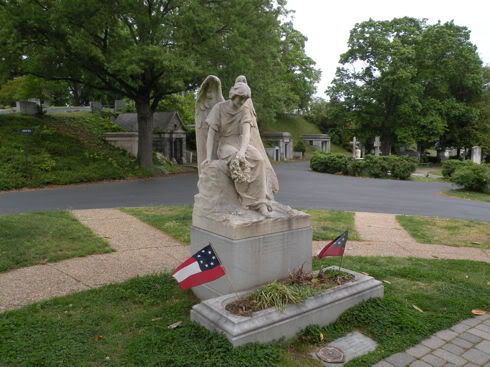 I'm not quite sure where to put this on my cute<–>creepy continuüm.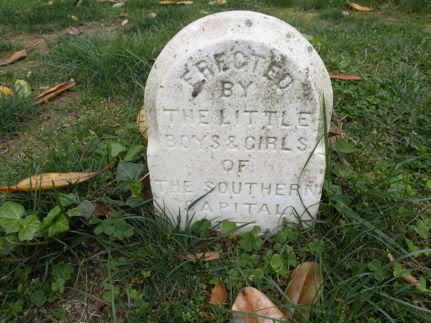 This was definitely gratuitous, though. It's because of this kind of crap that I'll never join you guys, you know. Preserve what there is, fine, but let it go.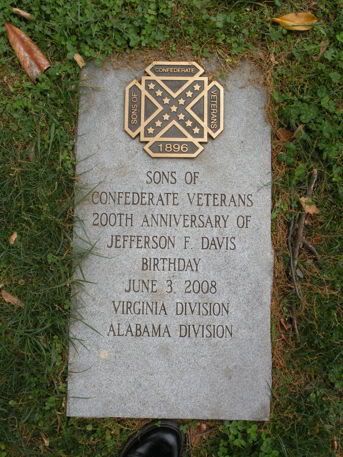 The Blood Stained Banner enhanced for visual effect.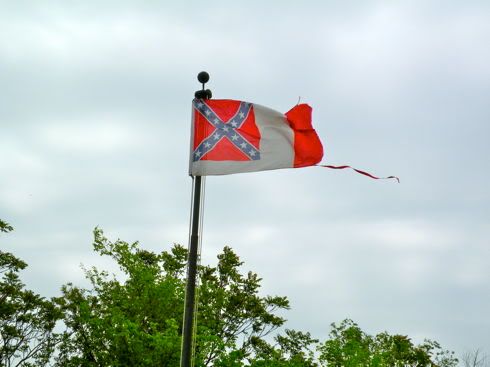 Confederate Officer's Section.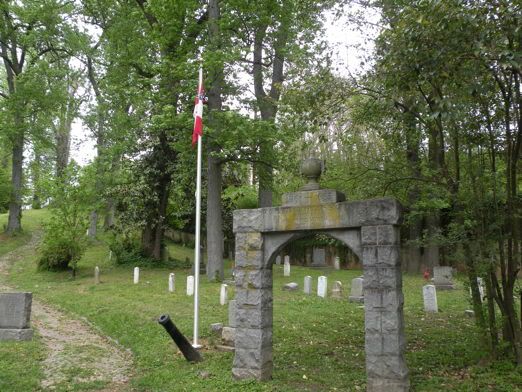 Jewish Confederate memorial. If this seems odd, remember Judah P. Benjamin, for one.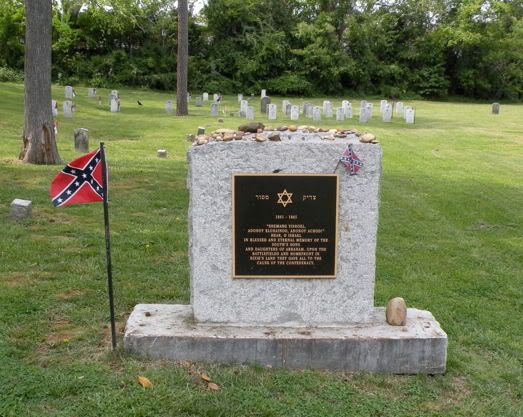 The Confederate Memorial Pyramid, dedicated to the 18,000 confederate dead buried in the Confederate section of Hollywood in 1869. In Latin was written "numini et patriæ asto" ([they] stood for God and Country). I never checked the back of the pyramid. Somehow, though, I imagine in Latin is surreptitiously written "meridies iterum orietur."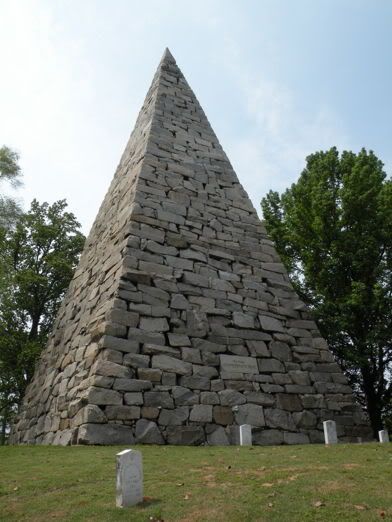 A view from the distance.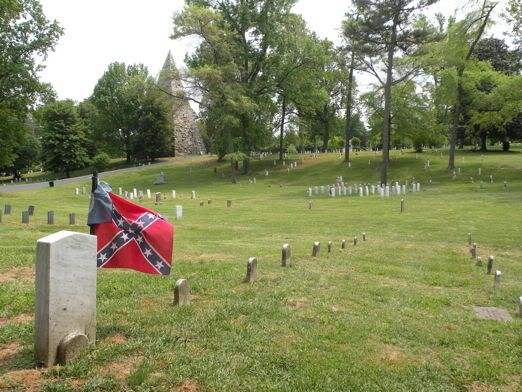 I regret missing J.E.B. Stuart, who was by himself in the middle of the cemetery, but here's Pickett.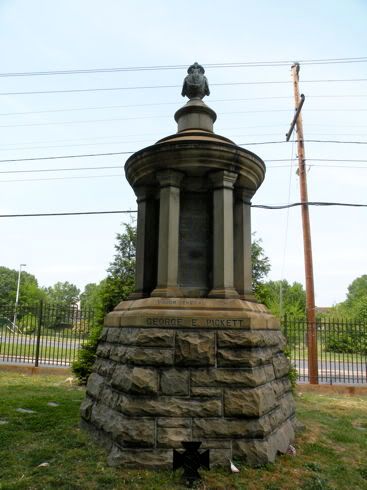 To the left, a shot with the Bonnie Blue (Listen to the Bonnie Blue song). Unlike the Bonnie Blue, another flag which took some researching to identify was ubiquitous, save for the more numerous Virginia flags. I'd guessed what it was based on its pattern. Ironically, it is its post-war form, which like the Lone Star Flag of Texas, incorporates the Bonnie Blue (remember that the Bonnie Blue is the secession flag). Another irony. The limited government which it represents bears resemblance to the flag of modern Libertarian Paradise, Somalia.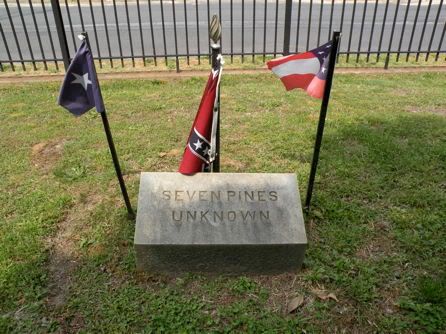 A scene of the Confederate section.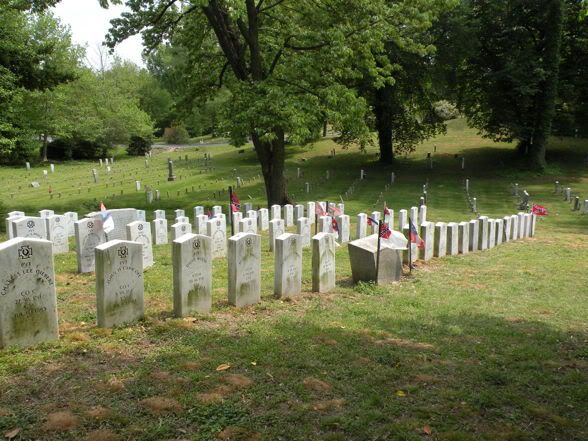 It took me a while to figure this out until I read the gravestone. He was the color bearer.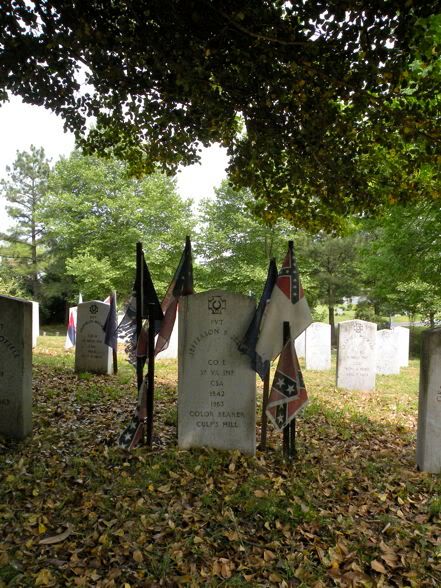 The flying in City Parks, even Lee Squares, and especially state Capitols I disagree with. But, I will defend the Confederate battle flag in this context. One might ask if it is akin to flying the Nazi flag in German WWII cemeteries (which I have debated in my own mind), but I think when it comes to the Confederate battle flag, this is acceptable. I may not agree with the cause they fought for, but this was the country they died for. I'm not passionate about this. I just think this form is understandable.
The Lost Cause mentality can make me roll my eyes though. This typifies it.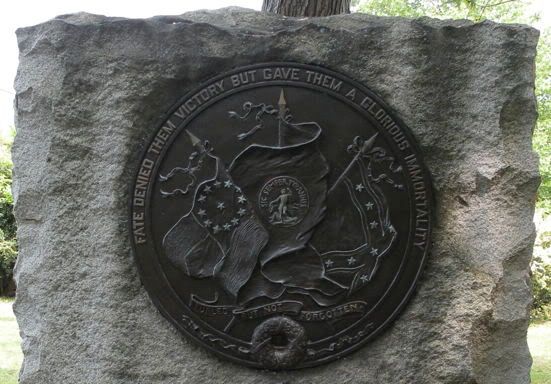 The White House of the Confederacy, fittingly, actually gray.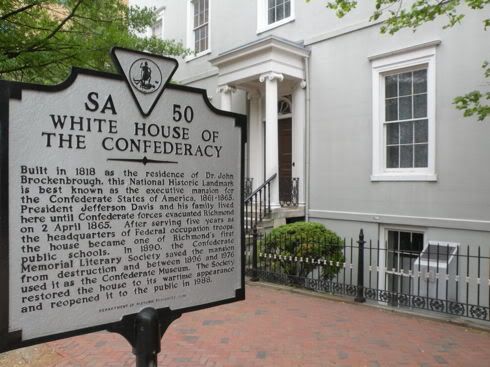 From the front.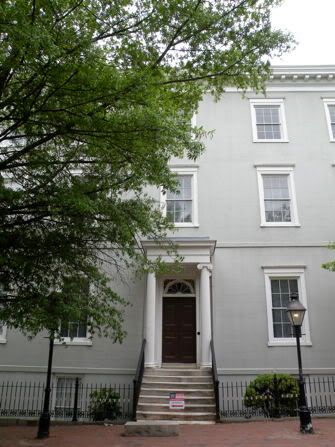 And the back. The tour starts where you see the light, under the porch to the right. The slave quarters. The rest of the house is restored to the period impressively. The right side is where Joesph fell to his death. On the tour, and since, I've also found Varina Davis to be an interesting, almost redemptive character. The tour guide, though, laid it on thick about how great Jefferson Davis was. (She struck me as UDC socialite material, though I have the UDC pin of my grandma's, who was by no means someone who put on airs.) What I did find interesting about him was how nearly anorexic Davis was during the war. If he looks gaunt in photos, it is because he was. With tragic deaths of children, and personal health, the war took a toll on Davis as it did with Lincoln.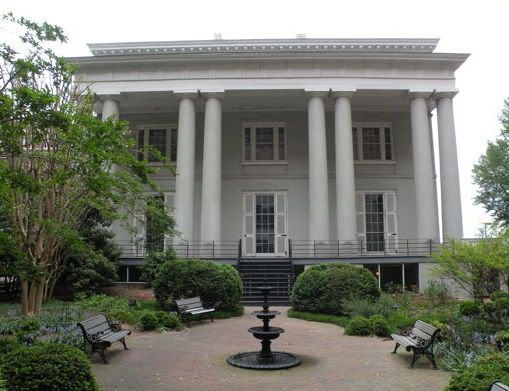 Right next to the White House of the Confederacy is the Museum of the Confederacy. I must say I hung my head in awkward shame as I entered and saw black families walk past down the street. But, if you can handle being uncomfortable at times, I recommend it. Think of it like the Nazi exhibition in the Holocaust Museum (though as the Spike Lee mockumentary on the CSA grimly points out, the CSA would have thought it a waste to mass murder possible human chattel). It is a modest entrance fee, and for a little extra includes a tour of the Confederate White House. Inside are artifacts of all sorts. I walked in expecting far more glorification than I found. Mind, you, they still tried to show the Confederacy in a positive-ish light, but did touch on uncomfortable truths (again, I'm merely saying it was more evenhanded than I expected. I never did expect dispassionate objectivity). What was more creepy were some of the visitors trying to "correct" such things (how many times can one hear that the South would have eventually abolished slavery on its own? –Never mind the CSA Constitution expressly prohibited that from happening). Like, a father with his teen daughter, her pen and pad out and he regaling her with the feats of the generals and campaigns. They were visiting from Alabama, I overheard. Others, like me,  were there more out of curiosity than zeal. Of personal interest to me was the display of the New Mexico and Arizona campaign. Often forgotten is that southern Arizona and New Mexico were briefly part of the CSA, and were represented until the dissolution of the Confederate Congress at the end of the war. A minor skirmish of the Civil War was even fought north of Tucson. So, to say I'd never stepped on Southern soil wasn't technically true! [Fun fact time: the official date of statehood for Arizona on February 14, 1912 was chosen to commemorate the the fiftieth anniversary of its admission to the Confederacy on February 14, 1862. Is Arizona, MLK and SB 1070 starting to make more sense now?]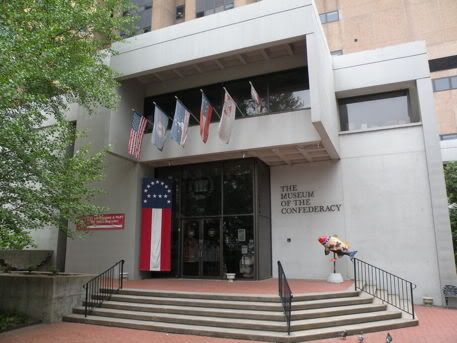 My visit also happened to coincide with Confederate History Month. Oh joy. But, like I said, they made an attempt to address the controversy and present both sides.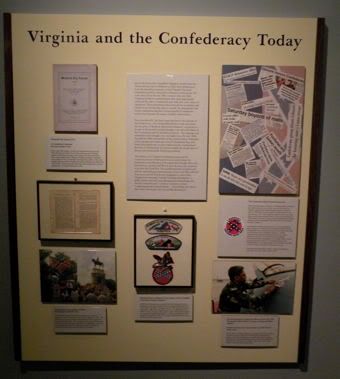 Wartime effects of J.E.B. Stuart. Also, there was the frock of Hood, etc. If it was Confederate, they had it.
Frock and ceremonial sword of General Lee worn at Appomattox.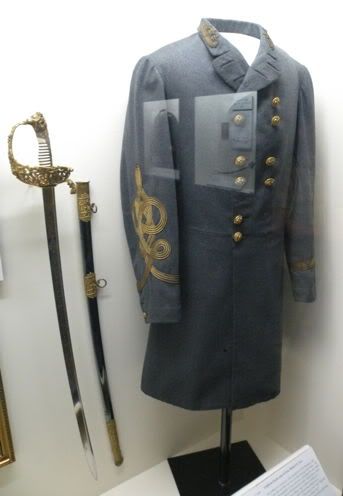 This was what Jefferson Davis was wearing when captured.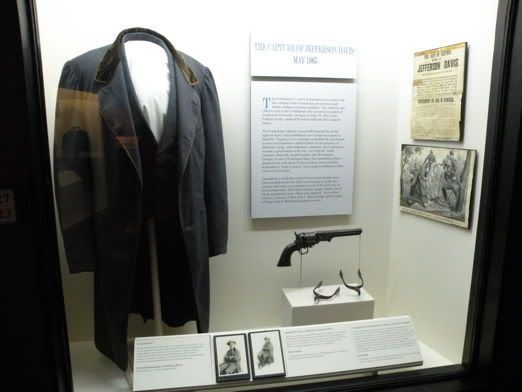 This was the flag draped over Jefferson Davis' casket.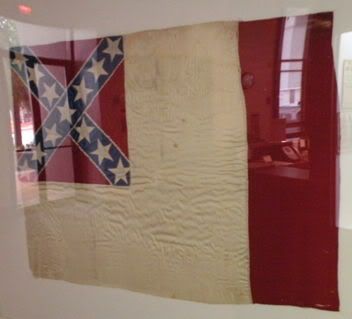 The ceiling had all flags associated with the Confederacy hanging, including one or two I still can't identify. In the background here, fourth from the left, one can make out the Vand Dorn flag. Also, another good chance to compare the Stars and Bars proper with the current flag of Georgia.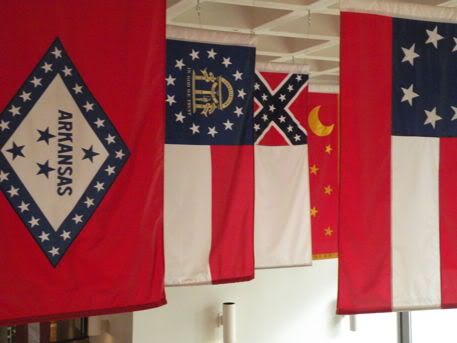 The Great Seal of the CSA. Engraved in London, it finally reached Richmond shortly before the city had to be evacuated in 1865.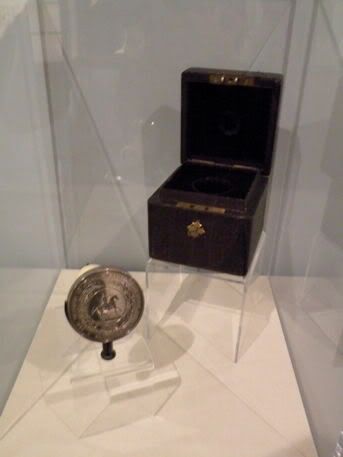 Two blocks away is where the Confederate Congress met, the Virginia State Capitol (minus the wings).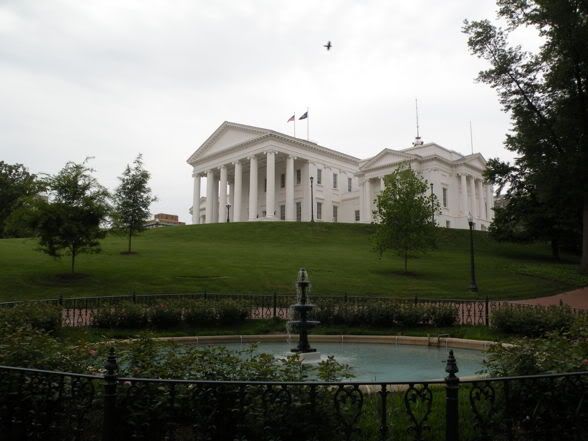 What didn't Thomas Jefferson help design in Virginia? I've seen a few state capitols. This was the most striking to walk up to. It really did seem just as fitting a national capitol, as a state capitol.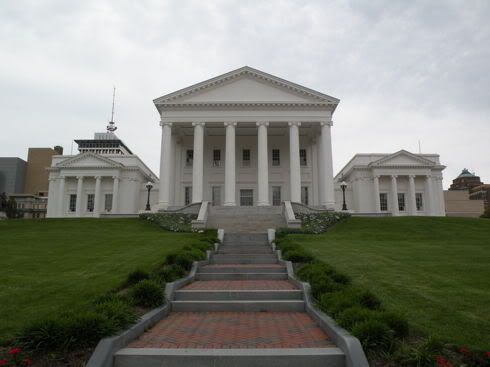 Behind the capitol, some statues of Virginians. Washington.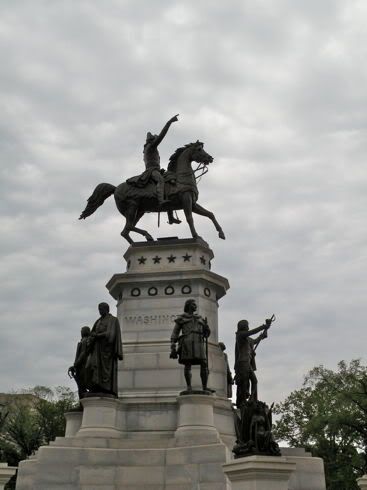 Stonewall Jackson.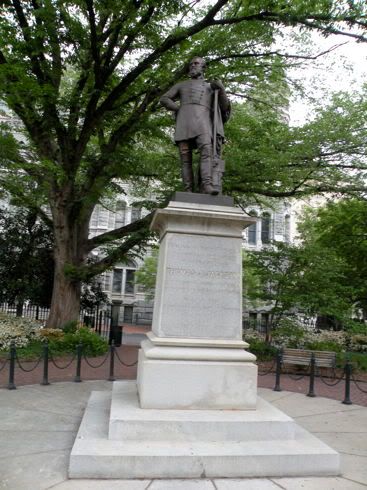 In this statuary time line of Virginian history, hope for the future.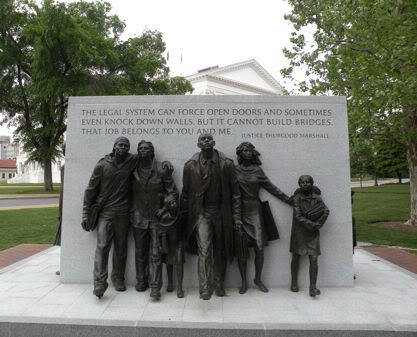 My biggest regret, as I was not staying the night and had to move on, was not having time to find Monument Avenue, but at least I left on a good note.
Speaking of notes; two songs, contradictory as they might be, apropos to this photo essay (can I call it that?).
Rebel Son – Bury Me in Southern Ground
But then again, when it comes to making a big deal about Confederate History Month, honoring Davis' 200th Birthday, sneaky state flag changes, continued whining about the NAACP, and petty neo-Confederate crap…
Oh, and don't think that song just applies to the War of Northern Aggression. A few of you need to get over having a black president, as well.
P.S. Do look over the CS Constitution and tell me if you see any striking similarities to a certain movement today. With these folks, I don't even think they're being cynical. I really don't think most of them have made the connection that they carry on a Confederate undercurrent; one which has been reborn under a yellow banner.
P.P.S. Uploading images to the photo sharing site and then inserting them into the post one by one, and then formatting them, and then reformatting them, can make the author grumpy. You've been forewarned.