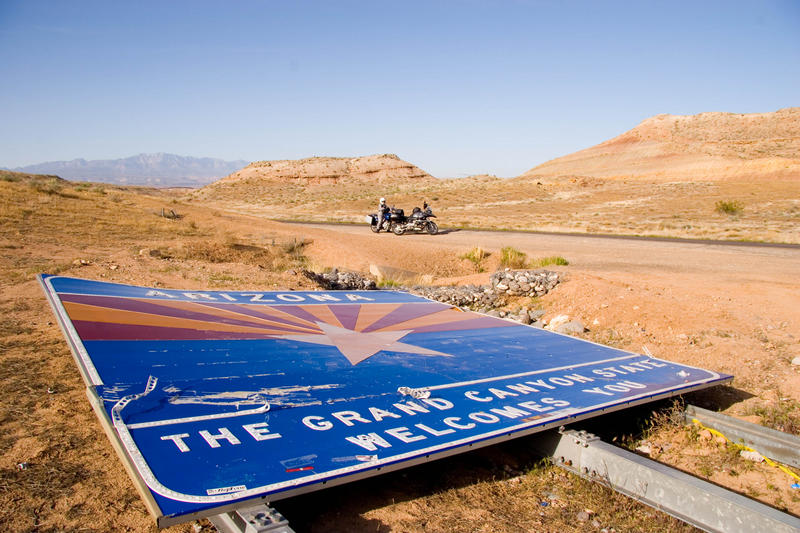 The first years of Obama's presidency may be remembered for many things but one of the inescapable results has been a renaissance of racism.
We have become far too familiar with the racism spewing from those on the right including the Teabaggers, all of the racist references, accusations, images and statements.
Now, it has become further institutionalized (unfortunately, instead of those on the Racist Right becoming institutionalized) by the state of Arizona which the extremists have hijacked.
This racist legislation comes as the piece de resistance in a recent string of…well, extremist…and socially destructive policies and laws rammed through by the Republican Party in AZ including, as appears in a TPM article:
• June 29, 2009: From the annals of desperate measures, the state considers a plan to sell the House and Senate buildings to raise some quick cash. Under the proposed plan, the House and Senate would lease the buildings over a number of years before buying them back again. Though not actually a piece of legislation, the state's plan was so bizarre that it prompted The Daily Show team to run a segment on it.

• September 30, 2009: The state passes a law allowing those with concealed weapons permits to bring their guns into bars and restaurants. The law stipulates that any establishment with a sign prohibiting guns is off-limits for those packing heat, though it also provides plenty of loopholes to keep toters from having to disarm too frequently.

• February 9, 2010: State Rep. Frank Antenori (R) introduces legislation, co-sponsored by twelve other House members, to cut off welfare funding to any recipients who spend money on cigarettes, alcohol, cable TV packages, a car, or anything else he deems of "the niceties of life." Antenori said of his proposed legislation: "If you're basically hungry and can't afford to feed yourself, then I don't think you should be able to afford to buy cigarettes."

• March, 2010: Arizona votes to repeal KidsCare, a health insurance program for poor children. Not only did the repeal cut health care for about 38,000 kids, but it also may have violated a provision in the recently passed health care reform bill that requires states to maintain its previous standards of eligibility. The move thus jeopardes the billions of dollars the state receives in Medicaid funding from the federal government.

• April 7, 2010: Arizona's Attorney General, Democrat Terry Goddard, refused to join the lawsuit to repeal health care reform that was brought by a number of other state AGs, so Gov. Jan Brewer is on the lookout for other ways. The conservative-backed Goldwater Institute helpfully offered to bring the suit, and Brewer is reportedly considering the offer.

• April 15, 2010: The Arizona House approves a bill to strengthen abortion requirements, following its passage in the Senate. If signed into law by the governor, the bill would require abortion providers to report on the individual abortions they perform. Though the names of the women would remain confidential, the bill would also require statistics on how many times courts bypassed parental consent laws, among other things.

• April 20, 2010: A bill that would require presidential candidates to prove their citizenship before appearing on Arizona's ballot wins initial approval from the Arizona state House. The bill still needs final approval from the House and state Senate before it gets sent to Gov. Brewer, but if it passes it would require President Obama to present his birth certificate if he hopes to get on the Arizona ballot in 2012.
http://tpmdc.talkingpointsmemo.com/2010/04/crazing-arizona-how-a-state-went-from-swinging-in-08-to-out-on-a-limb-in-2010-1.php
Under this wack Repub government, AZ sounds like an Orwellian police state run as an Idiocracy, like a Nazi occupied Casablanca ("Show me your papers…and your Letters of Transit!") where the Nazis are played by angry cavemen.
The silver lining in this is that these would seem to be the last throes of the need for white supremacy in America. Maybe it's not a coincidence that AZ hosts a large amount of retired people, it is the older white people who percentage-wise are most fearful and prejudiced towards minorities. They remember the comfort of white supremacy, of black people averting their eyes and sitting at the back of the bus.
The concept of AZ, let alone America, not having a white majority that is superior is upsetting to them. But that is the clear course of the future.
This may have been a blessing in disguise. Most of the country, even some Republicans, have banded together to confront such racism. Talks of boycotts, legal action and even renewed immigration reform legislation in Congress has resulted from this outrage.
The ironic outcome could be to both taint the RW and Baggers as the racists they are while possibly establishing immigration reform that will treat human beings who have been good members of society humanely while restricting hateful white people from using the law to oppress those who aren't white.
Apartheid is not American, it will not be tolerated.