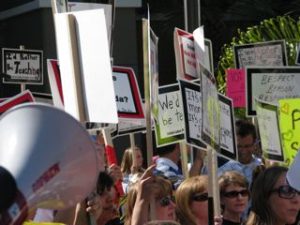 In South Orange Country CA., the teachers of the Capistrano Unified School District had just finished day three of a district wide strike.
Then, late last night at 11:40, it was announced that the strike was over, the two sides had reached a tentative agreement.
This is a district of 36 elementary schools, 2 K-8 schools, 10 middle schools, and 6 high schools.
Roughly 52,000 students living in Aliso Viejo, Dana Point, Laguna Niguel, Mission Viejo, Rancho Santa Margarita, San Clemente and San Juan Capistrano CA. This has been covered by the SoCal LA news stations, LA Times, and of course, OC Register.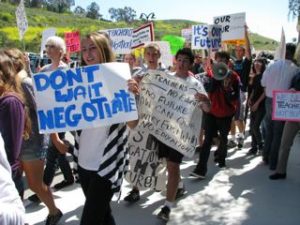 This district is noted for being rather conservative. I would say the greater majority of teachers call themselves republican or independent.
Nearly 90% of those teachers walked the picket lines Thursday, Friday and Monday to support of their CUEA teacher's union. Thats right. I said union, Republicans in a teacher's union, marching on picket lines in Orange County California.
Many parents and students joined them on the line and at numerous rallies.
http://abclocal.go.com/kabc/story?section=news/local/orange_county&id=7407171
The Teachers points of view

So what was the big problem?
Why so much turmoil?
Is it all about the budget having a 34 million dollar shortfall?
To help with the budget shortfall, the teacher's CUEA Union had put forth good faith in agreeing to a 10.1% TEMPORARY pay cut. It became obvious something else was on the agenda.
Simply put, the Board of Trustees wanted to make it a PERMANENT 10.1% pay cut. That is the equivalent to asking a teacher to work one month out of the year for free.
Oh, but wait, look at this, look at what the Board of Trustees is spending our education dollars on …
Nearly 2 and a half MILLION for private Attorney fees for the Board of Trustees.
Untold Money to private PR Firms
Security Firms $100,000.00 for uniformed guards at all the schools and at the districts office.
$275.00 a day to subs (scabs) that cross the picket line to replace the Teachers normal rate of $90.00 a day.
Phone banks at the district to handle the flurry of all the calls.
Numerous Robo Calls giving parents daily status for each of the schools. That can't be free.
Since when does a public school system need a private PR Firm?
How much is that phone bank going to cost the district?
If it is only about the budget shortfall, then why all this spending?
Is this fiscally responsible?
The students and families have an overwhelming support for the teachers and wanted to see them treated fairly.
With Star Testing coming up and AP testing next week, the pressure was on.
Add to that, reports that the UPS drivers would not cross the picket lines to deliver the AP Test materials.
Why the delay?
How can something like this happen to a district with award winning schools?
Cue the Education Alliance of Orange County.
HISTORY OF THE EDUCATION ALLIANCE:
ELECTING CONSERVATIVE SCHOOL BOARD MEMBERS
The Education Alliance was formed in 1994, and operated as a political action committee supporting candidates who support local control of our schools, the rights of parents to make educational choice for their children, and an emphasis on basic, academic instruction.

Support for these common sense principles put the Education Alliance squarely at odds with the teachers unions.

The Education Alliance enjoyed a substantial measure of success both in electing school board candidates during the three election cycles in which it functioned. Ken Williams, Kay Weymouth, Tammie Bullard, Frank Ury, Jim Righeimer, Phil Yarbrough, Matt Harper and Alexandria Coronado are just a few of the many current local political leaders who the Education Alliance supported.

Since the 1990's the performance of our schools has continually declined. Today it is still far below its potential, and the control of our education system by the elite, liberal bosses who run the teachers unions have been consolidated and are now more complete than ever. Even the most modest changes, such as merit pay and charter schools, are strenuously opposed using the funds of teachers who often support these proposals. This was shown in the 2005 special election in which overwhelming union spending was used to defeat Governor Schwarzenegger attempts at reform.

The Education Alliance began to become the organization committed solely to giving a voice to parents and teachers who support excellence for our children through means other than the liberal, self-serving policies of the teachers union leadership and their allies in the education establishment.
http://www.education-alliance.org/
The web site is rather creepy with it's last update from 2007 and a "paper crunching" sound. It's like a ghost town.
If the ideas of the Education Alliance are so good, why hide them?
Thank goodness for bloggers. Especially this one, Ellinorianne.
She did an incredible job shinning a very bright light on this issue before our school district both in local blogs and at the Daily Kos.
http://www.dailykos.com/story/2010/4/12/856544/-Privatizing-our-Public-SchoolsCUSD-Ground-ZeroThis-is-a-National-Issue
This video the Ellinoianne posted in the blog both informs and entertains.
http://www.theliberaloc.com/2010/04/23/the-devil-in-the-details-of-the-cusd-strike/
The Board of Trustees are now in power because of a recall election.
It's complicated as are so many things surrounding this issue.
http://www.cusdrecall.com/
I would be all for talking about innovation in education and might really enjoy hearing a debate about how a charter or voucher system could benefit this school district but this EA group has lost me.
The minute they mention reform, I know that means cutting teachers pay  and pushing to privatize our public education system.
Of course the results of this strike have not been pretty:


Now we have a new recall effort that I support.
http://www.caporecall2010.org/why-recall/
Students have become very involved.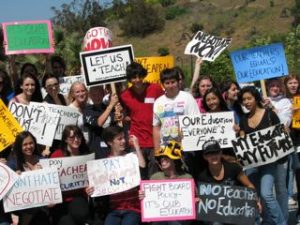 When talking with one of the teachers at the district rally on Friday, she noted that the majority of students protesting here today are the Honors or AP/IB kids. The teacher said;
"These kids are mostly the honors and AP kids, they are smart, they get it, they know what is going on, you can't fool them."
There will be a huge new crop of 18 year old voters in our district that will never look at local elections the same, neither will their parents.
I welcome any corrections and hope to be updating this fluid situation.