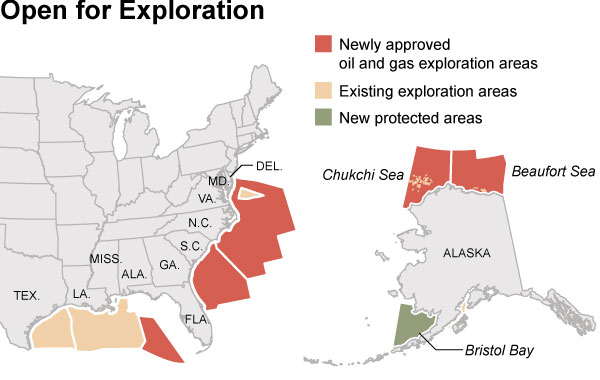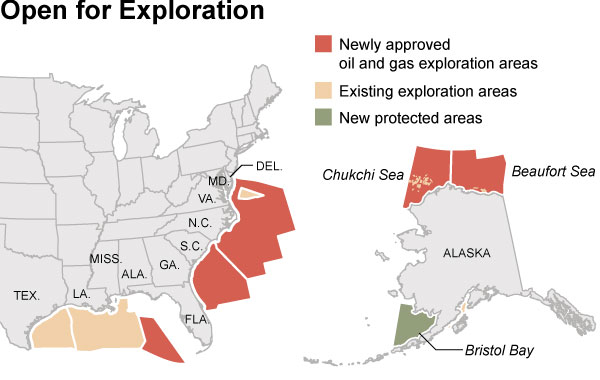 President Obama has opened up oil drilling 50 miles off the coast on much of the Eastern seaboard and 125 miles off the coast of Eastern Gulf of Mexico. While he shut down most drilling in Southern Alaska and has added drilling North of Alaska.
Open ocean drilling is not my first choice but the president faces a huge dilemma in how to finance new alternative energy spending. He's already increased spending for renewable energy research with the stimulus and in the budget but that is mostly deficit spending. Thanks to the sudden interest of the left and right to have things paid for Obama has to come up with revenue for any new spending.
President Obama wanted that revenue to come from cap and trade but now that the right and left have demonized cap and trade even though it's a progressive idea his hands are tied. The right always hated cap and trade by calling it a tax and now the left has demonized it because investors are part of the process. Not to mention that average Americans have cooled on worrying about climate change somewhat because with our short attention span society a couple of cooler years means the threat of climate change is not real to many Americans.
So what is a president to do when he needs revenue to develop alternate energy to make us energy independent?
Being the ultimate pragmatist he is Obama chose getting revenue through new open ocean oil drilling leases and possibly oil royalties. It's not the best choice and would not be my choice but if the president wants to invest in renewable energy for energy independence and not increase the deficit it's the only viable choice. My choice for the record would be just to deficit spend because it will pay off in the long run.
We also have to realize how we got here because we are way behind in alternate energy research because we've had no real energy policy since President Carter tried to implement one. We fooled ourselves with cheap fossil fuels and need decades of research and implementation to ween ourselves off of them. I know many progressive including many folks here just want to turn the page and go to alternative energies now without any transition period. The problem is the technology is simply not there yet and will not be there for decades.
Also for all the liars out there like HuffPo the president's position on offshore drilling evolved during the election. I never had any delusions that Obama was not a politician. He modified his opinion on offshore drilling because it was popular but he also never forgets his grand strategy that included three basic pillars of his vision including; healthcare reform, energy independence and education reform.
Obama says would consider limited offshore drilling (from August 1st, 2008)
Obama dropped his blanket opposition to any expansion of offshore drilling and signaled support for a bipartisan compromise in Congress aimed at breaking a deadlock on energy that includes limited drilling.

"My interest is in making sure we've got the kind of comprehensive energy policy that can bring down gas prices," Obama said in an interview with The Palm Beach Post during a tour of Florida.

"If, in order to get that passed, we have to compromise in terms of a careful, well thought-out drilling strategy that was carefully circumscribed to avoid significant environmental damage — I don't want to be so rigid that we can't get something done," Obama told the newspaper.