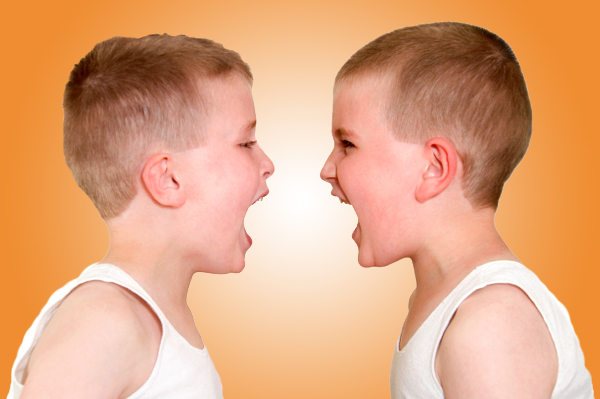 The GOP appeals to the child in people (just look at the cartoonish characters representing it in the media and Congress).
The child they appeal to is the one that throws tantrums, beats up weaker kids for their milk money, is scared of people and things that are different, lies to escape responsibility for its actions and solipsistically believes that the most important thing in the world is what it personally wants, fears, hates, thinks and feels.
So should anyone be surprised that the current strategy of the GOP for dealing with the ramifications of their whipping up hatred and racism in society, their hypocritical sex scandals and financial improprieties is to turn to Democrats and sneer, "I know you are but what am I?"
The discourse in politics from the GOP hasn't degraded as much as it has regressed. It is elementary school. Except 6 year olds know the difference between a lie and the truth, they get along with classmates of all races and they feel guilt when they get caught doing something wrong. It is kind of sad that one of the two major political parties in this nation is less mature and responsible than 1st graders.
The problem for the Dems in this is that there is a reason that the "lowest common denominator" is called "lowest". The more crass and simplistic comments are the best understood by the widest amount of people. I mean, think about Reagan and Bush with their "Evil Empire" and "Axis of Evil". I'm sure to the most devout GOPers they thought Bush was saying, "The Axes of Evil" and Evil would be coming to attack like the killers in a slasher movie.
Remember, under Bush we were going to defeat evil? Huh? Like Evil is hiding out in an abandoned warehouse in Gotham City? I'm surprised Bush never declared war on Bad Feelings too.
The unfortunate fact is that as good hearted and considerate as many Americans are, far too many are just not mature. They may have an adult body but inside resides a child working the levers. And as most are aware, children will believe almost anything their parents or an authority figure tells them. Especially if it's stated as absolute fact. Or if it's really scary.
Tell a roomful of children that if they get slapped on their back while crossing their eyes, their eyes will stick forever like that and some will fearfully accept that as fact. Tell a nation of adults that a health care reform bill actually has death panels to kill granny and some will fearfully accept that as fact.
American society, that is, American capitalist/corporatist society, has been conditioning generations to have a delayed adulthood, to remain "kids" even after they grow up.
Years ago and in many societies around the world, even more primitive ones, there was definition between childhood and adulthood. When you became an adult, you put away childish things. In civilized society, a boy would trade in his short pants for trousers when he became a man. In primitive societies, children would go through a scarification ritual to forever alter and change from a boy to a man.
The ritualization of becoming an adult is missing in today's society and so many do not make any transition. Yes, there are Bar Mitzvahs and Bat Mitzvahs, Sweet Sixteens and Quinceaneras but they seem to be more symbolic than transformative today. Now, this is not an attempt to create a new interest group demanding the return of scarification or short pants. It is merely an observation that there doesn't seem to be a division anymore between children and adults.
As any commercial for Dave and Busters demonstrates (in case you haven't seen, it's a Chuck E Cheese's for adults).
Years ago, kids and especially girls were restricted from wearing jeans at school (in some schools, girls were barred from wearing pants and had to wear dresses or skirts). Today, parents can and some do wear the same style pants and shirts as their kids. They play Wii as much as or sometimes more than their kids. They get annual passes to theme parks. Adults eat kid food which corporate America has renamed "comfort food" so adults will feel good about it. Adults watch "comedies" which use endlessly recycled immaturity-based humor such as getting smacked in the groin, cruelty to animals and pee and poop jokes to get laughs.
Hey, I like a bite of mac and cheese while playing the latest Super Mario on my Wii after watching cartoons (er, I mean "animation") on my huge plasma TV (one of my many "toys") after picking up a Starbucks Mocha Frap ("milkshake") on my way from the mall where I bought a bunch of new clothes that look just like what the kids are wearing and after I got my hip new haircut that looks just like Robert Pattinson's because I've read the Twilight books and have seen both movies as I did with Harry Potter. And if my daughter ever questions me, I remind her who the adult is…after doing substantial research to verify.
Here's the thing, if we can stipulate that child-like thinking is the easiest to manipulate and dominate, is not erasing the line between childhood and adulthood a boon to those who would most like to influence society? Does the unending childhood of Americans, the corporate and GOP political mantra impressed on the public of "Don't worry about being selfish and self-indulgent, you can have it all, you deserve it!" not only appeal to the children in everyone but validate giving in to it?
As kids with credit cards (or home equity lines of credit), this nation swarmed the candy and toy stores, happily gratifying themselves with little thought of a bill ever coming and the same banks that lured them into doing so were actually financially entrapping them and stealing everything else that wasn't nailed down. Was this a coincidence, that the banks fostered people acting irresponsibly like children so they would be burdened with debt and distracted while the nation's wealth was robbed?
Let's complete the circle now. Economically and politically, the most ideal population to be manipulated is one that thinks and acts like a child. Critical thinking is something that's acquired with time and growing up. Principles that one lives one's life by and stand by are also acquired by growing up. So, an adult who is just a grown up child is not much better equipped to avoid being manipulated than an actual child.
And I think this is what we've seen in quite a visible way in our society recently. The Teabaggers are tantrum throwing brats and bullies, beyond reason and reality. They have been given permission to hate or vent their fears impulsively just as children would. They are easily convinced of the most ridiculous and outrageous lies by the authority figures they trust, just as children would be. They don't have the intellectual tools for self-awareness to see how they are perceived nor to question what really is the truth.
And my experience with Repubs has mostly been like talking to stubborn, grown up children who are more often than not, self-centered. "I don't want to pay MY money for taxes, I want MY country back, I don't want MY money paying for other people's health insurance, I want MY religion as the law of the land, if MY candidate doesn't win then the winner is not MY president, if you're not just like ME then you're MY enemy."
It seems intuitive that the more of a child one is, the more one should connect with the corporate and GOP mindsets (which also collaborate on the constant and publicly broadcast delusion, "Just like every other American, YOU will be a millionaire one day!"). They pander and encourage child-like behavior and thinking in the public and benefit greatly from it.
Yelling, spitting, breaking things, threatening, throwing tantrums, whining about how no one listens to you or does what you want…that is today's GOP.
So, if the GOP gets in trouble for something they've done, of course they'll sneer, "I know you are, what am I?" If people with different color skin get what these people want for themselves, of course they'll say, "No fair, that doesn't count! You cheated!".
This should not be a surprise. What is disappointing is how many adults in America see Peter Pan as a role model.