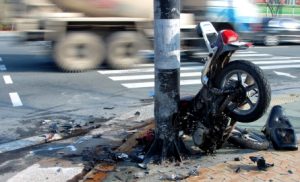 A person I work with wears his libertarianism on his sleeve. He rails constantly at the workplace about liberals, hippies, taxes, Obama, etc. He has literally said in the workplace that Obama is evil.
Well, about a year ago, he got into a massive motorcycle wreck. He had been drinking and he wasn't wearing a helmet. He had a fractured skull and spent weeks in the hospital and required months of therapy. He missed about three or four months of work.
Since then, he has railed about all the hassles he has gone through with our insurer (United Health Care) and how they try to screw him every chance they get. Even with insurance, he owes more than $50,000 in medical bills (I can't imagine what the total cost of his treatment must have been), and he said he may have to declare bankruptcy because of his problems paying these bills.
On Monday, he posted on Facebook, a long-winded tirade against Health Care Reform. He called it the end of our country, and my favourite: "That slow sucking sound you here? That's Hussein Obama's socialism dragging this country down the drain." He was obviously very, very, VERY angry about Sunday night's historic vote.
Well, some people responded, as you can guess, and he told some people off. Someone got mad and called his boss.
It turns out this guy has to sometimes deal with health care professionals and local politicians as part of his job. More than 500 of his fans, many of them local, read this tirade of his. The boss wasn't happy and they suspended him without pay for two days over it.
I honestly feel sorry for the guy. There was something not quite right with him even before the motorcycle crash. He has no impulse control; no filter stopping him from doing some of the self-destructive things he does. He can't seem to help it.
But, what I'm struck by — again — is how he is so blinded by his idealogy that he was utterly incapable of seeing that if anyone could benefit from health care reform, it's him. He's looking at bankruptcy because of medical bills, but he rails about socialized medicine.
Honestly, if everything in this bill went into effect tomorrow, I don't know if it would really help this guy. If he lived in Canada, which has genuine socialized coverage, he wouldn't be facing $50,000 in bills he can't pay and possible garnishment and even bankruptcy. He just isn't making the connect.
I continued to be mystified at the disconnect.