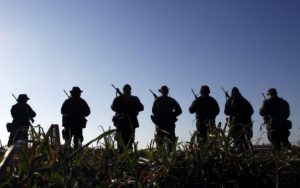 As a follow-up to Hate in America, did anyone see the DKos diary on the group in Texas called Repent Amarillo?
http://www.texasobserver.org/dateline/he-who-casts-the-first-stone
What's next for Repent? They've posted a "Warfare Map" on the group's Web site. The map includes establishments like gay bars, strip clubs and porn shops, but also the Wildcat Bluff Nature Center. Repent believes the 600-acre prairie park's Walmart-funded "Earth Circle," used for lectures, is a Mecca for witches and pagans. Also on the list are The 806 coffeehouse (a hangout for artists and counterculture types), the Islamic Center of Amarillo ("Allah is a false god"), and "compromised churches" like Polk Street Methodist (gay-friendly).
In January, Repent caused a stir when the group rolled out BoycottHouston.com, a Web site that urges economic sanctions against Houston because the mayor is gay and a large Planned Parenthood building is being built.
In  http://amarilloindy.com/wordpress/?p=651, their leader, David Grisham says: "Tolerance is indeed the last virtue of a degenerate society. Any society that starts teaching its children about tolerance and intolerance rather than good and evil will raise an entire generation that simply tolerates evil."
Grisham works as a security guard at Pantex, a nuclear weapons facility contractor for the federal government. The Pantex website says, in part, that the plant, located 17 miles northeast of Amarillo, is charged with maintaining the safety, security and reliability of the nation's nuclear weapons stockpile. The facility is managed and operated by B&W Pantex for the U.S. Department of Energy/National Nuclear Security Administration… The Pantex Plant workforce must exhibit the highest standards of ethical behavior. The Company does not discriminate based on race, age, color, religion, gender, national origin, sexual orientation, veteran status or disability.
It's disturbing when religious fanatics have access to nuclear materials.