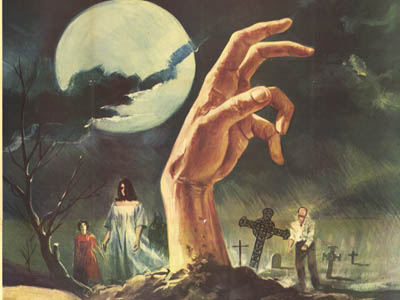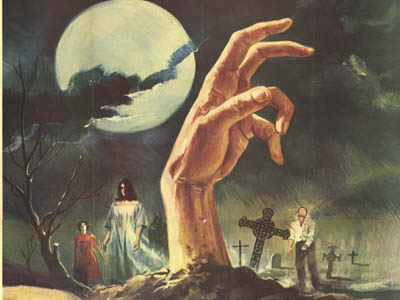 Here's the audio for the trailer of the new horror movie (for the GOP), "Night of the Living Reform"
NARRATOR: It was hacked into pieces! It was smothered alive! It was buried and left for dead! Now…it's b-a-a-ack!!!

HOWARD DEAN: "When ya kill a bill, ya better make sure it's dead!"
LINDSAY GRAHAM: "No! No! Don't shove it down my throat! Yes! I mean no!"
MITCH MCCONNELL: "What he said!"

(GROWLING SOUNDS OF A BEAST)
RUSH LIMBAUGH: "Get out of here! Get away! I'll sit on you! I'll eat you! Get away!!! YOU'RE SUPPOSED TO BE DEAD! NOOO!!!
(SOUNDS OF PRESIDENTIAL HOPES CRUMBLING)

SARAH PALIN: "But…I killed you…you can't be alive…I stabbed a death panel right through your heart! You can't…Y-A-A-AH!!!
(SOUNDS OF A TAN TURNING WHITE)
JOHN BOEHNER: "This isn't happening! This can't be happening! I know how to stop you! 'NO'! 'NO'! It's not working! Then eat filibuster!
(SOUNDS OF A FILIBUSTER GOING LIMP)
JOHN BOEHNER: "NOOO!!! Stop! For corporation's sake, stop! You can't roll over me! I'm TAN!!! ARGH!!!

NARRATOR:  Sometimes killing what a majority of Americans want…isn't enough! HCR is back from the dead…and this time, it's reconciled to kill the opposition! Night of the Living Reform! Coming soon!
Yes, momentum and possibly even reason has returned to the minds of Democrats in Congress. Their brilliant minds seem to have recovered from the Scott Brown election mentality of "Only 59 seats now! We're helpless!" to "Hey…if we can't do anything with 59 seats, how can I win re-election by saying keep us in the majority?"
So, a growing number of Dems in the House and most importantly, in The Senate are championing bringing back real HCR including a public option and using reconciliation to get through the changes to the Senate bill that couldn't pass a filibuster. Just as many of us have been hammering them to do for a long time.
The House is 100% right not to sign the Senate bill until its horrible provisions have been overridden by the reconciliation bill…which needs to include a Public Option. If that is done, public opinion on all of this will turn around.
The main reason most opposed the bill was because the public option was killed and there would be mandatory purchase of policies from insurance companies who can, as Anthem tried, raise premiums 39% at a time and bankrupt citizens who would be breaking the law and penalized for not allowing themselves to be bankrupted.
This two step approach is so simple and reasoned. Pass the aspects that all can agree on then pass the aspects that favor Americans over corporations by 51 Dem votes.
Aside from reforming the filibuster, reconciliation is the only path for the Dems and Obama to turn around the perception of a gridlocked and helpless government. It is an absolute.  And they must not stop here, just as the GOP is using the filibuster to block everything, the Dems must use reconciliation to pass everything they possibly can through that method.
That means a jobs bill, bank and Wall Street reform, energy and carbon emissions bills, etc. Of course, there must be a budgetary element to any bill to qualify for reconciliation but how difficult would that be to have financial elements involved in each of these bills?
To me, it's very simple. If the GOP is going to pull the emergency cord on every bill, the Dems should be prepared to pull their emergency cord in response. They are in the better position and could even use that as leverage to make agreements that if the GOP won't filibuster, they won't go around them with reconciliation and let them be part of the process.
I doubt this would work for a while but do they want to go 8 years without having any influence on any legislation? If public opinion turns around to support the progress occurring under Obama and Dems in Congress, what will they have to campaign on? Not one vote for anything?
I am FINALLY encouraged again that momentum is on our side but we need to keep it up and keep hammering any of our Senators and Congresspeople who are not already on board.
BTW, MoveOn.org is collaborating with DailyKos and a number of other sites and groups on Feb 24th to organize a 1 million message protest which I recommend to all members here to join. Here is a link to their site, click the article to sign up if you wish: http://moveon.org/
This can really happen if we fight hard enough against the GOP and corporations and for real health care reform, for all Americans, current and future!