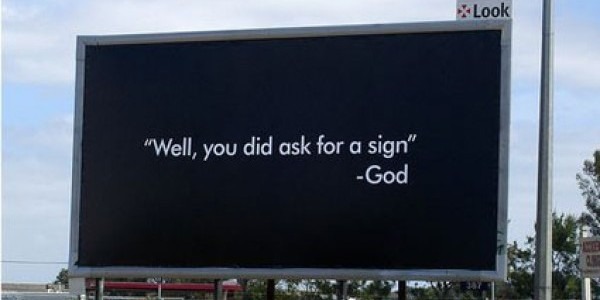 Once again, God has been motivated to blog and has been kind enough to share it with us.
Makes me feel appreciated for being a Deity Virgin when we met and not having any Gods before him…though I was always concerned that he might prefer someone with more experience and that I wasn't worshiping him right despite his constant reassurances.
In any case, here is God's latest blog entry:
Hey all! God here…and everywhere of course, which really reduces my need to have to pay a Carbon Offset, like ever, which is so worth the hassle of omnipresence.

Don't know what your Thursday was like but mine was totally wack. So, it's just a lazy afternoon for me and my son, fixing a few things around the place and telling more Republicans to run for office and announce that we told them to (they're so gullible!) when I hear Pat Robertson blaming the devastating earthquake in Haiti on me being PO'd at the Hatians for not wanting to remain slaves!

WTF?

I may have created human beings in my image but if you think I look anything like Pat Robertson, you're totally high.

The truth is, he and Rush look more like a relative of mine, they have his round face, even his creepy smile, not to mention that both of them think they can beat anyone in a fiddle contest.

So many nutty things to address and only an eternity to address them which just never seems like enough time.

Let me begin by saying straight up, I do not talk to Pat Robertson and neither does my son, we don't even send him Christmas cards. It really pisses me off that he lies about this, I'd strike him down with a bolt of lightning but since he is one enormous negatively charged particle, I don't want to blow up a whole city block.

Our falling out with Pat goes back to a nasty argument my son got into with him. My son got fed up with all the BS Pat was saying about us down there and wanted to sue him for Defamation of Character, I told him it would be impossible finding an impartial jury when you're an infallible deity so my son decided to instead pay Pat a visit to see what's what.

He explained to Pat that this was his first and last conversation with him, that he needs to stop lying and blaming us every time something bad happens on Earth. Meanwhile Pat stole my son's Milano cookie from beside his coffee cup and ate it in one bite. What a dick.

My son went on to explain that when natural or man-made disasters occur on the planet (not The Planet, of course), it's not us being vindictive weenies, its the result of the dynamics of existence in the physical plane and/or human nature.

"Pat, there are many forces in play in the physical world, many of which are in constant interaction with each other, such as plate tectonics which is what causes earthquakes. Earthquakes are not cause by belligerent, vengeful, grudge-holding all-powerful gods with the emotional maturity of a televangelist."

That's when Pat let one go, at first pretending he didn't notice anything then blaming my son for the foul odor. My son replied, "You know what the 11th Commandment would have been? 'He who smelt it, dealt it'."

In retrospect, I think that really does describe Pat fully and succinctly.

Pat keeps smelling the scent of sulfur all around him. The scent of evil (and nachos). And he keeps pointing at everyone else, especially the meek, the suffering  and those who have the least power, he points at them as the cause of what evil and noxious scent he smells.

However, in his off-handed remark, my son so wisely summed up that human ball of gas.

He who smelt it, dealt it.

And not only does he deal it, he stands Pat.