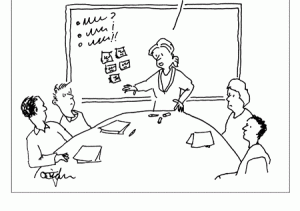 I've been thinking about the HP Truth Campaign for a few weeks. I'm very excited that we have such enthusiastic support for this project. I'd like to present the next installment.
None of this should be seen as set in stone. I'm hoping for a lot of discussion about how to proceed in order to make this project powerful and impacting.
The first things I think we should talk about are goals and objectives. What's our big goal? What are the step-by-step objectives that will get us there? What do call the project? And how do we package it?
For me personally, the big goal is strong progressive participation in the November 2010 elections. All the negativity that we're seeing from the left has a real potential to discourage progressives from showing up to vote, or to move them to vote for third-party spoilers that will hand elections to Republicans.
We can't afford either of those scenarios. We finally have an agenda that, for the first time in 30 years, addresses real needs of average Americans. And even with the majorities in both houses of congress, legislation is squeaking through, and bills have been compromised so that they don't deliver the strongest programs. Any dilution of Democratic majorities in the House and Senate will only make this situation worse.
To achieve the overall goal, I see the step-by-step objectives as follows:
Reveal the Republican Party for its ineffectiveness, obstruction of beneficial legislation, and obsession with irrelevant political games
Expose inaccurate media memes that distort the current record and demoralize the progressive base
Write to progressive advocates regarding destructive media memes with our concerns about progressive morale and possible brainstorming for criticizing without damaging progressive engagement
Highlight the impressive democratic record of 2009
Emphasize the difference between what has been accomplished and what we would like to achieve and, most important, talk about the best way to get more progressive programs passed in congress
My hope is that if PPOV can succeed in meeting these objectives, we can play a modest role in motivating the progressive community to stay energized and engaged—and to be excited about showing up to vote in November.
Objective 1
The article I wrote on The World According to GOP was my first contribution to Objective #1. Bito brought up a very important next step, which is to look at the legislative record of GOP candidates up for re-election this year. I think we should do the same thing for Democrats. To look at what these people actually accomplish in office, and try to spread the word about this — try to get people to talk about this.
I think it would be very helpful for us to have a good grasp on the electoral landscape—the incumbents, challengers, primary challengers, safe races, and potential turnovers—with a good understanding of the players and their records. One thing that helped tank McCain's bid for the presidency was the rapid exposure of Sarah Palin's weakness as a candidate, and the poor judgment McCain exhibited in selecting her.
Objective 2
Cher has done major work on Objective #2—exposing corrosive media. I know we tend to concentrate on HP when we talk about outlets that distort the record and discourage the base, but I think there are other outlets we can look at, such as AP and CNN.
A Rashomon summary and analysis of media headlines—developed so expertly by e'cat—would be a very persuasive aspect of this analysis. We could also compare headlines and content w the various Democratic and GOP talking points to see which sources are likely to be balance or to lend support to one side or the other.
Last week Arianna Huffington appeared on Keith Olbermann's Countdown, trying unsuccessfully to draw a false equivalency between Obama's terrorism approach and the failed Bush strategies. Keith was having none of it, and kept pressing AH to discuss the idea that the Christmas terror incident may not have been an accident.
What was striking about Huffington's commentary was not so much how anti-Obama it was, but how inaccurate it was. This just popped out in stark relief since I had read e'cat's article, "It's not just the politics," which raises the issue of accuracy. I believe accuracy should be the centerpiece of our media objective rather than negativity or bias, since accuracy is a neutral issue and a very persuasive argument.
As part of this effort, we might want to look at people who are routinely called upon by mainstream media outlets to present the progressive perspective, and comment on whether these pundits are serving the progressive cause. It would also emphasize the constructive aspects of this project to point out people we would like to see have more exposure in the media—for example, Nate Silver of FiveThirtyEight.
Objective 3
AdLib has suggested by email the following strategy, and I think it's very smart.
I think it may be practical to divide those in the media between the intransigent and the possibly flexible. My suggestion is that the project should document and expose the agendas of the intransigent, such as the MSM (including HuffPo), while appealing to those who could be open to revising their views (Naomi Klein, Jane Hamsher, etc.).
There are high profile people who have built their bona fides on talking to progressive audiences about progressive issues. Progressives are the people who listen to and respect them. And yet, at a time when these respected voices have the opportunity to build the movement, solidify our progress, and push for policies we've been waiting for years to see a whisper of a chance to get through congress—too many are spending their capital on angry rhetoric that demoralizes the progressive audience and fractures the progressive community.
Here it is, the midterms—an ideal time to be campaigning for progressive primary challengers—and I've heard nothing about this aspect of progressive politics. No candidates, no districts where a challenger would have a good chance. I believe that one of the reasons Ned Lamont won the Connecticut Democratic primary was because of the work done on Air America by Sam Seder. We need to get focused.
I think we could engage/challenge some of the more prominent progressive commentators in this regard. The people I have in mind to write to directly are:
Glenn Greenwald
Jane Hampshire
Thom Hartmann
Arianna Huffington
Naomi Klein
David Sarota
Ed Schultz
Katrina vanden Heuvel wrote this piece in the December issue of The Nation, summarizing very well the current state of progressive politics. I like her assessment. Disagreement is a good thing. Dissatisfaction with the status quo is a good thing.
But—let's use that dissatisfaction to stay motivated and energized, not walk away from the process. I'm not talking about being a yes-crowd like the GOP base. What makes the progressive community strong is its ability to think outside the box. It would be against our philosophy to squelch dissent. But we need to master a strategic discourse that respects free thinking while encouraging engagement and action—rather than chasing people away from the voting booth.
Objective 4
These stories never get enough coverage. The democratic congress has made important changes this year, as has the president. The public needs a reminder. As well as a reminder about how much of this kind of legislation is ignored when Republicans are in charge.
There has been so little coverage of what congress is doing that Republicans are getting away with saying that the Democrats can't get anything accomplished. And this is such an easy talking point to refute. What might be more difficult, but more interesting, is to talk about how some of the new legislation passed this year has affected, or will affect, real people. Those stories are very powerful. And really give us a sense of accomplishment.
Objective 5
This may be the most important of the five objectives (as I seem them). We all know that the health care bill is far from the ideal legislation we would like to see passed. More important than complaining about it, however, is figuring out what to do about it. And no one seems to be talking about that. Complaining is pretty useless unless it leads to some constructive action.
How do we make the bill better? Who needs to be in office to do that? What organizations need to be involved?
And this problem extends to other legislation pending in congress—the climate bill, the banking reforms, the EFCA. There's so much going on, so many places for progressives to be involved and fighting for better policies.
So that's my take thus far. Can we use this thread for a brainstorming session on the goals and objectives? And once we seem clear on where we want to go, we can plan out the steps for getting there.
Thanks everyone!