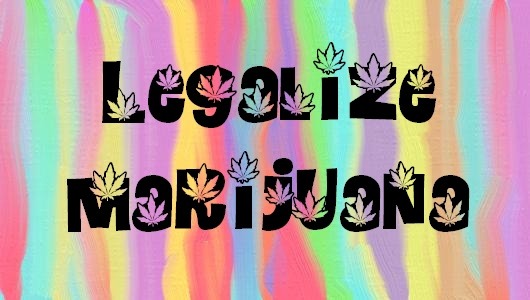 California is in the early stages of legalizing marijuana use.  New Jersey is probably going to legalize medical marijuana.  Thirteen states will then have decriminalized marijuana use in some way.  It is time to seriously consider legalizing at least decriminalizing the use of marijuana in the US.  Prohibition did not work and only lead to more crime in the 20's and 30's yet we failed to learn from that lesson.
In many countries around the world Marijuana is legalized or at least decriminalized: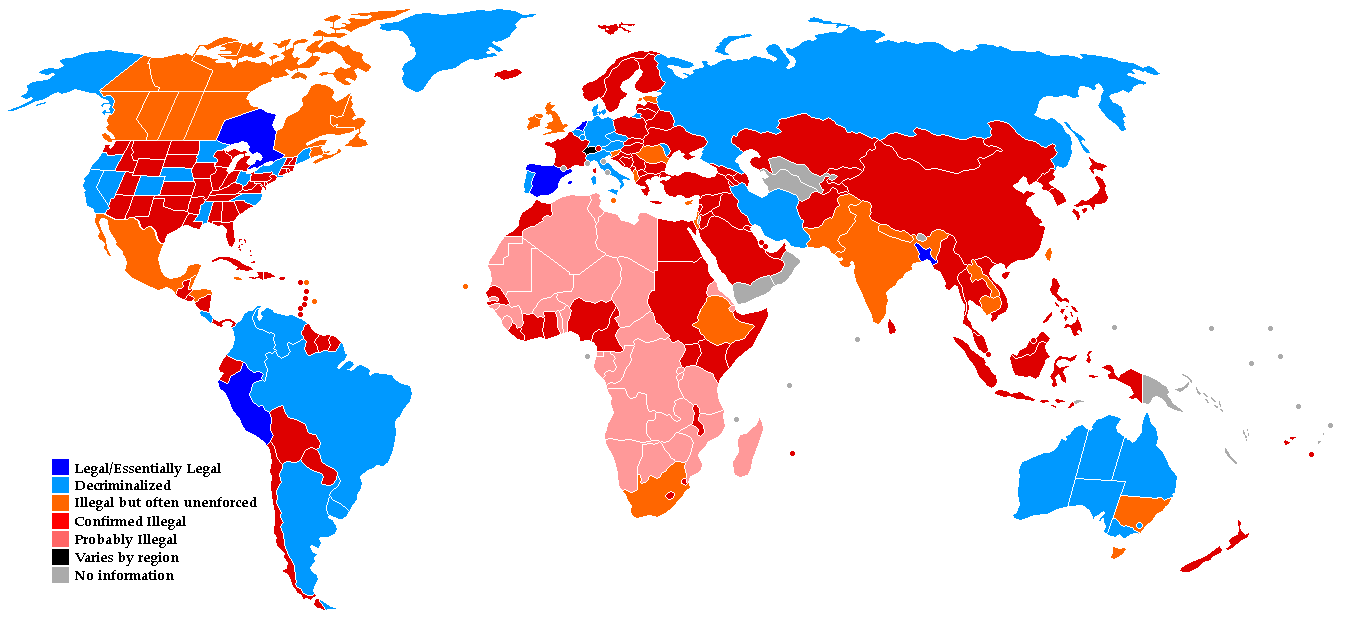 The arguments against marijuana use are paper thin and can be disputed easily when compared to other drugs we legalize and misconceptions about marijuana.  The arguments for marijuana use are indisputable and often discounted for political reasons.
Arguments Against Marijuana Use Are Mostly Myths:
Refuting the bogus gateway drug argument:
For one thing alcohol is the first drug most people use and abuse in their lives so it is the ultimate gateway drug in that regard.  The only reason marijuana is considered a gateway drug for illicit drug use is because it is illegal to use now in most states.  If legalized 90% of marijuana users who are law abiding citizens will not have to illegally obtain it through drug dealers that offer a myriad of other drugs.  But there is nothing synergistic with marijuana and other drugs that enhances it's effects.  Of course you have to no the difference between an additive effect and synergistic effect.  Synergistic means 1 + 1 = >2 if you 2 drugs together the effects are far worse.  Additive means 1 + 1 = 2 which means if you use two drugs together they both impart the same affect if used alone.
Marijuana is safe compared to most drugs including prescription drugs:
Marijuana is one of the safest drugs to use.  It is not addictive, has few long term effects, targets no bodily organs and when inhaled with proper devises like a vaporizer does not even cause lung problems.  Most drugs impair people's ability to operate motor vehicles or heavy equipment but again compared to most other drugs illicit, legal or prescription it is far safer.  Anyone who has experience with alcohol, opiates, Valium derivatives and marijuana will tell you that they would rather have someone on the road with them that has imbibed in marijuana rather than the other drugs.  No one has ever died from a marijuana overdose, in fact it's impossible because of the way the body absorbs THC derivatives.  But thousands have died of alcohol overdoses and overdoses of about every other illicit drug.  Most poignantly, most prescription and even many over the counter drugs are lethal in large enough quantities.  Therefor in this way marijuana use is uniquely safe compared to other drugs.
Alcohol use is far more dangerous than marijuana use:
Alcohol use is a dangerous drug that has debilitating acute and chronic physical effects.  Abuse of alcohol is one of the main causes of liver failure.  Alcohol has synergistic effects with opiates, Valium derivatives and many other drugs which amplifies the depressive or mood altering effects of the drug combination.   Alcohol is far more dangerous when operating motor vehicles and heavy equipment than marijuana because alcohol not only impairs physical functions it impairs the decision making process by lowering inhibitions.  An old joke is a cop knows you are drunk when you are going down a major thoroughfare 50 MPH over the speed limit and they know when someone is smoking weed when they are going 20 MPH under the speed limit which does have some validity.
Marijuana has legitimate therapeutic use for many chronic diseases:
Study after study marijuana has proven to have substantial positive effects to mitigate the symptoms of a wide array of diseases.  I have not used marijuana for years but I can personal attest to the positive effects of marijuana during chemotherapy and radiation therapy.  Right now it would help my chronic foot pain and reoccurring endocarditis from CHF but I do not take the chance of using it in my state that heavily prosecutes users.  I still do not know if or how much I would use medical marijuana but considering my pain and the drugs I am taking for it now I would appreciate the access to any alternative drug therapies at the very least to improve my quality of life.
From Wikipedia (the spinning THC derivative is my creation):
THC and other cannabinoids, as a physician-recommended form of medicine or herbal therapy. Cannabis has a long history of medicinal use, with evidence dating back to 2,000 B.C.E.[1]

Although the extent of the medicinal value of cannabis has been debated, it does have several well-documented beneficial effects.[2][3][4][5] Among these are: the amelioration of nausea and vomiting, stimulation of hunger in chemotherapy and AIDS patients, lowered intraocular eye pressure (shown to be effective for treating glaucoma), as well as general analgesic effects (pain reliever). Less confirmed individual studies also have been conducted indicating cannabis is beneficial in a variety of conditions including Multiple sclerosis and depression. Synthetic cannabinoids are also available as prescription drugs in many countries. Examples include Marinol, available in Germany and the United States, and Cesamet, available in Canada, Mexico, the United Kingdom, and also in the United States.
Legalizing marijuana will have a substantial positive effect on the economy and state and federal budgets if taxed:
Cannabis use is still common despite being against the law, and more than 97 million Americans admit to having tried it, according to the 2005 National Survey on Drug Use and Health. This is proof that cannabis prohibition is not working, and regulating and taxing cannabis is a better option. Cannabis users are probably the only segment of the population that actually wants higher taxes!

These cannabis consumers would rather pay a tax on their habit and purchase it legally than risk arrest, and with government budgets stretched thin, how can we afford to keep losing this potential source of tax revenue? A recent study by Jon Gettman, Ph.D., "Lost Taxes and Other Costs of Marijuana Laws," estimates that marijuana in the U.S. is a $113 billion industry annually and that American taxpayers are losing a total of $41 billion toward enforcement of marijuana laws and lost potential tax revenue.
Final considerations about marijuana use:
I am sensitive to the legitimate concerns that people have against widespread marijuana use, especially parents.  Obviously marijuana should not be legal for minors and should not be legal until the age of 21 like alcohol.  Marijuana is safe to use but should not be abused like any other drug.  Obviously in certain professions marijuana should not be used during work hours and companies should be able to have drug policies to ensure people are not using drugs during work hours like they do with alcohol and other drugs if they wish.
Like any other drug marijuana should be used in moderation for medical purposes, in the home and in social situations.  Using any drug as a way of life is not healthy.  Marijuana has psychotropic and euphoric effects  that can be used as a crutch for not dealing with the problems we all face in life.  So if marijuana is legalized government should educate people about it's proper use and the implications of it's use.  Moderation is one of the keys to living a physically and mentally healthy life and people need to be educated that moderate use of marijuana is healthy but overuse is not.
If you are interested in more information, advocating marijuana use for any purpose or at least decriminalize marijuana there are several organizations advocating sane marijuana laws and that offer information.
NORML
CommonSense for Drug Policy
Drug Policy Alliance Network
Freedom to Exhale
What's happening now:
The progress that is occurring now in legalizing medical marijuana, decriminalizing marijuana or legalizing marijuana in many states has been steady but at some point probably still years down the road the federal government needs to step in and set the law of the land.  I do not think we are quite at that point were enough public sentiment has been created that it's use should be federalized just yet and the state by state strategy has been effective.  The Obama administration has taken some early steps to end the so called "War on Drugs" by moving to not interfere with states that have adopted medical marijuana laws and most importantly is moving to treat marijuana and even other illicit drug use as a public health concern rather than a criminal concern for users.  However there are still zealot prosecutors, in the DEA and local authorities that make their living off of punishing people whose only crime is using a safe drug.  The other bigger problem is that when another Republican administration gets into power again at some point draconian prosecutions will continue and states rights can be infringed upon like we have seen under the Bush administration.