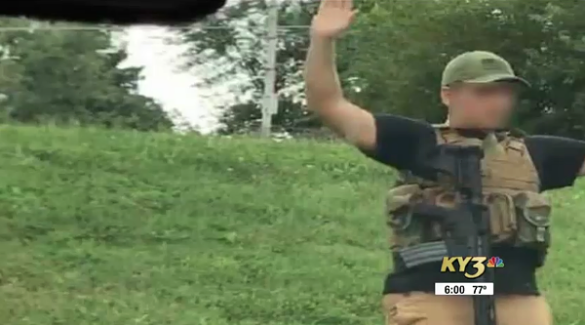 On August 8, in the wake of two mass shootings, a young white male in his twenties, showed up at a Walmart Superstore in Springfield Mo. dressed in body armor and military fatigues, carrying a rifle and handgun along with more than 100 rounds of ammunition.

He reportedly got a shopping cart upon his arrival, and took a stroll through the store while taking video of the entire scene. That's when a store manager spotted the man and pulled a fire alarm, urging people to evacuate immediately.
The suspect slipped out an emergency exit, where an off-duty firefighter spotted him and held him at gunpoint (with a weapon he was carrying!) until the police arrived. The man offered no resistance.
Why was he arrested given that EVERYTHING he was carrying was completely legal as was his carrying it in the open? Lieutenant Mike Lucas, an officer with the Springfield Police Department, said that although the man's motives and intentions were unclear at the time, he believed that the suspect's intent was to cause chaos. "His intent was not to cause peace or comfort," Lucas said. "He's lucky he's alive still, to be honest." WHAT!? There is no collaborating testimony that supports the officer's claim. Per witnesses, the man was calm, friendly, and never threatening. He never pointed a weapon at anyone.
It has now been a week since this incident. The man says he was "testing" his Second Amendment rights. Dmitriy Andreychenko, 20, is charged with making a terrorist threat. Andreychenko said in a probable cause statement to police that he was testing whether Walmart would actually protect his right to openly carry weapons. He said that he spoke with a Walmart manager prior to his "demonstration" and was assured that WalMart recognized the right to open carry of legal weapons in states where this was legal. Missouri is one of those states.
He says that he decided to check this out for himself by walking through the store with the weapons, and to his surprise this prompted shoppers and employees to flee.
Missouri is an open-carry state requiring no special licensing to do so. Wielding the weapons identified in this instance in public is not illegal. Carrying 100 rounds of ammo and wearing military gear are not prohibited. It was all legal. .
But he has stil been charged with making a terrorist threat because he caused a storewide panic — by doing something that is explicitly permitted under Missouri law. He was arrested because fellow shoppers ran from the store and police responded to calls and a fire alarm. It could be argued that it was the shoppers who acted inappropriately…yep, it sure could be argued that way.
The irony here is that Missouri, like many other states, allows most people 19 years or older to carry a variety of firearms in public, open or concealed. It only becomes illegal if the weapon is "displayed in an angry or threatening manner." That's a standard so murky, so subjective, as to be meaningless, and it is also one the Springfield gunman doesn't seem to have violated by merely strolling even as his fellow shoppers scattered in fear. There's been no report to suggest he did anything threatening BEYOND having those weapons on display WHICH IS LEGAL IN MISSOURI. What made him subject to arrest was the reaction of others to his legal behavior.
That has necessitated some logical contortions from Greene County Prosecuting Attorney Dan Patterson to explain how it is that Andreychenko faces criminal charges: "Missouri protects the right of people to open carry a firearm," Patterson said in a statement, "but that does not allow an individual to act in a reckless and criminal manner endangering other citizens." WHAT WAS ANDREYCHENKO'S RECKLESS OR CRIMINAL BEHAVIOR?
Again, Missouri law explicitly permits scenarios exactly like this one. If what Andreychenko did was "reckless" and "endangering" in and of itself since there is no evidence to corroborate police or prosecutor statements that he was threatening, then it is the law itself that is reckless and endangering.
The entire point of the "carry" movements, both open and concealed, was to create a society in which the people all around us are armed, to serve notice to all bad guys out there. Warnings that this was unwise as it would create scenarios like the one described here fell on deaf ears, as the gun lobby and its political lackeys promoted irrational rhetoric about gun violence having nothing to do with guns.
Some Walmart shoppers — and people in other public spaces wherever such laws are in effect — understandably have to wonder which of those legally carrying gunmen will suddenly decide to illegally use what he's carrying. This is the world that a permissive gun culture creates. Polling is showing that fear of public gatherings as a result of the presence of guns in civilian hands is growing.
We're all prisoners in it, and will continue to be until sanity returns to the state legislatures where such laws exist.