Trump In my opinion – as well as others – meets the classic definition of racist. To be clear, I'm not going to redefine what we should already know.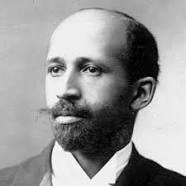 So when I read and watch his backers, supporters, flunkies, come out and dance like the well-trained jackanapes they are, it's laughable, except for one reason, the hurt and pain Trump and his lackeys are inflicting. Along with their overall ignorance of the evil and sadistic impact, racism had – and still does – on the history of this country.
W. E.B DuBois provided us with a road map of what would follow with the freeing of over four million people held in bondage with virtually few skills to traverse the world of freedom they now had. His words, "the problem of the twentieth century is the problem of the color-line,—the relation of the darker to the lighter races of men in Asia and Africa, in America and the islands of the sea," come to mind when I see someone like Stephen Miller make feeble attempts to justify his boss latest racist diatribes. So the prostrations from Miller Kellyanne Conway, Mike Pence, et al. claiming Trump is not a racist are like a single hand clapping in the wind.
Division and divisiveness are the devil's favorite tools it appears, Trump's as well. It's a well-known fact he enjoyed using them in his business, would often hire people for the same job and pit them against each to see who would come out on top. To pull out another old saying, a leopard can't change its spots, so, why would Trump? The fact he sits behind the Resolute Desk magnifies his bigotry and racism.
DuBois pen the words about the color line 116 years ago and is an immutable fact, the color- continues to be a problem in the 21st century.
Trump's lackey's claiming he's not a racist are insulting. Just as those, attempts offered up Elaine Chao as an example of his supposed non-racist bent. As well as Ben Carson's comment, Trump is not a racist because he claims not to have seen anything that resembles racism, laughable at best, total sycophancy at its worse, reminiscent of Samuel L. Jackson's character Stephen in Tarantino's Django Unchained.
When people start saying 'he can't be racist because he has (your minority of chose goes here) in his cabinet,' I'm looking for something to Hulk smash. First, it's one of the most ignorant things one can say, second, it's insulting to the individual they are using in an attempt to prove Trump is not a racist. Third, no matter how one looks at it or attempts to deal with it, the color-line is an inescapable problem and the foundation of this country's racism.
I wonder if King was thinking of DuBois when he penned his oft-quoted line around the content of their character and not the color of their skin.
When King made that statement in his, I Have a Dream speech, simple logic; informs us, he envisioned a world where African-Americans of all would contribute to society make their way and not considered a burden. For King and others, education would provide the catalyst in fostering that change. The very concept that children of color competitively competing would lead to the development of character, making one's skin color a non-factor if it was only so.
For Donald Trump, skin pigmentation comes first. Trump's racism prevents him from seeing past melanin. It didn't stop him from trying to get Randall Pinkett, who by the way is both a Rhodes and Walter Byers Scholar and has five academic degrees, three of them from MIT (electrical engineering, computer science, along with MBA from the Sloan School of Management and a Ph.D. from MIT Media Laboratory) to share his rightful win with a white female.
Trump continued: "You two were so good, I have to ask your opinion. What do you think of Rebecca? If you were me, would you hire Rebecca also?" I thought, Is he serious? Apparently he was, and I was insulted and angered. No previous winner had ever been asked that question before.
After Trump declared Pinkett, the winner, he wanted him to agree to share the spotlight with a twenty-three-year-old white female, for one reason only, his bigotry and racism wouldn't allow him to fully recognize that Randall Pinkett, was far more qualified than Rebecca Jarvis.
In Trump's world, the accomplishments of black people are not in the classroom, boardroom, or in owning their businesses. He believes as DuBois wrote, "an educated Negro to be a dangerous Negro." No doubt his reason for questioning President Obama's citizenship and education as he became the titular head of the birther movement. There is no question in my mind that Trump is a racist right down the very bones he uses to deny the ugly truth about his white supremacy beliefs. To Trump, the only accomplished individuals of color are not those with an education that surpasses his, but, those in the entertainment arena.
For those individuals engaged in a debate whether Trump is a white supremacist I leave with the following words of James Baldwin;
"Yet they spent hours debating whether or not McCarthy was an enemy of domestic liberties. I couldn't but wonder what conceivable further proof they were awaiting; I thought of the German Jews sitting around debating whether or not Hitler was a threat to their lives until the debate was summarily resolved for them by a knocking at the door." – No Name In The Street, by, James Baldwin