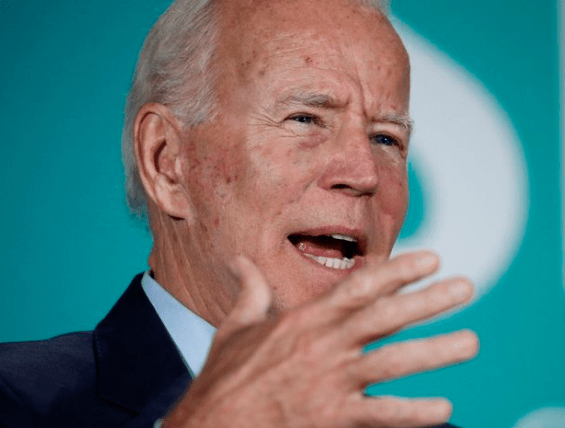 A STUDY IN CONTRASTS
President T.T. Trump (Twitter Teleprompter Trump) visited El Paso and Dayton, Ohio, today but apparently could not make a big speech in an open venue for fear of being booed.
In Dayton, his staff made him invisible with his cooperation meeting in private with family, medical staff and political figures. He made NO public appearance and issued no comment. As usual, he and his people avoided any protests or protesters with his caravan taking routes both circuitous, long and secret. It appears that he will do the same in El Paso. As always, he is a coward.
He creates division and anger at a time when the country would normally look to the president for comfort, for unity, for the best in American values.
The contrast between that bitter, little man who occupies the White House, launching twitter attacks against Beto O'Rourke through the night while insisting that his words and actions brings us together, and former vice president Joe Biden, who chose to deliver a big, important speech today in Iowa could not have been more stark.
Biden began by stating what too many Republicans, embarrassed by this president but shamefully still backing him, refuse to admit:
"The words of a president matter. They can move markets. They can send our brave men and women to war. They can bring peace. They can calm a nation in turmoil. They can console and confront and comfort in times of tragedy … They can appeal to the better angels of our nature. But they can also unleash the deepest, darkest forces in this nation."
Biden's tone was both defiant and sad at the same time blasting out each poignant phrase. It was a simple speech. Its message sharp. It called for a courageous response in tones profound and stirring.
Biden recounted the parade of Trump of horrors — from Charlottesville (where Trump claimed there were "very fine people on both sides") to raising fear of a refugee "invasion" to calling Baltimore a "disgusting rat-infected, and rodent mess (that) no human being" would choose to call home.
Biden reminded us that when he asked a rally crowd in Florida how immigrants should be stopped he got back the answer to "shoot them. Trump grinned pretending it was a jest saying that the comment would only be acceptable in Florida Panhandle.
Biden argued that it "is not far at all" from Trumpian comments to the alleged El Paso murderer's so called manifesto where he claimed that his attack was "in response to the Hispanic invasion of Texas," just as his praise to "very fine" neo-Nazis chanting "you will not replace us" shouted at Charlottesville et.al. is not far at all from the words of the mass murderer at the Tree of Life synagogue in Pittsburgh, who said Jews "were committing genocide to his people."
Biden paused at one point and stared stonily into the crowd and then at the cameras and flat out accused Trump of fanning white nationalism mocking his "low-energy, vacant-eyed mouthing of the words written for him condemning white supremacists this week" that he parrots before crowds when prompted to do so. He faulted Trump for pouring fuel on a fire that white supremacists dance around by using their language, retweeting their messages, and cutting funding to fight domestic, white nationalist terrism.
He called Trump's looking to steps to address a mental health crisis or too much violence in video games as a phony "dodge." Biden reminded the audience that he was a co-sponsor and principal author of the assault weapons and that he was ready to do the same again in this arena while committing to root out domestic terrorism with as much vigor as has been devoted to fighting international terrorism.
Biden also contrasted Trump to presidents who stood up at key moments in history (e.g., George H.W. Bush turning in his NRA membership, Bill Clinton's speech after the Oklahoma City bombing in the rubble of a flattened public building, George W. Bush's mosque visit after 9/11, Barack Obama's sermon after the Charleston, S.C., massacre).
But today, Biden said,
"Our president has aligned himself with the darkest forces in this nation. And it makes winning the battle for the soul of this nation that much tougher, harder."
At the root of his poor performance as President, Biden made the case that Trump fundamentally doesn't understand the job.
"Trump offers no moral leadership; seems to have no interest in unifying this nation, no evidence the presidency has awakened his conscience in the least…Indeed we have a president with a toxic tongue who has publicly and unapologetically embraced a political strategy of hate, racism and division."
Biden then called on the country to take up the challenge and do what Trump can't.
"Stand together. Stand against hate. … Treating everyone with respect. Giving everyone a fair shot. Leaving nobody behind. Giving hate no safe harbor."
Biden closed by reminding his listeners that America is, at its heart, a great idea…not because of its economy, its military or because we "win."
"America is an idea" — not great because we have the biggest economy or military or because we "win." but because of its creed.
Biden reminded the audience that this is how Republicans used talk but cannot do so now because they have knelt to Trump to get tax cuts, or the judges they want.
Ironically (or tragically), this is how conservatives like Ben Sasse of Nebraska used to talk, before they became yes-men for Trump or argued that his defacing democracy was tolerable because of judges or tax cuts.
Biden told voters:
"Everyone knows who Donald Trump is. We need to show them who we are. We choose hope over fear. Science over fiction. Unity over division. And, yes — truth over lies."
Biden explained that the real choice is between Trump and American democracy, between Trump and objective truth and between Trump and someone with a basic understanding of what makes America "great."
In this speech Biden demonstrates that he has the voice to take Trump on (as to others as well) and that he is a much better alternative. But then again, so is virtually every other Democratic Candidate.