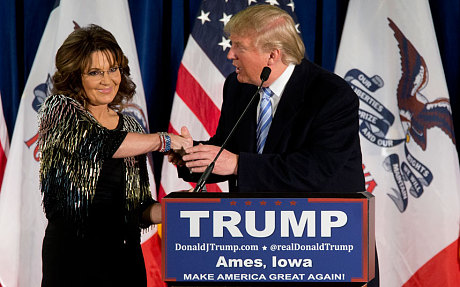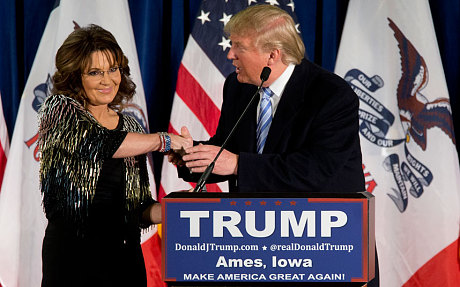 Unrelated to the falling global stock markets, the plunge in oil prices and pessimistic projections of the growth of China's economy this year, Satire has declared bankruptcy, explaining that in today's Republican primary environment, it has lost too much of its market share to Reality.
"Election years used to be boom years for us," Satire noted. "You'd have your political cartoons with obnoxious elephants wearing stars and stripes top hats and Democratic donkeys happily kicking something over like 'The Economy' or 'Our Troops' or whatever. We'd have a Republican candidate shaking hands with a Klansman but now they can just get all that from Reality."
Satire paused a moment to dramatically wipe a non-existent tear to ridicule it's own self-pity.
"But today, the market for satire has been devastated by Republicans. As soon as we manufacture some new exaggerated representation of a Republican, it's already been made obsolete because they've actually become it. We're not in the reality business but thanks to these Republicans, we've been fending off a hostile takeover by Reality since…well…since Donald Trump joined the race," Satire complained.
Satire sadly looked back at its long history in politics. "Remember 'Where's the Beef"? We made a fortune on satirizing that. And Gerald Ford being clumsy? We had separate Nixon, Reagan and Bush satire factories and thank God for Dan Quayle! Ironically, we had our biggest year in 2008 when Sarah Palin ran as McCain's VP., we couldn't keep the satire on the shelves! As soon as it was manufactured, out it went! But once Donald Trump burst onto the scene…our product now goes stale so fast it ends up just sitting on the shelf."
Satire conducted a tour of its facilities and much of its massive and often ridiculous plant was idle. "We still have some clients like late night comedy shows but orders are drastically down and they mostly are interested in buying items made with the same material. The final straw for us was really Sarah Palin endorsing Trump. We leveraged ourselves big time into a Trump/Palin product line and lost everything when Reality came out with the identical product. We just can't compete any longer with Reality so we have to close our doors."
When asked for comment, Reality seemed more bewildered than proud about its expansion into Satire's territories and client base.
"This wasn't premeditated, it wasn't part of our business plan, it just sort of happened," Reality stated. "Personally, we've always gotten along great with Satire, we've usually attended all the elections and Kardashian plastic surgeries together among so many other things. The way it's been, wherever I am, I'll look around and Satire will be there, hanging out, smiling back at me while punching Al Yankovic repeatedly in the face, you know?"
Reality says it's been trying to adapt to it's new presence in the Republican primary. "It's funny because on one hand, we've never been able to penetrate that market, we were locked out while they only contracted with Satire, Delusion and Deceit. Now all of a sudden, we've got Satire's market share of the GOP. It's a bit disorienting, especially working beside Delusion and Deceit…to tell you the truth, I'm not sure I trust them."
Satire said it may sell off what remains of its assets to the one other outfit that is flourishing profoundly in The Year of Trump, Irony.
"We considered selling off to Reality but in the end, we thought it would be too ironic so why not cut out the middle man and sell directly to Irony?" Satire concluded.