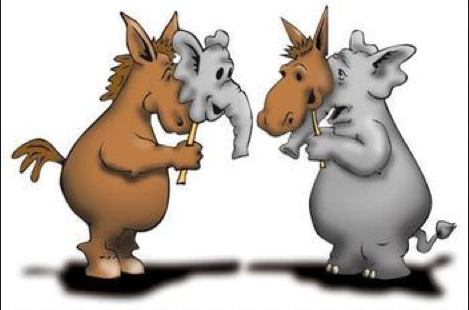 At another site where I post one of the more prolific commenters, a strong conservative, posted a story that began with these words:

"We all know the tactic many Democrats have used over the last few election cycles to trick uninformed masses into voting for them: Run as a God-fearing, bible-thumping, budget balancing, gun-toting constitutional conservative; then get into office and vote for left-wing, constitution-stretching, tax-and-spend anti-gun legislation upon arrival."
I thought that this observation along with my reply was worth sharing. So here it is.
Well, guess what, Republicans do the Same Thing:

"In a midterm election year in which the political climate and map of battleground states clearly favors Republicans, many GOP candidates are nevertheless embracing some Democratic priorities in an effort to win over skeptical voters.

The shift is evident in some of the most contentious Senate and gubernatorial races — in traditional swing states as well as decidedly conservative ones such as Alaska and Arkansas — where Republican nominees have endorsed increases to the minimum wage, legalizing medical marijuana or granting in-state college tuition to some illegal immigrants.

Even on social issues, an area where the GOP traditionally has hewed to the wishes of its evangelical Christian base, many Senate hopefuls have backed same-sex marriage or over-the-counter access to birth-control pills."
Examples follow….in the article and there are lots of stories that focus on individual candidates. http://www.washingtonpost.com/politics/in-heated..
======================================
I was actually not going to respond to the post from my conservative friend at all thinking that surely everyone knows that this is what politicians, with rare exceptions, do. Apparently some took the claim seriously. Thus, my tardy response.
The vast majority of politicians run in whatever direction will get them the most votes.  Liberals will pretend to be conservatives on pivotal issues (knowing that their base will still vote for them) to pick up some conservative votes. Conservatives will pretend to be liberals on pivotal issues (knowing that their base will still vote for them) to pick up some liberals votes.
Another principal: both sides will try to fashion their public image to reflect wise, informed, caring, moderate sensibility. In turn they will try to fashion the public image of their opponent as base, ignorant, mean-spirited, radical and a bit mad.
That is how it plays out and how it has played out and how it will likely continue to be played. WHY? They want to win and they know that they have to accept and work with the nature of the average voter: uninformed, disconnected, and lazy in matter related to politics. Despite all of the verbiage about "voters knowing better" or "voters cannot be fooled", political strategists count on the opposite.
IN FACT THE WAY MY CONSERVATIVE FRIEND WRITES HIS ARTICLE ILLUSTRATES ALL OF THIS. HE ACTS AS IF HE IS SHOCKED TO DISCOVER THAT THE "OTHER SIDE" IS ACTING IN SUCH A THOROUGHLY DISHONEST FASHION WHILE "HIS SIDE" IS THE EPITOME OF SINCERE REPRESENTATION. I HAVE READ ENOUGH OF HIS POSTINGS TO HAVE REACHED THE CONCLUSION THAT HE KNOWS THE TRUTH OF IT.
HERE IS MY CARDINAL RULE: By their deeds ye shall know them. Want to vote smart? Ignore the rhetoric and track what "they" have done. That is why I vote Democratic (when I used to vote Republican.)