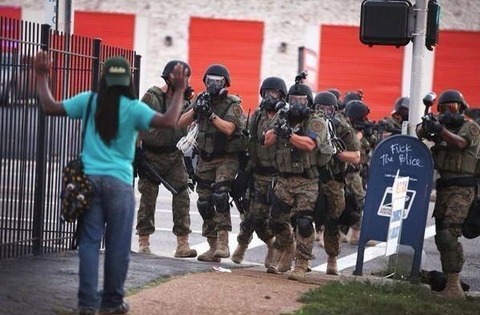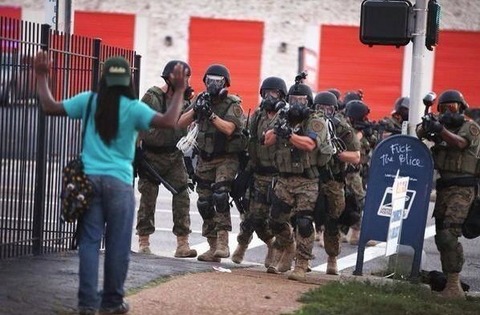 By now, most of America is aware of the shooting of 18 year old Michael Brown by a police officer in Ferguson, Missouri, a killing that was initiated by that police officer insisting that Brown stop walking in the street.
In New York, police used a merciless choke hold on Eric Garner and killed him, despite his many pleas for them to stop because he couldn't breathe.
In Los Angeles, a homeless woman, Marlene Pinnock was walking along the side of the freeway when a Highway Patrol officer ordered her to stop and when she didn't, he threw her to the ground and savagely punched her in the face…to protect her from harm, the CHP alleges.
All of these victims of police violence and in the first two cases, murders of unarmed civilians are African American and in all cases, the first response from the police organizations responsible for the murders and brutality was to justify these horrendous acts. Justify it…excuse the beating, suffocation and shooting of American citizens who were just walking and harming no one (police stopped Garner for selling loose cigarettes) , the very people they are supposed to be protecting…unless police have a more black and white definition of who they are supposed to protect and who they aren't.
These are just three recently publicized situations out of many similar situations that African Americans see happening frquently across the United States. The combination of racism embedded deeply in police forces and the new era of aggressive policing makes for a deadly threat to innocent Americans who are African American.
Add to that, the militarization of police forces which has turned them from a philosophy of protecting and serving the community to responding to even minor situations en masse with armored vehicles, military gear and combat uniforms complete with helmets and gas masks and we see an America that only used to live in dark science fiction stories.
And what makes the killing and ongoing conflict in Ferguson many times worse is the police department's response to it all, which has been to inflict even greater hostility upon its community, using brutal and overkill tactics on those who are protesting including using tear gas (even on people protesting in their own backyards), rubber and wooden bullets, aiming their semi-automatic military rifles at protestors and issuing ominous threats to any media trying to cover their assault on their citizens.
Yes, this is happening in your United States of America.
Absolute generalizations are necessarily flawed, there are many police officers who are white and not racist, black, Latino, Asian, many who haven't a racist bone in their body and believe in their proper duty to protect and serve the people in their community. But as monicaangela noted in her recent comment:
Facts About Current Officers

The sampling of current officers was comprised of 2,698 fulltime officers from twenty-one different states. A total 1,116 of the 2,657 officers asked to complete a confidential questionnaire, did so. This equates to a response rate of 42 percent. An additional forty-one officers provided confidential interviews. The following facts were revealed.

· In response to "Please describe the first time you witnessed misconduct by another employee but took no action," 46 percent (532) advised they had witnessed misconduct by another employee, but concealed what they knew.

· In response to the question "At the time of the incident occurred, what did you think would happen if you revealed what had taken place?" the five reasons listed most often were: I would be ostracized (177 times); the officer who committed the misconduct would be disciplined or fired (88 times); I would be fired from my job (73 times); I would be "blackballed" (59 times); the administration would not do anything even if I reported it. (54 times)

· 73 percent of the individuals pressuring officers to keep quiet about the misconduct were leaders.

· Eight percent (40) of the 509 officers who admitted to intentionally withholding the information about officer misconduct were upper administrators. The upper administrators of the average American police department comprises only five percent of the agency.

· The average age of an officer who covered up an incident for the first time was 31.4 years of age.

· The average years of experience when they first took part in the Code of Silence was 8.2 years.

· 449 of the 532 officers were male, while 74 were female.

· Of the 532 who confessed they had participated in the Code of Silence, 252 were pressured to keep quiet by the officer(s) who committed the misconduct and 118 felt pressure from uninvolved officers. The remaining 162 officers advised they covered up the incident even though they were not pressured.

· Excessive use of force was the most frequent situation over which the Code of Silence occurs, with 217 were excessive use of force circumstances.

· The five most frequently offered solutions for controlling the Code of Silence from the 532 officers who confessed to taking part in it were: Conduct good ethics training (listed 46 times); More consistent accountability (listed 20 times); Ensure open communication between officers and leaders (listed 16 times); Provide an anonymous reporting system (listed 14 times) and Protect whistleblowers (listed 10 times).
http://www.aele.org/loscode2000.html
So even good officers are often intimidated out of stepping up to protest the abuse of power by their police forces.
Though this isn't new, the new visibility of police demonstrating their disregard for the rights and lives of African Americans, coming on the heels of increasing murders of black men and women by white citizens, encouraged by the Stand Your Ground laws in many states, makes this a dangerous and racially threatening time for African Americans.
And before white Americans step back in relief that they don't have to be worried about how their police force has been turned into a military-styled army, consider what happened across the country during the Occupy Wall Street protests.
Coast to coast, from Los Angeles to New York, police forces descended on the peaceful protests using military vehicles and tactics, liberally attacking protestors with flash grenades, rubber bullets, tear gas and pepper spray in overwhelming force, marching on them in full military gear and using military vehicles to intimidate citizens and enforce their domination of citizens.
Racism and abuse of power in police forces have always been a problem but consider the visual change of police riot squads over the decades, primarily after 9/11 and the massive funding provided to police across the country to remake themselves in a military mode.
Riot Police in Tennessee – 1960's: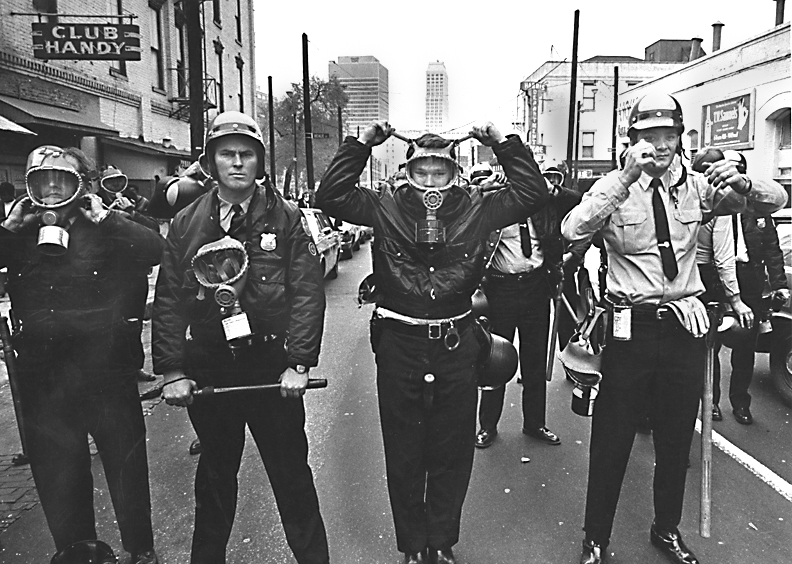 Riot Police in California – 1970's
Riot Police in New York – 1980's
Riot Police in New York – 1990's
Riot Police in Denver – 2000's (after 9/11)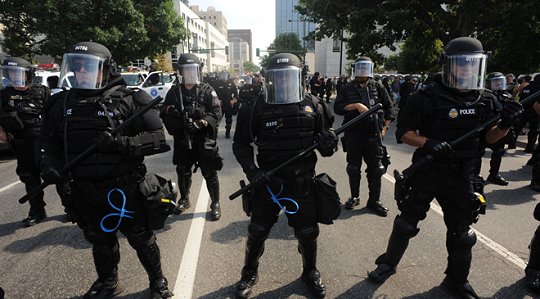 Riot Police in Ferguson, Missouri – Now
Over the years, we've looked at other nations, especially the oppressive ones, whose police looked so militaristic and overkill. Now, we are one of them.
Here in Los Angeles, I recently attended a community event where police attended to meet and greet those living in the area. The Mayor even stopped by. The sentiment was the healthy type that seems to be disappearing across America nowadays, that police and citizens are partners in the community and that communication and collaboration is vital. Citizens of all races were chatting and associating with police, the mood was positive and pleasant. This is not difficult for a police force (and Mayor) to make happen, it only requires the will and principles to do so.
Instead, in Ferguson, Missouri, we see a virtually all white police force assaulting their community that is 70% black in a military-style overkill and treating them as the enemy. If the community is the police's enemy, aren't they then the enemy of their society? Shouldn't it be the police that are "arrested" at this point instead of the entire community? If they aren't serving the people, who are they serving? Just themselves, their power and their enforcement of white racial superiority?
The FBI is now investigating this killing of Michael Brown by a police officer so those who believe in justice can have some hope that the truth will come out and if this officer is guilty of murder, he is convicted and sentenced for it.
Meanwhile, the militarized police state that many Americans are living under, even if it has little direct impact on them today,  will remain unchanged unless citizens and communities come together to pressure their cities to return their police to being public servants instead of an army that's independent, unanswerable and free to be adversarial to their community.