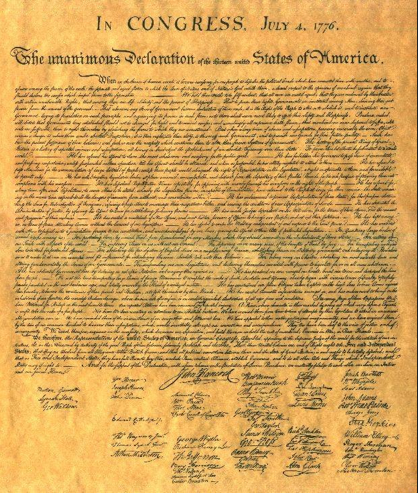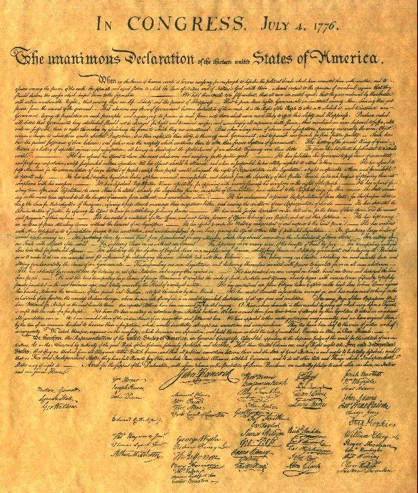 John Adams, our 2nd President and the leader of the independence caucus in the First Continental Congress, wrote that the most important duty of a citizen is to be constitutionally literate, and an ardent student of day to day events in the civic life of his state and his nation constantly wary of the temptation to let others think for them. Citizenship requires a disciplined mind and a commitment to informed participation in the life the republic. Adams would know.
Independence Day marks the nation's founding on July 4, 1776 with the signing of the Declaration of Independence
The day commemorates the conclusion of a debate that spanned a ten year period when the best minds in the American colonies grappled with the great ideas expressed by Enlightenment thinkers applied to identifying an effective remedy to the "long train of abuses and usurpations" by the Brtish Parliament and its executive, the monarch.
The decision to declare independence from the most powerful empire in the world was extraordinarily risky and the outcome of the war constantly in doubt.
Independence Day was the first national holiday establish to reconnect Americans with these "truths self-evident." But it is these same truths that we increasingly take for granted.
Jamie Chandler, a political scientist at Hunter College in NYC, wrote: "Favoring talking points, flashy rhetoric and barbed insults over equality, liberty, and the pursuit of happiness, we've grown too cozy with acrimony and polarization. The rain of negative campaign advertisements, the disproportionate influence of money on this year's presidential election, the efforts to prevent certain peoples from voting, and the larger problem that half the population doesn't vote take us far from the Founders' intent." http://www.ibtimes.com/4th-july-reconnecting-true-meaning-independence-day-722585
In the words of Patrick Henry, one of the Founding Fathers: we are "responsible for the greatest trust ever confided to a political society."
How are we doing?
33% of voters think Barack Obama is the worst president since World War II.
45% said the U.S. would be better off with Mitt Romney serving in the White House, compared to 38 percent who said the country would be in worse shape.
40% approve of the job Obama is doing, compared with 53 percent who disapprove.
54% say the Obama administration is not competent at running the government.
(http://www.politico.com/story/2014/07/poll-obama-worst-president-since-wwii-108507.html#ixzz36VBa0Toh)
In the closing moments of the musical 1776, John Adams, facing the critical vote for or against separation from England and the creation of a new nation on July 2 joins with G. Washington in a time when despair was appropriate in asking "Is Anybody There? Does Anybody Care? Does Anybody See What I See?"