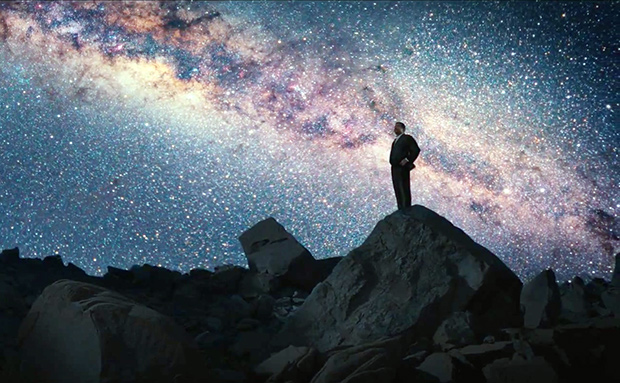 This Sunday saw the debut of the new incarnation of Carl Sagan's remarkable and remembered series, "Cosmos". This new version is hosted by the brilliant and congenial Neil deGrasse Tyson. If you missed it, here's a taste:
Having a show about science on Primetime network tv is something to be very pleased about, considering the decline of education and graduates when it comes to science in the U.S. (and considering the programming alternative of a reality show about meth dealing snake handlers who need help with their failing restaurant and are all eligible bachelors with great singing voices). But…Cosmos was broadcast on 10 different Fox Broadcasting outlets in the U.S..
Yep, Fox. As in Fox News, your number one source for hatred of science and scientists.
One might ask how Rupert Murdoch could be running one network that includes in its mission, casting doubt, hostility and suspicion on all of science while running another network that presents a series that's all about promoting scientific knowledge and a respect for science.
Perhaps the only science Murdoch truly believes in is the calculation of tv ratings and advertising rates. On one hand, Murdoch rakes in the ratings and revenues by having his propaganda network Fox News attack Climate Change science, economic science, social science, evolution and portrays scientists as evil, godless enemies bent on the destruction of religion. On the other hand, Murdoch's Fox Broadcasting offers programs that are irreverent when it comes to religion and in the case of the first episode of Cosmos, unflinchingly explain how religious leaders had "heretics" killed just because they believed that the Earth went around The Sun (and were founding the study of science).
Where humanity finds itself now, with pollution gradually destroying the water, land, air and climate of the planet, with supplies of energy and life giving resources being greatly diminished, there was never a more important time for science to be valued and advanced. And yet, Murdoch, The Kochs and their fellow corporate greed-mongers happily invest their massive fortunes into brainwashing a section of the public so they will reject science and those who support it (and replace science with personal opinions and beliefs). By feeding the fire of division, their power and fortunes can flourish and the public's ability to come together to avert a worsening future are disrupted. There could be no greater example of greed than those who would carelessly destroy the future simply to have even more money than they could ever use today.
Sometimes though, the fact that the greedy have no principles can work against them. When chasing money is all that matters, what happens when there is a trail of money that leads through broadcasting a tv series intended to celebrate and share the study of science?
If Cosmos is a hit, bringing in ratings and revenues for Murdoch and Fox, it will continue and Murdoch himself will have ended up becoming his own enemy, supporting the propagation of science while attacking the propagation of it through Fox News. Considering Murdoch's goal of keeping the public in constant conflict with itself, turnabout would only seem to be fair play.