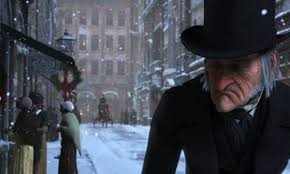 While the Fox News Network once again celebrates the season of love, giving and kindness by hosting their annual War on Christmas Parade (as always, on the last float is Jesus with a semi-automatic rifle), the true meaning of Christmas can't be escaped.
What is most reported about and during the Christmas season? The renewed generosity of spirit? Taking time to appreciate family? New high tech present-opening techniques?
The answer is easy. What has our media dubbed the official start of the Christmas season? It used to be Black Friday but now it's the day before, Black Thursday or as it used to be known, Thanksgiving. There is something allegorical about Christmas shopping spreading like the Blob, devouring more and more of the calendar, "consuming" other holidays in its path.
And though there are always the occasional stories along the way (though mainly on or near Christmas Eve) about someone showing generosity or compassion in a news-friendly way, the majority of stories we hear about Christmas seem to be press releases from Scrooge, Inc.. Here are a sampling of typical stories about Christmas:
Black Friday sales drop 13 percent, thanks to Thanksgiving Day Shopping
5 Top Safety Tips for Shopping at Malls this Christmas
Stores open for 100 hours to attract shoppers
Bargain-hungry shoppers buy less on weekend before Christmas
If aliens were to monitor the Earth to get an idea of what Christmas was, they might conclude:
"This ritual called Christmas begins with a brutal swarming of human beings in complexes where a vast array of manufactured items are gathered. It occurs on a day called Thanksgiving, named as such potentially because those humans not required to join in the swarming on that day express thankfulness. Thanksgiving Day is followed by an intensified swarming at the same locations that is apparently so terrible, it is referred to as Black Friday.

This swarming and acquisition syndrome primarily spans a four week period and represents the vast majority of time and energy invested in this Christmas ritual. During that swarming, humans anxiously acquire a variety of items, many of questionable intrinsic value, for later distribution to those who share their DNA or those with whom they most often associate with. This ritual culminates on  Christmas Day when humans distribute the many goods they have spent so much time and resources to acquire and listen to music and watch movies that describe the ritual as one of spiritual recognition and appreciation of non-material things.

The ritual culminates with further consumption, this time of sleep-inducing chemicals including tryptophan and alcohol which humans process in their bodies while watching competitions between two groups of men suited in protective gear, throwing an object to themselves while hitting each other."
As mentioned above by the aliens, Americans take breaks from the shopping madness during the Christmas season to watch classic and beloved Christmas movies…that indict the materialism Americans are focused on much of the Christmas season. Capitalism and materialism are roundly hammered by many classic Christmas movies…which today are ironically punctuated on tv by loud commercials urging consumers to buy products.
What's fascinating is how the theme of Christmas being too commercialized/materialistic used to be a popular view…and how that sensibility has seemed to evaporate over the years.
Consider the themes of the following Christmas films and the dichotomy between loving those films and excitedly abandoning one's family on Thanksgiving just to get a 10% discount on to buying an iPad Air:
A Charlie Brown Christmas
This wonderful, remarkably thoughtful cartoon is replete with anti-materialist statements including this exchange:
Sally: [dictating her letter to Santa Claus as Charlie Brown writes it for her] Dear Santa Claus, How have you been? Did you have a nice summer? How is your wife? I have been extra good this year, so I have a long list of presents that I want.

Charlie Brown: Oh brother.

Sally: Please note the size and color of each item, and send as many as possible. If it seems too complicated, make it easy on yourself: just send money. How about tens and twenties?

Charlie Brown: TENS AND TWENTIES? Oh, even my baby sister!

Sally: All I want is what I… I have coming to me. All I want is my fair share.
And there's this classic line from Lucy:
Lucy Van Pelt: Look, Charlie, let's face it. We all know that Christmas is a big commercial racket. It's run by a big eastern syndicate, you know.
Later, among a "forest" of manufactured, artificial trees on a lot,  Charlie Brown and Linus find a small, scrawny but real tree. Its needles fall off, it droops and disappoints the kids, it is the antithesis of the buying a materially valuable item. And at the end, it is the kids' humanity and compassion that decorate the tree and turn it into something beautiful.
Just waiting for Bill O'Reilly to finally discover this theme and launch an Attack on Peanuts!
The Grinch Who Stole Christmas
The Grinch's whole plot is to steal all the material things from Whoville and thus steal Christmas from them:
"And the Grinch, with his Grinch-feet ice cold in the snow,
stood puzzling and puzzling, how could it be so?
"It came without ribbons. It came without tags.
It came without packages, boxes or bags."
And he puzzled and puzzled 'till his puzzler was sore.
Then the Grinch thought of something he hadn't before.
"What if Christmas," he thought, "doesn't come from a store.
What if Christmas, perhaps, means a little bit more."
Hey Grinch, that there's socialist talk!!!
Miracle on 34th Street
The pragmatic, elitist, materialistic daughter of a Macy's events director, discovers her humanity by embracing faith and love as to what Christmas (and Santa) is about. Meanwhile, modern society literally puts Christmas (in the person of Kris Kringle) on trial as being mentally deranged for not viewing Christmas as a facade and a materialistic, shallow holiday about company profits.
Kris Kringle: You see, Mrs. Walker, this is quite an opportunity for me. For the past 50 years or so I've been getting more and more worried about Christmas. Seems we're all so busy trying to beat the other fellow in making things go faster and look shinier and cost less that Christmas and I are sort of getting lost in the shuffle.
Then there is this:
Alfred, Macy janitor: Yeah, there's a lot of bad 'isms' floatin' around this world, but one of the worst is commercialism. Make a buck, make a buck. Even in Brooklyn it's the same – don't care what Christmas stands for, just make a buck, make a buck.
Kris Kringle: Oh, Christmas isn't just a day, it's a frame of mind… and that's what's been changing. That's why I'm glad I'm here, maybe I can do something about it.
Kris' lawyer had these two statements to offer:
Fred Gailey: Don't you see? It's not just Kris that's on trial, it's everything he stands for. It's kindness and joy and love and all the other intangibles.

Fred Gailey: Look Doris, someday you're going to find that your way of facing this realistic world just doesn't work. And when you do, don't overlook those lovely intangibles. You'll discover those are the only things that are worthwhile.
One can only wonder what kind of trial the corporations and Right Wingers would have for Jesus if he really came back. Probably a deportation trial first for not having a U.S. birth certificate.
A Christmas Story
Throughout the movie, Ralphie has one focus when it comes to Christmas, getting the material thing he wants so badly, the Red Ryder BB gun. He imagines how happy owning this material thing will make him like nothing else could. No matter all the presents he gets, when it seems clear he's not getting the one thing he wanted most, he can't enjoy Christmas. When he is surprised and given the thing that he believes represents happiness on Christmas, his first shot caroms off and hurts him. What makes him happy in the end is the comforting, support and love of his parents that the gun (and his injury) represented.
Ralphie as Adult: [narrating about diving with his brother into the gifts under the Christmas tree] We plunged into the cornucopia quivering with desire and the ecstasy of unbridled avarice.
The crass material thing Ralphie's Dad won in a contest, the lamp shaped like a woman's leg, drives a wedge between him and Ralphie's mom, showing the ridiculousness of personal attachment to artificial, material things and how they come between us and what's most important:
Ralphie as Adult: [narrating, after Mother breaks the Old Man's Major Award, and he is unsuccessful at repairing it] With as much dignity as he could muster, the Old Man gathered up the sad remains of his shattered major award. Later that night, alone in the backyard, he buried it next to the garage. Now I could never be sure, but I thought that I heard the sound of "Taps" being played, gently.
Towards the end, their whole Christmas dinner has been devoured by the neighbor's dogs. Left without the material things that represent the heart of Christmas for a family, the food for their dinner, they go out to a Chinese restaurant to eat un-Christmas-like foreign food but it doesn't matter, they enjoy their Christmas dinner just the same because it isn't about the food, it is about being together as a family.
It's a Wonderful Life
Mr. Potter has to be one of the most iconic symbols of capitalism and materialism in film history. He is openly an enemy to the people in his community and displays only contempt towards them. In fact, he's seeking to take their homes away and force them to have to live in properties he owns  so he can get wealthy off of them. He steals, he lies, he plots to destroy his only competition and has nothing resembling a principle to stop him from plundering all around him to satisfy his greed.
George Bailey is the opposite, he spends his whole life giving to others and not enriching himself and becoming wealthy like Potter, putting values first and profits last. Though accidentally handed to him, Potter steals money from George's Savings and Loan (sound like any Wall Street people we know?) which will destroy George's Savings and Loan (as it is being audited) as well as his life and allow Potter to seize control of the entire town (a hostile takeover, indeed).  George wants to jump off a bridge and commit suicide, not because he's about to lose his personal assets but because the failing of his savings and loan will destroy the lives of the people in his community as well as his family (he could go to jail).
Humanity vs. capitalism. And what turns the tables and rescues George? Socialism saves the day as all the people George had given so much to at personal sacrifice, come together as a community to voluntarily donate the money George's savings and loan needed to keep operating…and in turn help and protect everyone else in the community (whether they were among those who contributed money or not).
Only one quote is needed from this film, from the confrontation George has with Potter when Potter is trying to corrupt him into becoming the same kind of mercenary capitalist that he is:
George Bailey: Just a minute… just a minute. Now, hold on, Mr. Potter. You're right when you say my father was no businessman. I know that. Why he ever started this cheap, penny-ante Building and Loan, I'll never know. But neither you nor anyone else can say anything against his character, because his whole life was… why, in the 25 years since he and his brother, Uncle Billy, started this thing, he never once thought of himself. Isn't that right, Uncle Billy? He didn't save enough money to send Harry away to college, let alone me. But he did help a few people get out of your slums, Mr. Potter, and what's wrong with that? Why… here, you're all businessmen here. Doesn't it make them better citizens? Doesn't it make them better customers?

You… you said… what'd you say a minute ago? They had to wait and save their money before they even ought to think of a decent home. Wait? Wait for what? Until their children grow up and leave them? Until they're so old and broken down that they… Do you know how long it takes a working man to save $5,000? Just remember this, Mr. Potter, that this rabble you're talking about… they do most of the working and paying and living and dying in this community. Well, is it too much to have them work and pay and live and die in a couple of decent rooms and a bath? Anyway, my father didn't think so. People were human beings to him. But to you, a warped, frustrated old man, they're cattle. Well in my book, my father died a much richer man than you'll ever be!
So few in the 1% will ever be that rich no matter how much money they acquire (I wouldn't use the term "earn" with the 1% because so few earn what they have).
A Christmas Carol
This is the primal story about greed, materialism and capitalism in conflict with people's humanity. Scrooge is the embodiment of greed. He forces his employee, Bob Cratchit to work in unpleasant conditions and doesn't even pay him enough for Cratchit to afford Christmas dinner for his family (well, if you wondered who Walmart's role model was, wonder no more). Cratchit also doesn't have the money to get medical care for his hobbled and sickly son, Tiny Tim (Walmart, still looking at you even though tax payers and Obama's bailed you out on this…too!) and because of that, Tiny Tim is destined to die.
Now Scrooge, show Paul Ryan and Rand Paul how it's done:
First Collector: At this festive time of year, Mr. Scrooge, it is more than usually desirable that we should make some slight provision for the poor and destitute.

Ebenezer: Are there no prisons?

First Collector: Plenty of prisons.

Ebenezer: And the union workhouses – are they still in operation?

First Collector: They are. I wish I could say they were not.

Ebenezer: Oh, from what you said at first I was afraid that something had happened to stop them in their useful course. I'm very glad to hear it.

First Collector: I don't think you quite understand us, sir. A few of us are endeavoring to buy the poor some meat and drink, and means of warmth.

Ebenezer: Why?

First Collector: Because it is at Christmastime that want is most keenly felt, and abundance rejoices. Now what can I put you down for?

Ebenezer: Huh! Nothing!

Second Collector: You wish to be anonymous?

Ebenezer: [firmly, but calmly] I wish to be left alone. Since you ask me what I wish sir, that is my answer. I help to support the establishments I have named; those who are badly off must go there.

First Collector: Many can't go there.

Second Collector: And some would rather die.
Then the ghosts come to visit, such as Jacob Marley, his ex-partner:
Jacob Marley: In life, my spirit never rose beyond the limits of our money-changing holes! Now I am doomed to wander without rest or peace, incessant torture and remorse!

Ebenezer: But it was only that you were a good man of business, Jacob!

Jacob Marley: BUSINESS? Mankind was my business! Their common welfare was my business! And it is at this time of the rolling year that I suffer most!
And Scrooge is taken back to relive the death of Marley:
Ebenezer: [as Marley lies on his death bed] Well, Jacob! Have they seen to you properly? Last rites and such?

[Marley nods]

Ebenezer: There's nothing i can do?

[Marley nods again]

Ebenezer: Oh? What, particularly?

Jacob Marley: [rasping] While… there's still time…

Ebenezer: Time? Time for what?

Jacob Marley: [rasping] Wrong… we were wrong.

Ebenezer: Wrong? Well, we can't be right all the time , can we? Nobody's perfect. You mustn't reproach yourself, Jacob. We've been no worse than the next man, or no better if it comes to that.

Jacob Marley: [rasping] Save… yourself.

Ebenezer: Save myself? Save myself from what?

[Marley breathes his last]

Ebenezer: Speak…!

[pauses as he realizes Marley is dead]
Unlike our corporate and capitalistic leaders, Scrooge actually had a conscience and humanity buried beneath all of his heartless greed that can be reawakened.
It is interesting but not surprising to see how few films with an anti-materialism theme seem to be made by the corporately-owned studios nowadays (instead we get animated films with cross-marketing and merchandizing).  It is also fascinating to think about how all of these anti-materialism Christmas films are so beloved and enjoyed in the midst of the blizzard of materialism that is Christmas in America today.
Perhaps in light of the growing economic disparity in the U.S. and the decline of the standard of living, there may be a growing and receptive audience to more films and political campaigns about humanity trumping greed and wealth, not just on Christmas but in the rest of the 364 days of the year as well.
But Christmas would be a good start.