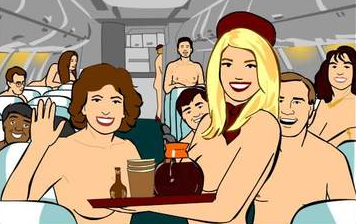 On the heels of launching new anti-privacy rules at their online news site, The Huffington Post, AOL announced today that it will buy Delta Airlines for a reported $5 billion dollars and will set a progressive new standard for air travel. To exemplify their progressive thinking, AOL Chairman and CEO Tim Case announced that all passengers will be required to fly naked.
"It is our goal to maintain a civil environment for air travel, " stated Case who was fully dressed in an expensive Brooks Brothers suit, "and we believe that by mandating that all travelers fully expose themselves, we will be providing an atmosphere of humility and vulnerability that will naturally translate into a more civil and entertaining experience, especially for our management staff."
Case detailed how mandatory nudity for travelers who fly their airline will be very much to their benefit.
"There are bad people out there who are willing to use our airlines as national platforms to promote their hatred. The expense of paying for sufficient staff to provide the required security and screening is, frankly, money that could be going into our pockets as profits. So, putting our customers first, we devised this policy to save us money and manpower and allow us to see everything about our customers before they can even step onto our planes," Case said. "Having this degree of control over our passengers will give them a freedom like they've never had before."
Required nudity on their airline would yield many benefits for passengers, according to Case.
"Going through security screening will be a breeze, there will be no pockets to empty and no shoes or belts to take off. Passengers will no longer need to worry that the person sitting next to them on a plane may have a bomb strapped to them. If they spill a drink or food on themselves during the flight, their clothes won't be stained and they can clean up good as new with just a towelette. And it will be a real conversation starter on those long flights."
In response to questions about how fliers would feel about this new intrusive requirement, Case replied, "At AOL, we have a wide open and wide ranging executive meeting each week in an architecturally unique, glass domed conference room we built specifically for that purpose. We call it The Bubble. We're always in the Bubble and when we asked each other how our customers would feel about this new policy, we all agreed that they would love it. Which works out exceptionally well for us because it was originally conceived just to make our lives easier. There was no need for marketing research, we know all we need to know thanks to the time we spend in The Bubble."
Traveling nude does present some challenges which Case addressed. "Naturally, our travelers won't be able to carry their ticket or ID in their pockets so to support this far more civil way of flying, at check in we will apply tattoos on our passengers' bodies that display all their personal information, their names, addresses, phone numbers and ticketing information so that they can easily be completely identifiable by our staff. We see absolutely no downside for passengers to have their personal identity displayed publicly, especially women and children. Props again to The Bubble!"
Case expressed unbridled enthusiasm about the way they are reshaping the airline industry. "We are thrilled to be able to offer this revolution in air travel. By treating all of our customers as probable terrorists, we prevent any of them from acting like terrorists which leads to a more civil environment for all. And this allows us to slash our staff and work hours that would have been required to treat everyone as an individual. And as a corporation, that's a win-win for us!"