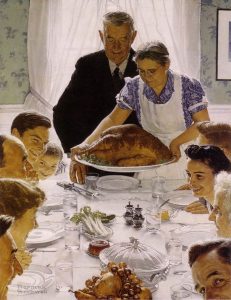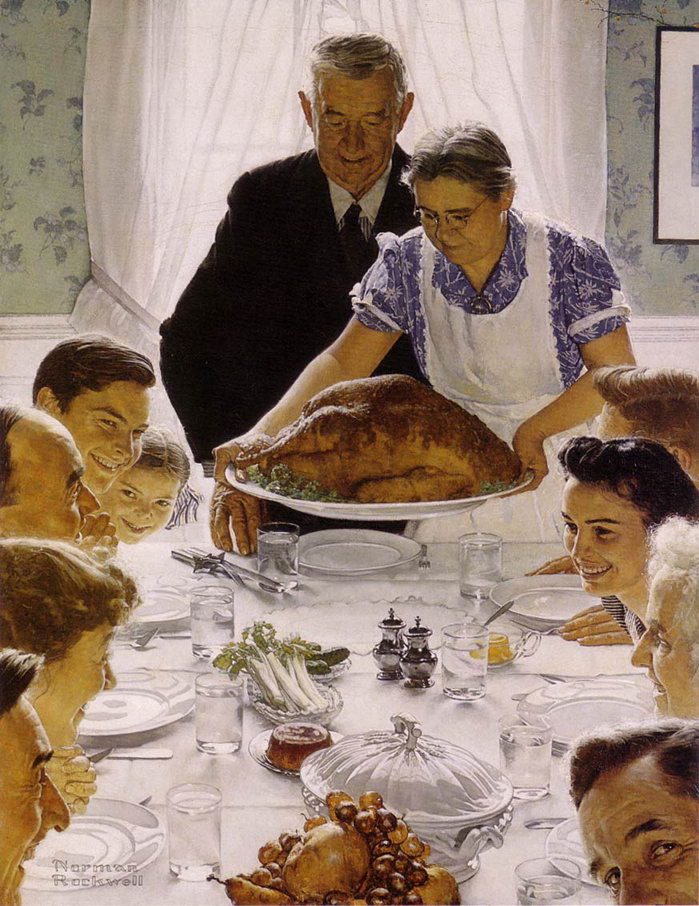 The first Thanksgiving was a day when immigrants to this land, who were very weak and vulnerable, were welcomed by its native citizens and treated with compassion and generosity. In other words, Republicans are completely bewildered as to why we celebrate Thanksgiving…other than the opportunity to stuff a duck into a chicken then the chicken into a turkey and dropping it into a deep fryer.
We have an ongoing Thanksgiving tradition in our family, we go around the dinner table and each of us tries not to spill gravy on the nice tablecloth. This is often accomplished by distracting family members from using the gravy with a disagreement over politics or reviving an argument that began in the family even before the original baking of the fruitcake that is always brought out from storage and once again left uneaten in its canister. Oh, and we take turns sharing with each other, all of the things we are grateful for.
At The Planet, we also have a tradition of letting our nation's top political figures express what they too are thankful for on this day.
WHAT I'M THANKFUL FOR
TED CRUZ
"I'm thankful for pigmentation, green eggs and ham, Joseph McCarthy, money being speech, never being able to underestimate the gullibility of the Republican base and snake oil. "
JOHN BOEHNER
"I'm thankful for ultra-absorbent Kleenexes, jellyfish, Coppertone, gerrymandering, fermentation, the word "no" and grading on the curve.
CHRIS CHRISTIE
"I'm thankful for double stuff Oreos, stuffed crust pizza and other things with lots of stuff that fits in my mouth. I'm thankful for scream therapy, teachers being as fun to beat as pinatas and concrete sinking in water."
ANTONIN SCALIA
"I'm thankful for lifetime appointments, mental illness being easily camouflaged,  bitter fruit, the Spanish Inquisition and the "not equal to" symbol.
BARACK OBAMA
"I'm thankful for Republican Presidential primaries, historians, freelance computer programmers, no more election campaigns against lying sacks of manure and Ted Cruz leading the GOP."
As for me, I am thankful for my great friend Kalima with whom I co-founded this site as well as the wonderful Bito and KQuark who we lost this year. I'm thankful for Kesmarn who joined our Admin team earlier this year and has done such a fantastic job heading up our Twitter presence. I'm grateful to Killgore Trout and SallyT for their wonderful and delightful weekend features of Music Thread and Sunday Funnies. I'm thankful for all the other brilliant, clever and creative people who contribute so much to The Planet to make it what it is, as well as our very valued readers who come here each day to catch up on the latest Planetary posts and conversations.
I'm thankful for my health, for my family and their health as well as their love, humor and thoughtfulness.
I'm thankful for our President, Barack Obama and all the Democrats and independents…and even Republicans who helped re-elect him last year and have supported his policies. I'm thankful for Obamacare, for the possibility of a peaceful path for Iran to be disarmed of nukes, the resolve of Democrats to stand up against the government shutdown extortion attempt by Republicans and ending their abuse of the filibuster on judges and other appointees.
I'm thankful that there are plentiful reasons to hope for a better America and better times for the many.
Wishing all of you a very Happy Thanksgiving Day from and weekend and whether you're spending it with with family or not, you've always got family here with whom to share the holiday and weekend.
Happy Thanksgiving!