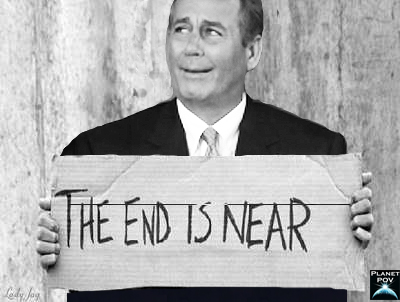 Never underestimate the power of denial…in fact, if the Tea Party had a super power, it would be invulnerability…of their denial.
Just as Republicans insisted that the 2012 polls were all wrong and Mitt Romney would win by a landslide, Republicans today are blindly and overwhelmingly confident that the Democrats and Obama will bend to their will and agree to delaying and permanently crippling Obamacare…as well as supporting their war on women and denying women the right to contraception and abortion through their insurance plans.
Yes, it's crazy and completely out of touch with reality…welcome to the 2013 GOP!
Before going any further, keep in mind that this Continuing Resolution on the budget which Republicans are using to try and extort these extreme demands only funds the budget for less than three months…and then the Republicans get to do this all over again with more extremist demands. Ain't that just the bestest incentive for Obama to give in on outrageous demands this time around?
Of course it's unimaginable for the Dems or Pres. Obama to go along with any Republican demands in this situation because it set a horrible and disastrous precedent, it would lead to a never ending slippery slope. If the Republicans, who are de facto the minority party right now, controlling only one of three governing branches of our government, were successful in getting what they wanted through extortion instead of through negotiation and compromise, our democracy would deteriorate into a regime having more in common with organized crime than national governments.
But this obvious, anti-democratic and anti-American thinking doesn't appear as such to those high on Republican Molly…aka Smoking Tea.
The Tea Party Republicans are especially sealed so tightly in their delusions that nothing can penetrate, not the history of the GOP's downfall after Newt Gingrich shut down government in the 1990s, not the many polls showing how Americans will hold them hugely responsible for the damage that follows a shutdown, not the urgings of their fellow Republicans who are trying to avert this train wreck.
In the minds of the Tea Party Republicans, they can drive their train right into a mountain, smash right through it and come out the other side because they saw it once in a cartoon.
And…that's a good thing.
Why?
Because everyone else knows how this all ends, the GOP train they've commandeered will continue to steam right toward the mountain and instead of smashing a hole through the mountain, it will crash into it, pile up and derail them and their party.
And that is what looks to be what really needs to happen at this point. They have to have the opportunity to show they have no regard for the well being of the nation so that everyone can see them for who they are…and throw them out of power.
What's fascinating in the latest Gallup poll, which does show support for the Tea Party at a near record low of 22% (21% is the record low for them), is how many people say they don't have an opinion one way or another about the Tea Party. That's right, 55% of people polled said they didn't have an opinion one way or the other about the Tea Party.
What does that mean when it comes to a Tea Party-caused government shutdown? Well, since one would have to be a low information citizen to have no opinion on the Tea Party, when the pain and disaster that grows from a government shutdown starts affecting those people and they finally turn to the media to find out why and who's behind it, it's not that hard to guess which side of the fence they will end up on.
But you can't convince evangelical Tea Partiers of such things. These are the same delusionals who think that by having lots of guns, they could take on the entire U.S. Military to "protect America".  They are faith-based, they don't need no stinkin' facts or history to be on their side, if they wish hard enough, the ghost of Ayn Rand will rise from her grave and after taking food out of the mouths of poor children, will grant them their wish.
The GOP is proving itself to be an undeniably extremist and destructive party and shutting down the government will be the culmination. This will expose them for who they've been since Obama won the Presidency in 2008. Amazingly, they think their shutting down government will put Obama in a vise to do what they want, they are too blind to see that they will instead be seen as dangerous, uncaring people who are putting all of America in a vise to get what they want.
It is only a matter of time before the Republicans are forced to fold their tea bags due to massing public outrage. As much as they may have demonized the term "Obamacare", most Americans are not up in arms about it, let alone in favor of having the government shutdown as a way to extort Obama and the Dems into killing it. Only that narrow minority of voters, Tea Partiers, agree with these Republicans that the American village has to be destroyed to save it from Obamacare.
And feeling forced to follow the nutjobs out of fear of being primaried, the rest of Republicans who aren't loony are jumping aboard The Nutjob Express and out of desperation, are trying to convince themselves that this just might work because since they've locked themselves into this, they need to believe it.
They will all be quite shocked by reality…since ignoring reality is a key requirement of being a Republican nowadays.
Another key reason why this is a good thing is that the disasters that follow shutting down the government are small compared to what refusing to raise the debt ceiling would bring about. If the Tea Party is rudely awakened to their delusions about America embracing their harming our economy and nation as well as Obama's folding to their demands on the CR for the budget, it could be just what's needed to prevent them from doing the same sabotage of America's and the world's economies by refusing to raise the debt ceiling.
What is pathetic is John Boehner's total collapse as Speaker of the House, as a veteran politician and as a man. Doing a 180 from this Summer when Boehner assured the media that the GOP had learned its lesson and won't shutdown the government or refuse to raise the debt ceiling, Boehner looks like a hollow marionette whose strings are pulled by the craziest whackadoo's in his party. That is flat out humiliating.
Boehner was faced with the prospect of losing his integrity and wounding the GOP for decades or watching the GOP lemmings excitedly scramble over the cliff without him out in front of them. He of course chose to run to the front of the suicidal march so at least he would be seen as leading them.
It's important that Boehner, the Kochs, the Tea Party folks and the rest of the spineless Republicans be given enough rope to hang themselves, even if it hurts many in the process. Millions more would be hurt and more severely if they continued to retain power for many years into the future (thanks to those low info voters out there who still have no opinion on or awareness right now of Tea Partiers using extortion as a preferred method of legislation).
It is unfortunate that there aren't more Americans who see it as a duty of being a citizen that they educate themselves regularly on who is doing what in our democracy so maybe going through the difficulties we seem to be heading towards wouldn't have to happen. It's also disappointing that in this day and age, gerrymandering isn't against the law for being the blatant denial of democracy that it is since that is a key way that this extremist minority possesses a disproportionate amount of power and is in this position of being able to demand an extortion payment for not breaking America's legs.
As a nation, we rarely learn the easy way, we usually choose to learn the hard way. Thankfully, the Tea Party and Republicans are more than happy to oblige.
If history and precedent are any indicators, this could be the beginning of the end for the Tea Party and the GOP in being seen as legitimate and acceptable governing entities. This outcome has always been inevitable, the American public is not comfortable with radicals or anarchists, especially those who threaten their healthcare and secure retirement. This reckoning had to happen eventually but it sure does seem like it's about to play out over the next month.
It won't be the end of denial, racism, hatred or conspiracy theories for the GOP, just possibly the end of them as a major national party for a while but at least they'll have lots of time to figure out ways to deny that it's even happened and that they had anything to do with it.