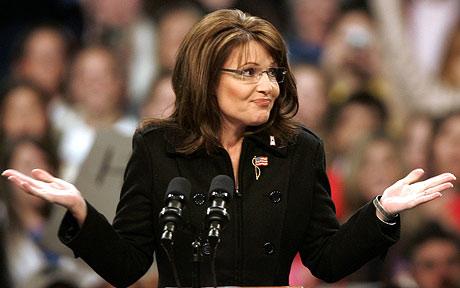 In response to Russian President Vladimir Putin writing an op-ed in the New York Times today, Sarah Palin has written the following op-ed in the most popular Russian newspaper, Pravda.
Hi, my name is Sarah Palin from the USA in America, you might recognize me as the woman who's staring backatcha from her backyard. Yep, that's me! I'm writin' ya cause I speak for real Americans who feel kinda like your Russian President, Mr. Puddin', that America shouldn't get in a war with the nation of Cereal while we have a Muslim President here in our country.

It's crazy that we'd bomb that nice Mr. DeSade in Cereal when he's helpin' to protect Christians from being killed. Obama attacks him cause he's killed 100,000 innocent men, women and children but talkin' as someone who is a dedicated pro-lifer, sometimes ya hafta kill babies who aren't Christian to save those that are. I know Jesus would feel the same way.

We have so much in common with you folks and your President Puddin'. We both see America under Obama as our enemy, we're jealous of your laws that make bein' gay illegal, you guys get to have a leader that doesn't need a fair vote from the majority to get elected and you can jail anyone who speaks out! Jeez, if only we had the democracy you do!

As for your talks with John Kerry about gettin' Cereal to give up their gassy weapons, lemme tell ya somethin' just between us…ya can't trust him! He's workin' for Obama who's a communist! And you know what liars and criminals they are! So don't be so quick to agree to anything, especially if it makes Obama look good.

We all want piece. The more piece we have, the less piece evil Muslims will have. And I'm not tryin' ta be mean to them or anything but look at who they are. They are religious extremists who want to force their beliefs on everyone in their country, intolerant of other folks who have different views, they take advantage of folks who aren't well educated to turn them into mindless followers to fight for their cause, I'll tellya, me and my fellow Tea Partiers just don't understand it.

Even though a great man who shoulda been President, Mitt Romney, said that Russia is our greatest geopolitical threat…the enemy of my country's President is my friend. I think this is a real opportunity for those on the right in America…real Americans…to come together with Russians as partners in humiliating our President however we can and making America look weak and screwed up. And when it comes to stopping killing and war in Cereal, maybe that's not the best idea. I mean, as Christians who live their lives based on the teachings of Jesus, The King of Peace, don't we all want the continent of Arabia in flames so The Apocalypse will come and Jesus can finally return to take Republican Christians to heaven?

That's all for now, gotta get to Facebook now to say something really outrageous (gotta pay the bills!) so as you say in Russia, adios!