To say that John Boehner is the worst Speaker of the House in the history of the United States and that the 113th House is the most ineffective and impotent in our history would be like saying George Bush was our worst president…the argument sure can be made that's the case.
Here's a graph showing that to date, this Congress has passed fewer laws than any Congress since 1947: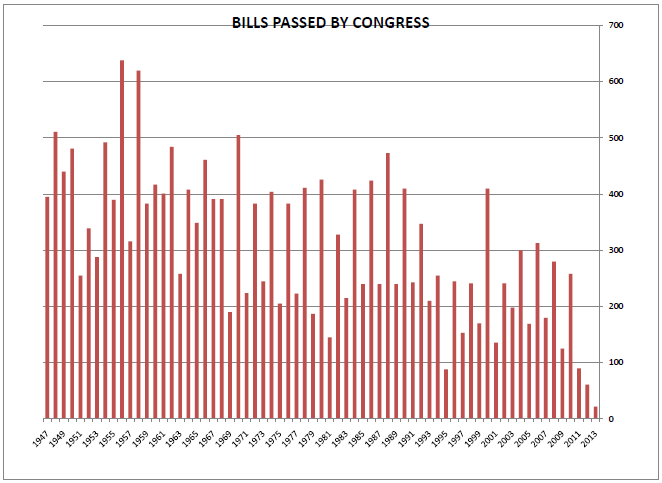 See that little nub above 2013? That represents the miniscule 22 bills that have become law under John Boehner's Flying Circus. Boehner announced last week that his House shouldn't be judged on how many laws it passes but how many it repeals. We don't need a graph for the amount of laws they repealed, it's zero. So even using his own yardstick, Boehner and his House majority are absolute failures and embarrassments to the nation.
A few fun facts about the 22 bills they passed:
Not a single one of these 22 is a jobs bill.
Two of these bills, virtually 10% of all of them, were authored by Utah Rep. Jason Chaffetz to benefit a Utah energy company.
One was to reverse the effects of the sequester only on airport personnel so Congresspeople didn't have to wait in lines to fly home.
Now let's group these 22 bills:
LAWS PASSED TO BENEFIT THEMSELVES OR PANDER TO THEIR CONSTITUENTS:
1.  H.R. 1765: Reducing Flight Delays Act of 2013 – Reps didn't have to wait at airports like other Americans due to the sequester.
2. H.R. 254: Bonneville Unit Clean Hydropower Facilitation Act– Benefiting energy corp contributor to UT Rep. Jason Chaffetz's campaigns.
3. H.R. 251: South Utah Valley Electric Conveyance Act – See #2
4. H.R. 2289: To rename section 219(c) of the Internal Revenue Code of 1986 as the Kay Bailey Hutchison Spousal IRA – a political going-away gift to Republican Sen. Kay Bailey Hutchinson
5. S. 982: Freedom to Fish Act – Pandering to Southerners who fish
6. H.R. 325: No Budget, No Pay Act of 2013 – Pandering to public displeasure with Congress and political attack on Senate Dems.
LAWS THAT ADDRESS PROBLEMS THAT AREN'T FREQUENT OR SEVERE
7. H.R. 258: Stolen Valor Act of 2013
8. H.R. 1151: To direct the Secretary of State to develop a strategy to obtain observer status for Taiwan at the triennial International Civil Aviation Organization Assembly, and for other purposes.
9. H.R. 1246: District of Columbia Chief Financial Officer Vacancy Act
LAWS THAT HARM THE PUBLIC
10. H.R. 475: To amend the Internal Revenue Code of 1986 to include vaccines against seasonal influenza within the definition of taxable vaccines.
11. S. 622: Animal Drug and Animal Generic Drug User Fee Reauthorization Act of 2013
(These laws limit the public's ability to sue drug manufacturers).
COMMEMORATIVE LAWS
12. H.R. 324: To grant the Congressional Gold Medal, collectively, to the First Special Service Force, in recognition of its superior service during World War II.
13. H.R. 588: Vietnam Veterans Donor Acknowledgment Act of 2013
14. H.R. 360: To award posthumously a Congressional Gold Medal to Addie Mae Collins, Denise McNair, Carole Robertson, and Cynthia Wesley to commemorate the lives they lost 50 years ago in the bombing of the Sixteenth Street Baptist Church, where these 4 little Black girls' ultimate sacrifice served as a catalyst for the Civil Rights Movement.
15. H.R. 2383: To designate the new Interstate Route 70 bridge over the Mississippi River connecting St. Louis, Missouri, and southwestern Illinois as the "Stan Musial Veterans Memorial Bridge".
16. H.R. 1071: To specify the size of the precious-metal blanks that will be used in the production of the National Baseball Hall of Fame commemorative coins.
LAWS TO PAY FOR HURRICANE SANDY EMERGENCY AID
17. H.R. 41: Hurricane Sandy relief bill
18. H.R. 152: Disaster Relief Appropriations Act, 2013
LAWS NEEDED TO BE PASSED EVERY YEAR FOR THE US TO FUNCTION
19. H.R. 933: Consolidated and Further Continuing Appropriations Act, 2013 – Paying the bills we owe…wow…big accomplishment.
LAWS THAT HELP OR PROTECT AMERICANS AND/OR THEIR NATION
20. H.R. 307: Pandemic and All-Hazards Preparedness Reauthorization Act of 2013
21. S. 716: A bill to modify the requirements under the STOCK Act regarding online access to certain financial disclosure statements and related forms.
22. S. 47: Violence Against Women Reauthorization Act of 2013
We still have some big bills left to deal with on the budget, debt ceiling and immigration so there will be at least a few more laws passed but it would be going with the odds to bet on this Republican House and John Boehner as Speaker of the House, going down in history as the biggest failures our democracy has seen.