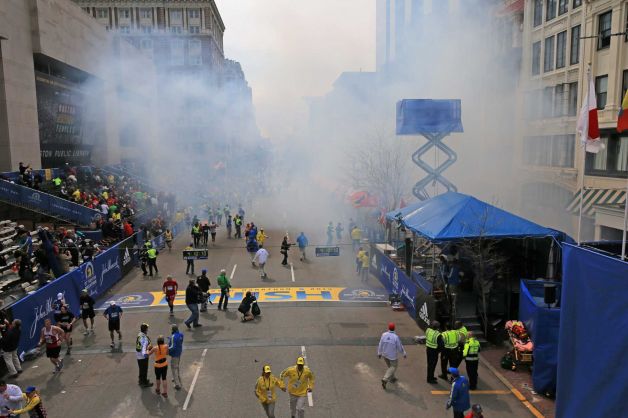 This is breaking news, keep in mind that early reports are not always accurate but there were two explosions near the finish line of the Boston Marathon, killing at least two people and injuring at least two dozen other people.
They have been called "two bombs" by The Boston Marathon in their immediate response.
"There were two bombs that exploded near the finish line in today's Boston Marathon. We are working with law enforcement to understand what exactly has happened."
Some initial details:
Two bombs exploded near the finish of the Boston Marathon on Monday, killing two people, injuring 22 others and sending authorities rushing to aid wounded spectators, race organizers and police said.

One runner, a Rhode Island state trooper, said he saw at least two dozen people with very serious injuries, including missing limbs.

About two hours after the winners crossed the line, there was a loud explosion on the north side of Boylston Street, just before the photo bridge that marks the finish line. Another explosion could be heard a few seconds later.
http://www.sfgate.com/sports/article/2-killed-as-2-bombs-explode-at-Boston-Marathon-4435820.php
There are reports of dozens of serious injuries to spectators and runners.
Another explosion reported, possibly a controlled explosion by law enforcement to dispose of a suspicious package. A fire at JFK library started shortly after the explosions, it is being investigated to see if it is connected to the explosions.
Updates to follow.
UPDATE – 1:25 PM PST: Airspace over Boston has been closed. Access to Pennsylvania Ave>, in front of the White House, has been shut down.
UPDATE: 2:00 pm PST: In press conference, Boston Police Commissioner says simultaneous explosions near Boston Marathon finish line, 50-100 yards apart. Explosions were caused by explosive devices that were planted. FBI has sent resources. A third incident occurred at JFK Library and still investigating connection. Citizens in Boston are asked to stay in their homes as it is an ongoing event.
UPDATE: 2:22PM PST: Conflicting reports state that 22, 60 or over 100 people have been injured in the bombings. Cellphone service shut down in Boston to prevent remote detonations of explosives, official says.
UPDATE: 3:00PM PST: President Obama delivered a statement on the attack. Stressed that we don't know who did this or why and that people shouldn't jump to conclusions. The responsible groups will be found and feel the full weight of justice. The American People are with the people in Boston.
UPDATE: 4-16-2013 – 11:00AM PST: Law enforce officials have determined that the bombs were made of explosive materials placed inside pressure cookers which were placed inside backpacks, likely triggered by a timer. More than 170 people were wounded—17 of them critically and two people were killed. The two fatalities to date have been identified as Krystle M. Campbell, a 29-year-old from Medford, Mass and 8-year-old Martin Richard who was running away from the first explosion with his family when the second blast killed him. His six-year-old sister and mother were injured in the blast as well.
UPDATE: 4-17-2013 – Police have persons of interest that they are pursuing. Incorrect reports of an arrest were made by CNN and AP. Letters to President Obama, initially found to be laced with ricin, were intercepted.
UPDATE: 4-18-2013 – The FBI has released images and video of two suspects in the bombing: