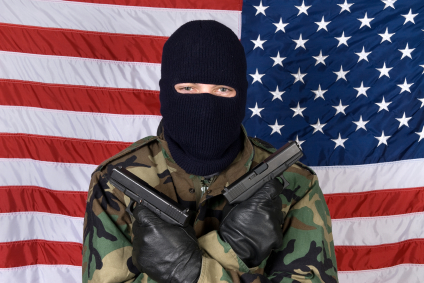 The latest news about letters preliminarily detected to be laced with ricin being sent to President Obama and Republican Senator Roger Wicker (a hard right conservative who voted to allow debate on background checks) in the aftermath of the Boston Marathon bombing seems to expose something about underground anarchists crawling around under the crust of society in America. After further testing, these letters may turn out not to be laced with ricin but threats to our President and politicians by "fellow Americans" take place every day and the proliferation of coverage of a terrorist attack seems to whip up more of them.
We all remember the anthrax attacks that followed the 9/11 attacks and the failure of the FBI to definitively solve that case.
What did seem to be clear in that case and in this case is that the initial terrorist attack and the subsequent use of deadly toxins in letters sent to politicians and journalists (though not yet confirmed at this time in this latest case) were not committed by the same groups or people.
So is there a subculture of sociopathic Americans out there who act spontaneously to "jump on the bandwagon" and launch their own attack on their perceived enemies in American society after witnessing the coverage of another terrorist attack? Or are such sick people, whether as loners or in hate groups, readied and waiting to launch an attack once they perceive that the floodgates are opened? It is the case that some of these types desperately want the day to come when anarchy, terror and fear tear apart our society as it is which they believe will allow them and their types to take over and reshape society into their own image.
It now looks so outrageous that the Tea Party garnered the kind of attention and positive media they received when they were first becoming so visible. They have always represented the kind of American government hatred, racism and paranoia that is so endemic to the most dangerous extremists in our country.
Who but someone who hated our government would try and assassinate the elected officials in it? Who but someone who hated huge swaths of America would try to assassinate those in the media who they see as not speaking for them? Who but an American would touch both of those bases?
Some suggest that these terrorists who copycat terrorism after initial attacks are just trying to get attention and know their attacks will fail. Tell that to the postal workers who were murdered due to handling anthrax laced letters and the ones that would have been this time around had the government not instituted screening on all mail to DC politicians. Whether they are primarily seeking publicity or not, these terrorists who are homegrown, want to terrorize Americans and some are willing to murder Americans in that pursuit.
What is unbelievable is that many of these types believe they are patriots for "standing up to tyranny"…by being willing to murder innocent Americans, possibly even children. That is "patriotism"? This dangerous myth has been incubated amongst those who feel most neglected or marginalized by American society…it is really revenge they seek for a life of difficulty and disappointment, they merely use "patriotism" as a facade. Right Wing media though the MSM have also contributed to this along the way too. There has been an intentional sanctioning of radicalization by the creatures at Fox News, Rush Limbaugh, the NRA and even elected politicians in the GOP. They praise and celebrate people who hate fellow Americans, who hate Democrats, the poor, the unemployed, black people (including Pres. Obama), Latinos, women…and on and on. The profitable industry of Hate in America can't be held harmless as sick Americans act out on their delusions and paranoias…which have been validated by that Hate industry.
Fox and their fellow Fiends don't care one bit that they aid and inspire hatred of America in dangerous people, for them it would be the same as opposing that they turn a profit off of such sick human beings. It is a symbiotic relationship, between sociopaths and the Media Hate Industrial Complex. Even so, each individual makes their own choices and decisions and the ultimate responsibility lies with the murderers, not their cheerleaders.
It is nauseating that simultaneously, as Americans are murdered and terrorized by attacks on them, we hear that the background checks bill in the Senate has been killed by Republicans. These Republicans are standing up for the right of terrorists to freely obtain semi-automatic and other weapons at gun shows. And they are the party that represents itself as ultra-patriotic? Aiding and abetting the arming of terrorists? One can only hope that Democrats put this anti-Americans campaign of theirs (opposing what 90% of Americans want) front and center in next year's elections.
So what creepy, crawly vermin scuttle around underneath the surface of our society unbeknownst to most Americans living their daily lives?
There are the Dominionists who are Christian extremists that literally want to take over America and the world and force their religious beliefs onto all others under the rule of law, they have no reservation about committing murder and other acts to get what they believe they are entitled to by God. There are the White Power Militias and gun nuts out there who are convinced that the day of reckoning is coming and must come, when the white race will have an apocalyptic battle against the tyrannical, gun-confiscating, multiracial American government and they are the heroes who must attack and kill government officials…to defend America.
From an MSNBC article…published on 03/06/2013, a month and a half ago, before these terrorist attacks:
Domestic terrorism: 'Patriot' hate groups skyrocket

The number of anti-government hate groups hit an all-time last year, according to data from the Southern Poverty Law Center.

These conspiracy-fueled groups have been on the rise over the last few years but hit a high of 1,360 "Patriot" groups in 2012, the Center's new report found. Patriot groups believe "that the federal government is conspiring to take Americans' guns and destroy their liberties as it paves the way for a global 'one-world government.'"

When President Obama won the 2008 election, only 149 such groups existed. By the next year, anti-government groups skyrocketed to 512, then 824 in 2010, and 1,274 in 2011.

And the number of general hate groups slightly decreased from 1,018 in 2011 to 1,007 in 2012, the number of Patriot groups went up about 7% in the same time frame.

The "growth has just been astounding over the last four years: 813% growth. We've never really seen anything like this in any of the groups that we count," Mark Potok, a senior fellow at the Southern Poverty Law Center, said on MSNBC's The Last Word with Lawrence O'Donnell Wednesday. "As gun control talk began in the wake of the slaughter in Newtown…[the] whole movement, these groups out there, have gone from sort of a red heat to white heat. So we are at a very scary moment. It is very reminiscent at least to me the months leading up to the Oklahoma City bombing."
http://tv.msnbc.com/2013/03/06/we-are-at-a-very-scary-moment-hate-groups-on-the-rise/
No one knows right now and it would be irresponsible to say one way or the other with any certainty but the Boston Marathon bombing could have been committed by a foreign group or individual but it could also be a result of one or more domestic terrorists. However, the follow up terrorism of potentially sending ricin-laced letters to specific politicians sure seems reflective of one or more Americans with specific political views acting upon their own hatreds. Either way, I hope that the FBI is far more diligent and committed in this case than in the 9/11 anthrax attacks, in finding the perpetrators of these follow up acts of terrorism. If it turns out to be from one of these "Patriots", they should be prosecuted to the full extent of the law and all media romanticism over government-hating "Patriots" should be extinguished for good and all.