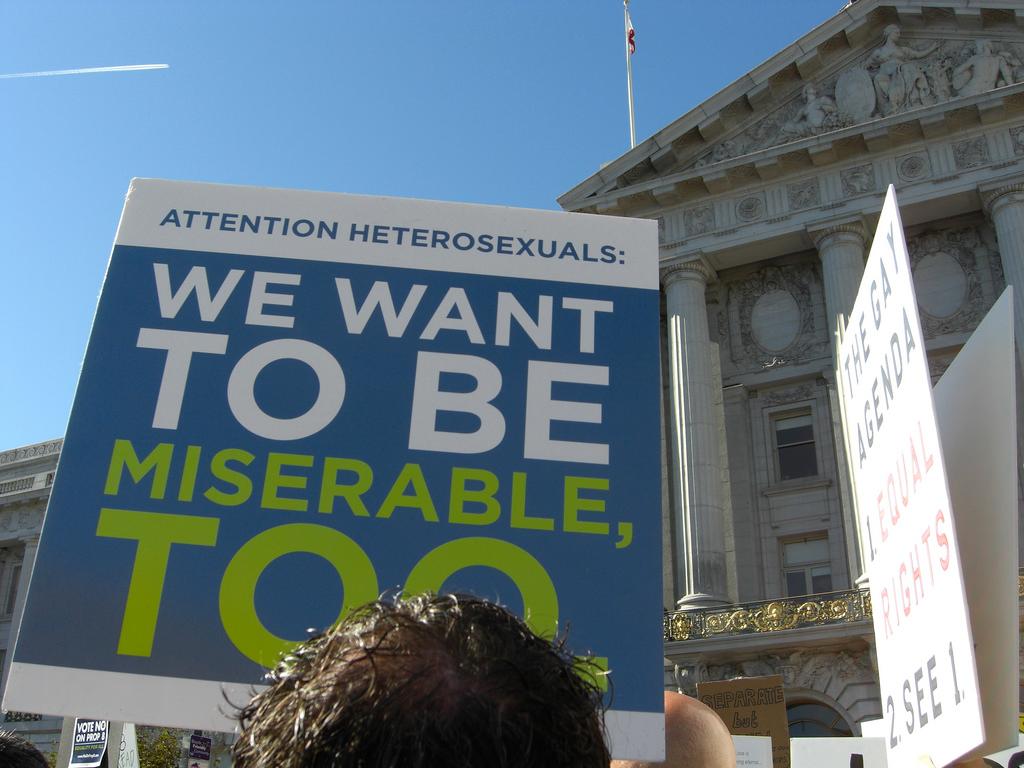 Politics make for strange bedfellows, who would ever think Republicans would get in bed with gays on marriage? Certainly not the Right Wing Evangelical base of the GOP. Many of them now feel that the GOP has been cheating on them and feel betrayed.
It's sort of like someone walking away from having lost their money at Three Card Monte and wondering if they were ripped off. The GOP has been playing them for decades and only now, when it's become a choice of remaining a viable party or continuing to echo the extreme positions of the Religious Right to curry favor with them, do they start suspecting it's all been a scam.
The Southern Strategy of the GOP began under Richard Nixon and Barry Goldwater in the late '60's. On the heels of Lyndon Johnson alienating Blue Dog Democrats in the South after passage of the Civil Rights Act, Republicans saw an opportunity to appeal to the racist white vote that so dominated the South. Recognizing that the Democrats were building on their strengths in cities, to bolster their strength in the South and Midwest, Republicans also went after the Fundamentalist Christian community. The plan was to pander to both, throwing racist and "anti-heathen" red meat, whipping up hatred and fear towards minorities and those of different beliefs to energize their new base. Along with this, they made insistent promises to the Fundamentalist Christians that they would make their most extreme beliefs the law of the land.
The Republican Party created this alliance in a wholly cynical and mercenary manner, they were just pandering to these groups to use them, they didn't really believe in their causes nor did they intend to bring them to fruition. What Republicans needed was to create a never-ending battle between their pawns and Democrats over primal issues for their base, whip up outrage and division to get the higher turn out they needed to win elections over the more numerous Democrat voters.
This Southern Strategy worked well for some time and would continue to work well if the disbelief in evolution so proudly displayed by many in the GOP base…was correct. Instead, society has evolved from where it was in 1980 and it is no longer a winning hand for the GOP to mimic the homophobia and racism of their base. So what's a political party to do? Stay on the tracks and get hit by the Evolution Express or jump out of the way?
The Republicans are jumping and the Religious Right are hopping mad. With their blinders locked on since at least the 1950's, the Religious Right has no conception, immaculate or otherwise, that the majority of Americans support same sex marriage and only older people wear their homophobia on their sleeve like a medal of honor. So they are outraged and flabbergasted that a number of politicians in the GOP are drifting over to supporting same sex marriage.
Republicans are no more compassionate towards others now than they were when they were loudly opposing gay marriage and hating on Latinos last year. They are a facade for corporate interests that only want the tax money of the 99% to flow into their pockets, everything else they do is just to win elections. And at this point in history, it has become clear that being anti-gay and prejudiced against Latinos is not a path to winning. So, being unprincipled, it's effortless for them to flip to an opposing viewpoint on a critical issue overnight. Overall, it is a good thing but unless one wants to be as foolish as the Fundamentalists, viewing this as a reason to trust the Republicans on this or any issue would not be the wisest decision.
Remember a guy named Mitt Romney? He was the personification of the GOP. A rich person serving only the interests of the wealthy and merely pandering to the rest of the country ("My name is Mitt Romney, y-all."), tossing out lies like rice at a wedding and assuring his supporters that he cared about their issues…whatever they happened to be on any given day and whether or not that conflicted with an earlier position (even earlier that same day).
Fundamentalist Christians however do have strong and immutable beliefs and they thought the GOP, which assured them it was just like them…was just like them. Now, these naive, small minded people are shocked that the GOP is an organization of unprincipled opportunists who are stabbing them in the back just to win elections. Truth is, the GOP has been doing this for a while.
The GOP wants abortion to remain legal nationally because it has and will help them to rally the Fundamentalists against it and show up to vote Republican in elections. The GOP arguably won the 2004 Presidential election (putting aside their theft of Ohio's election and electoral votes) by putting hatred of gays and gay marriage as a central issue. Nine years later, since it's no longer a winning position, the Republicans (as they have on immigration) are flipping to the opposite position without a scintilla of remorse or apology.
So what's a homophobic segment of a religion to do? They've been left standing at the altar of prejudice all by themselves, jilted by their mate in hate. Is the engagement over? Will they find another who is truly their soulless mate?
Unfortunately for them, there is no other party for them to run to on the rebound. Are they destined to be trapped in a hateless marriage?
It might be ironic if Fundamentalist Christians made the decision to divorce from Republicans over the issue of protecting marriage…the only question would be who gets to keep the silverware but no doubt the Fundies would claim that they get to keep it since, as they see it,  the Republicans have stuck it in their back.