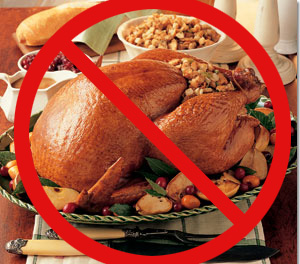 Still reeling from their losses in the elections earlier this month, leading Republicans have vowed to block Thanksgiving from coming this week unless Democrats agree to allowing the wealthy to have a 20% cut of all the white meat.
Senator Mitch McConnell, who has been less visible this week due to safety concerns over his looking too much like a turkey, gobbled, "I think it's clear that the more white meat Job Creators eat, the more white meat there is for everyone." Senator Barbara Boxer responded by objecting to the cruel treatment and caging of logic by Sen. McConnell and suggested that he get stuffed…which raised McConnell's concern of being mistaken for an actual turkey and potentially roasted by his colleagues so he flew the coop.
Senator John McCain has taken the lead in vowing to block Thanksgiving, claiming that he will focus on blocking the dark meat from being served. McCain also attacked rice, making a variety of claims about what it should have known and when.
The Republican Association of Teapartiers and Secessionists (RATS) have added their support to this effort, they reportedly have been accumulating all the nuts out there to prevent the baking of pecan pies. They also allege to have cornered the market on fruitcakes.
Alaska's Ex-Governor, Sarah Palin has condemned Thanksgiving as a satanic ritual for liberal socialists and has dedicated herself to performing exorcisms on deviled eggs.
Republicans insist that by blocking Thanksgiving, they would truly be upholding the values of Thanksgiving. "The first Thanksgiving was all about self-sufficiency and every person for themselves, "McCain muttered while gritting his teeth painfully. "We need more of that rugged individualism that was symbolized by the pilgrims refusing to share the crops they harvested with the Native Americans who refused to share the turkeys they caught and prepared with the pilgrims. Republicans celebrate that Thanksgiving Day spirit  by coming together to block Thanksgiving Day from being celebrated."
In an unrelated story, George Orwell's grave has transformed itself into a centrifuge.