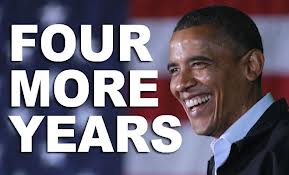 As with all of my friends here at the Planet, I was elated last night when President Barack Obama was trusted with four more years to finish what he had started and to lead this country.  I had a very difficult time falling asleep last night because I was so hungry for information on several Senate and House results and also the propositions here in California.  I won some and lost some but I think the most satisfying victory is that the nation agreed that America is not for sale nor is Democracy.  I have to say I was very worried about that, I think it probably caused the most distress I felt about this election.  Would the nation stand up and say NO to the oligarchs who are trying to buy this country for themselves?  Well I see I should have had faith all along.  Of course that is easy to say today but one thing is different, I truly realize that a nation of people who do not remain vigilant and protect that democracy, risk the possibility of losing it all.  I also have faith that others are feeling the same way.
Going forward I wonder if the Supreme Court or the Elite in this country will get the message.  Will they realize that working together is the answer and creating an atmosphere where you divide the nation is not healthy for anyone?  Will they continue to grasp for that brass ring on their merry-go-round reaching for greater power?  Will they continue to want only what is good for them and not the country as a whole?  Six billion dollars was spent on this election.  How much better off would this country have been if that money had been put back into the growth of this nation?  I am not excusing the politicians here either, they bought into the billions for election as my inbox would attest.  I also have to say I lost a great deal of respect for the parties as a whole as they continued to bombard me with pleas for more money based on scare tactics.(yes i subscribe to both parties so I know what is going on on both sides)  I get it that they were just trying to protect their turf, but I still wish they could have remained above the fray and sent a message to the powerful that elections cannot be bought.  Upon reflection that still bothers me even though the outcome was in my favor.
One thing I did learn was that social media is a powerful tool to get the message out.  I spent days pouring over the McCain campaign dossier on Mitt Romney and posted hundreds of comments to Facebook and Twitter.  Both media were excellent for getting the truth out but they were also the home of many lies and distortions.  Overall I believe they presented opportunities for many people to learn what was at stake and what the media was not going to tell us.  Speaking of the media, in my humble opinion, BIG FAIL….HUGE.  just like the powerful they used tactics to drive viewership, not truth.  The fifth column in this country needs to look at themselves as well.  From Wiki:
A fifth column is a group of people who clandestinely undermine a larger group, such as a nation, from within. A fifth column can be a group of secret sympathizers of an enemy that are involved in sabotage within military defense lines, or a country's borders.  A key tactic of the fifth column is the secret introduction of supporters into the whole fabric of the entity under attack. This clandestine infiltration is especially effective with positions concerning national policy and defense. From influential positions like these, fifth column tactics can be effectively utilized, from stoking fears through misinformation campaigns, to traditional techniques like espionage.
That pretty accurately describes the Media's failure in this campaign.  I sincerely hope that they will reflect and change their ways, but I am not confident that will happen.  In retrospect I have to say that Planet POV and all of you here were so helpful in allaying some of my fears.  I know I have not been on the site a great deal, but all of you understood the risks, so many on Twitter and Facebook did not and I hope I did my small part to inform.  During the process I met a lot of new people and I am sure made a few enemies but friends are way more important.  When the  chips were down and important activities happened, I always found my way to the Planet.  I want to thank all of you and especially the administrators of this site for keeping it up and running and providing the unique real time open thread.  The Planet will continue to be my home and over the next four years I hope we all share the good things to come and inform each other on the not so good things that may come our way.  Thank you all from the bottom of my heart.  Oh and President Obama?  I still have your back.