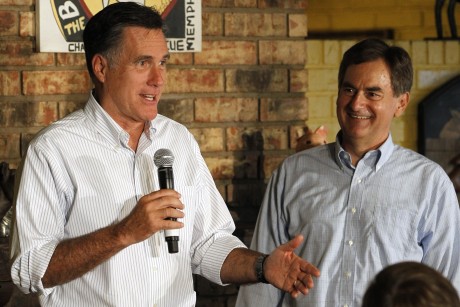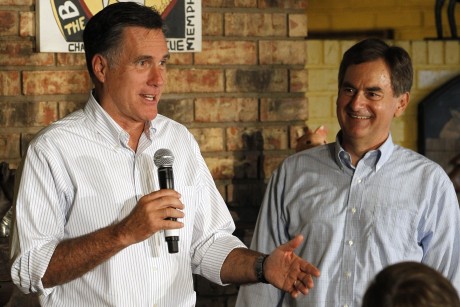 As this democratic version of national waterboarding comes to a close in a few more days, it's a good time to reflect on the many moments we've shared together as Americans. Especially all of the mistakes of the candidates, the pundocracy and the Mainstream Media in general.
We've been battered non-stop by erroneous "conventional wisdom" from the media, ignorant gaffes and proclamations from politicians and yet they are far too frequently forgotten.
Like the old story of the mouse hanging the bell on the cat, maybe it would be helpful to do the same on the media and politicians so we can hear them coming with their unjustifiably confident and misguided pronouncements the next time around.
In pursuit of that, following are awards for some of the clear misses of the media and politicians during this election cycle. You're invited to share other moments that come to mind.
WORST MEDIA MEME ON AN ABSOLUTE FACTOR IN OBAMA WINNING RE-ELECTION
There are so many nominees to choose from in this category but this award goes to the majority of pundits on the right and the left who declared in 2011 that President Obama will not be re-elected unless unemployment dipped below 7%. Be prepared for most of these dimwits to proclaim on election day, "We've seen this coming for a long time, President Obama's re-election campaign was just too strong to be denied." Maybe there should be a show where regular people make declarative memes about what failures pundits will ultimately be?
MOST CORRUPT AND MEANINGLESS FAUX "VOTING" RESULTS
There is no competition here, the winner by a wide margin is the insanely undemocratic Ames (Iowa) Straw Poll which perceptively chose Michele Bachmann as their pick for the Republican Presidential Nominee.
This "vote" takes place in the midst of a state fair so you know it's all business. The winner of this event is not just selected by who can pose for the most sexually suggestive photo when trying to eat a corndog and it's not about who can consume the most fried sticks of butter in a week…though they do help…it's about who can throw the "funnest" party! The only people who "vote" are those who pay a fee which means that usually it's the most driven voters…meaning, more extremist. And the way they "vote" is by attending a candidate's party.
Michele Bachmann, according to Politic365
…spent up to $1 million by hiring Randy Travis to perform for 6,000 fans and bussing in 152 of Travis' fans into an event.  In exchange for $30 valued tickets, concert goers had to register at Bachmann's table and vote in the straw polls. Members of Bachmann's campaign handed out flyers requiring people to vote for Bachmann in order to see the entertainment.
She also had a petting zoo!
If that's not democracy, I don't know what isn't.
WORST PREDICTION ABOUT THE EVENTUAL GOP NOMINEE
Though most of the pundits categorically stated in 2011 that the GOP nominee would have to be a Tea Party favorite, Lawrence O'Donnell at MSNBC has to take the fool's gold on this one, declaring for weeks on his show, to the people at home and to the obviously less-intelligent guests on his show, that Tim Pawlenty will be, without a doubt, the Republican nominee for President. Just a couple of weeks after O'Donnell's continuous declarations began, Tim Pawlenty decided that making O'Donnell look like an egotistical chump would be far more satisfying than becoming President and he dropped out of the race.
WORST REPEATED RUMOR ABOUT PRESIDENT OBAMA'S CAMPAIGN
There were a number of these but only one can be the winner so the choice is…President Obama will drop Joe Biden as his VP pick in favor of Hillary Clinton! Yes, this little horse dropping was left by the Right and picked up hot and steaming by pundits all across the media. The intent was of course to instill conflict, division and uncertainty in the Obama campaign and supporters. Instead, while the media was rubbing this in ecstasy all over themselves like Axe Body Gel, Obama's campaign and supporters just shrugged at it. Nice try Right Wing media and follow-the-liar media, better luck next time.
WORST REPUBLICAN SUPPORTER OF RAPE
Yes, there are actually enough Republicans out there defending rape that this can be a competitive category. Todd Akin was so confident he would win this title, he really felt brutally attacked and screwed against his will by Richard Mourdock who forced himself upon the nation and into this position…as the winner in this category. Mourdock declared that "even when life begins in that horrible situation of rape, that is something that God intended to happen." What Mourdock may find ironic is that, finding himself suddenly 11 points behind in a race that had been a slam dunk for him to win, God has apparently intended to abort his candidacy.
WORST LIE BY MITT ROMNEY
Now this one is a toughie. Should it be his lie about Obama ending work requirements from Welfare? "Robbing" Medicare of $716 billion? The auto bailout being Romney's idea…then a plot to send jobs to China? So many to choose from, how could one be selected above all others? Well, perhaps because all of them are part of his biggest lie of all…"I am Mitt Romney." Being that there is no real Mitt Romney, just a greedy, self-entitled, unprincipled shell of a man, Mitt Romney himself is the worst lie of them all.
WORST POLITICAL HORSE RACE PROPAGANDA
Just about every media outlet wins this dubious honor. The irrefutable facts (things that have become foreign to so-called "news" channels) are that President Obama has always led Mitt Romney in the Electoral College polls since the beginning of the election cycle. Even when Romney had his best weeks, he never moved ahead of Obama in probable electoral votes. To put it simply, that is how our democracy elects Presidents. Yet, in order to manipulate the public into watching their channels with greatest frequency for any tidbit of election "news" (and thus gain greater advertising revenue), the media has focused primarily on national polling to portray the race as virtually tied. Again, just to be clear, these news channels know full well that we don't elect our President based upon national vote totals, that these totals are wholly irrelevant to who is elected President, yet because these can be used to deceive viewers into thinking the election is a dead heat, this is primarily what they present to represent the state of the Presidential election. It's so dishonest, Mitt Romney is jealous.
Some of the manipulation has been so blatant. When multiple polls come out on the same day, if one poll showed Romney with a one or two point lead, it would get sole coverage and be portrayed as "Polls show Romney is leading Obama". Yet, though Obama has led Romney in Ohio without exception, a poll showing Obama with a three point lead was referred to as, "That's within the margin of error so it's a virtual tie in Ohio."
See how modern corporate journalism works today? When the candidate who is losing has a poll showing him ahead by a point, he's leading. When the candidate who's ahead has a poll showing him up by a few points, it's within the margin of error and a tie. And coincidentally, that means it's a horse race so we need to watch the news channels hour after hour to see what happens!
That wraps Volume One of The Greatest Worsts of the 2012 Presidential Election. There may be subsequent volumes but in the meantime, please feel free to add your picks in comments below.
So many worsts, so little time…to have wasted by them.