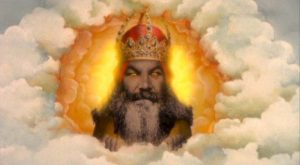 Like the swallows return to Capistrano and Mitt Romney returns to obliviously insulting entire nations, crackpot extremists returned to blaming God for a horrible tragedy. Now God has broad shoulders (He can't just buy suits off the rack) and He can take the heat from those who will end up in a far more heated place for accusing Him of being a co-conspirator in a terrible crime but that doesn't mean He has to take it lying down (and when God lies around the universe, he lies around the universe).
So, God has written the following blog post to answer those extremists on the Right who have once again confused him with a Bond villain:
You know me, I love all my children but some of them need a few more time outs than others. Not being corporeal, I don't believe in corporal punishment towards them but there are times when they really try one's eternal patience.

Let's begin with the reasons they've given for why I've supposedly allowed terrible things to happen. One claim is that I'm angry because I've been kept out of school. First of all, you can imagine how by being omniscient, I'd be seen as being a know-it-all by my teachers and classmates so that wouldn't be much fun for me anyway. Second of all, how can these people believe in me as an all powerful deity yet also believe that I'm governed by the PTA? According to them, I can be everywhere at all times (which is a real hassle to schedule in Outlook) but I need a hall pass to be on school property.

The other wacky part of this is that they describe me like I'm Beetlejuice and I need to have my name repeated three times to appear somewhere. Trust me, I'm not a genie whose lamp needs to be rubbed in order for me to be there nor am I a Kardashian, I am not so insecure that I throw tantrums when I don't hear my name enough. In fact, as these people have proven, the more some mention my name, the less familiar with me they actually seem to be.

Belief is an internal thing. Saying my name out loud, though it comes in handy in both painful and pleasurable moments, doesn't increase or decrease one's belief. Instead, these misguided people seem to think I'm Shazam so my name has to be called out at any and every time to activate my power.

School is for educating children so they understand math, English, science and the dangers of Meatloaf Surprise. Educating children about faith is what churches and parents are for. They're both important but injecting one into the other, like filling pizza crusts with cheese, can be a bit much. If this goes in one direction, it should go in the other but I don't think people going to church would appreciate having to do book reports on Ponce de Leon or have sermons about using fractions (we could work it in though, say, "Be fruitful and multiply by .10 to get 10% of an amount").

Not everything we love should be combined…even though some at County Fairs would have you believe otherwise (Fried Bacon-Wrapped Candy Bars?). It's okay to have a hardware store sell hammers and a supermarket sell food, it's not necessary that both sell food that can also be used as hammers (see: day old french bread).

With that understood, please also be assured that I never allow bad things to happen because I'm not hearing my name enough. The whole Old Testament thing about me being angry and vengeful, they just happened to get me on a bad era (I got up on the wrong side of existence which can really put you in a bit of a mood). In general though, the portrayal of me as a loving god is more on the money. You know the saying, "If you love something, let it go. If it comes back, then it's yours forever. If it doesn't, then it was never meant to be,"?  That applies to everything…except helium balloons.

So, I let humanity go, to find itself and hopefully find me. The choices that are made on Earth by those who are thoughtful, those who are mentally ill, those who are empathetic and those who are mercenary…all the choices that people make in their lives are what cause the events that follow. The misguided people who try to turn every terrible or unfortunate event into my commercial for their agenda are like snake oil salesmen…just with less integrity. Good things happen often too and though I'd love to take credit only for those things (I leave that to Republican Governors), I'm not responsible for those things either.

When you see how most human beings respond in the aftermath of tragedies…the generosity, the compassion and the coming together, perhaps in that and only that, you may see a glimpse of me.

Though I did enjoy George Burns' portrayal of me…but he did look a bit old for the role, if you ask me.