I was not old enough to watch, much less understand the impact of the McCarthy hearings in the 50's but I know to this day something was seriously wrong with the man and with his colleagues who sat by and watched or participated in the spectacle. A pioneer of television news broadcasting, Murrow produced a series of TV news reports that helped lead to the censure of Senator Joseph McCarthy. Thank God for CBS and Edward R Murrow but even as early as 1958, at least, CBS was moving toward an Infotaining News Bureau as is evidenced by conversations that took place between Edward Murrow and CBS's Chairman, Bill Paley.
Murrow's reporting brought him into repeated conflicts with CBS, especially its chairman, Bill Paley, which finally ended in the summer of 1958 after a clash in Paley's office. Murrow had complained to Paley he could not continue doing the show if the network repeatedly provided (without consulting Murrow) equal time to subjects who felt wronged by the program.  According to author and producer for CBS, Fred Friendly, Murrow and Paley had a major confrontation that resulted in Murrow eventually leaving the network. Murrow felt like Paley was intentionally trying to destroy the show and Paley reportedly told Murrow that he did not want a constant stomach ache every time Murrow covered a controversial subject.  So you can see, even back then, networks really did not want to cover the real deal especially if it caused them constant stomach aches.  I am sure they are free from that these days, but back to Murrow.
See It Now's final broadcast, "Watch on the Ruhr" (covering postwar Germany), aired July 7, 1958. Three months later, on October 15, 1958, in a speech before the Radio and Television News Directors Association in Chicago, Murrow blasted TV's emphasis on entertainment and commercialism at the expense of the public interest.   In his 'wires and lights' speech he told his audience:
During the daily peak viewing periods, television in the main, insulates us from the realities of the world in which we live.  If this state of affairs continues, we may alter an advertising slogan to read: Look Now, Pay Later.
While this speech damaged the relationship between Paley and Murrow, Murrow continued to work at CBS until 1961 when he was asked by President Kennedy to accept a position as head of the United States Information Agency, parent of the Voice of America.
But I am getting ahead of myself – back to Joseph McCarthy.  On March 9, 1954, Murrow, Friendly, and their news team produced a half-hour See It Now special entitled "A Report on Senator Joseph McCarthy".  Murrow used excerpts from McCarthy's own speeches and proclamations to criticize the senator and point out episodes where he had contradicted himself. Murrow and Friendly paid for their own newspaper advertisement for the program as they were not allowed to use CBS's money for the publicity campaign or even use the CBS logo.
Nevertheless, the broadcast contributed to a nationwide backlash against McCarthy and is seen as a turning point in the history of television. It provoked tens of thousands of letters, telegrams, and phone calls to CBS headquarters, running 15 to 1 in favor.  Murrow offered McCarthy a chance to appear on See It Now to respond to the criticism. McCarthy accepted the invitation and made his appearance three weeks later, but his rebuttal served only to further decrease his already fading popularity.
In the program following McCarthy's appearance, Murrow commented that the senator had "made no reference to any statements of fact that we made" and contested the personal attacks made by "the junior senator from Wisconsin" against himself.  Does any of this sound familiar?  Republicans shooting off their mouths, disrespecting our President, calling Democratic members of Congress Communists?  Continually talking about a "second amendment solution" or asking when the first shot will be fired?  Referring to our country as a Republic and continually chanting "I want my country back".  But when you confront them directly, they never know the answer, they never answer the question and they just expect you to deal with whatever harm they have done at any given time.  We do have some Edward Murrows in this country, problem is they are not given mainstream media access.  Bill Moyers, Dan Rather, Thom Hartman and Amy Goodman, to name a few are all journalists that dare to take the path less traveled by the bulk of today's "journalists".  And we do have infotainers on the regular networks that will call these people out, up to a certain point.  I am no expert but in all of infotainment these days I would only count on a few reporters who would make a stab at going against the grain, Rachel Maddow, Bob Simon, Scott Pelley, Rev Al, Steve Kroft, Christiane Amanpour or the late Ed Bradley and Mike Wallace.  And even though I believe this, I still think not much(60 minutes exempted but that is their focus) is ever covered in depth and because most on the Right are afraid to appear on their shows, there is little opportunity for real dialogue.  Especially with a person from each side of the issue.
Bill Moyers recently commented on the issue of McCarthyism and his reaction to being confronted by it in our time.  This is how he described it.
BILL MOYERS: You've heard us talk at times about George Orwell's classic novel 1984, and the amnesia that sets in when all of us flush events down the memory hole, leaving us at the mercy of only what we know today.

Sometimes though, the past comes back to haunt, like a ghost. It happened to me recently watching the news. You may have seen this:

REPRESENTATIVE ALLEN WEST: I believe there's about 78 to 81 members of the Democrat Party that are members of the Communist Party […]It's called the Congressional Progressive Caucus.

BILL MOYERS: That's Congressman Allen West of Florida, a Republican and Tea Party favorite. At a local gathering, he was asked how many of his fellow members of Congress are, quote, "card-carrying Marxists or International Socialists." Listen again to his reply:

REPRESENTATIVE ALLEN WEST: I believe there's about 78 to 81 members of the Democrat Party that are members of the Communist Party […] It's called the Congressional Progressive Caucus.

BILL MOYERS: Little of what Allan West says ever surprises me. He's called President Obama "a low-level socialist agitator," said anyone with an Obama bumper sticker on their car is "a threat to the gene pool," and told liberals like Harry Reid and Nancy Pelosi to "get the hell out of the United States of America." Apparently he gets his talking points from Fox News, Rush Limbaugh, or the discredited right-wing rocker, Ted Nugent.

But this time I shook my head in disbelief.  78 to 81 Democrats, members of the Communist Party? That's when the memory hole opened and a ghost slithered into the room.

The specter stood there, watching the screen, a snickering smile on its stubbled face. And I did a double take. Sure enough, it was the ghost of Senator Joseph McCarthy, the Wisconsin farm boy who grew up to become one of the most contemptible thugs in American politics.

Bill Moyers went on to give example after example of McCarthy and his antics during the 50's and wonder of wonders they sound exactly like not only Allen West but many in the Republican Party today.  When I listened to the entire broadcast(courtesy of Adlib) I was just shell shocked at how Mr. Moyers zeroed in on the exact problem.  I am still in awe of his comparisons especially because he probably had more exposure to the actual hearings than I ever could.

In fact he started his journalism career at sixteen as a cub reporter at the Marshall News Messenger in Marshall, Texas.  In college, he studied journalism at the North Texas State College in Denton, Texas and in 1954, then Senator Lyndon B Johnson, employed him as a summer intern and eventually promoted him to manage Johnson's personal mail. He eventually graduated with a Bachelor of Arts in Journalism so Moyer was right in the thick of thing during the McCarthy reign.  In his transcript of the show, he recaptured some of  McCarthy's statements and then commented on those statements or dialogues:

SENATOR JOSEPH McCARTHY: There is that small, closely-knit group of administration Democrats who are now the complete prisoners, and under the complete domination of the bureaucratic communistic Frankenstein which they themselves have created […] They shouldn't be called Democrats, they should be referred to properly as the Commiecrat Party.

BILL MOYERS: It was the early 1950's. The Cold War had begun and Americans were troubled by the Soviet Union's rise as an atomic superpower. Looking for a campaign issue, McCarthy seized on fear and ignorance, to announce his discovery of a conspiracy within: Communist subversives who had infiltrated the government.

SENATOR JOSEPH McCARTHY: I think we've got a much more serious situation now than Communist infiltration of the C.I.A. […] the question of Communist infiltration of atomic hydrogen bomb plants.

BILL MOYERS: In speech after speech, McCarthy would hold up a list of names of members of the Communist Party he said had burrowed their way into government agencies and colleges and universities. The number he claimed would vary from day to day and when pressed to make his list public, McCarthy would stall or claim he had accidentally thrown it away.

SENATOR JOHN McCLELLAN: Have we yet received the names, and I assume they're in the file, of the claimed 133 Communists that are ready for investigation? I've asked for them. Have I yet received them?

SENATOR JOSEPH McCARTHY: You'd know better than I, Senator.

BILL MOYERS: His failure to produce much proof to back his claims never gave him pause, as he employed lies and innuendo with swaggering bravado.

SENATOR JOSEPH McCARTHY: Now the hard fact is, the hard fact is that those who wear the label – those who wear the label Democrat wear it with the stain of a historic betrayal.

BILL MOYERS: McCarthy, wrote one historian, had "stumbled upon a brilliant, demagogic technique. Others deplored treachery. McCarthy would speak of traitors."

And so he did, in a fearsome, reckless crusade that terrorized Washington, destroyed lives, and made a shambles of due process.

SENATOR JOSEPH McCARTHY: Now, Mr. Chairman, do I have the floor or do I not?

SENATOR STUART SYMINGTON: Point of order.

SENATOR JOSEPH McCARTHY: Oh, be quiet. Mr. Chairman?

SENATOR STUART SYMINGTON: I haven't the slightest intention of being quiet, Senator McCarthy.

SENATOR JOSEPH McCARTHY: Mr. Chairman, do I have the floor?

SENATOR STUART SYMINGTON: The Counsel is running this committee and you're not running it.

SENATOR JOSEPH McCARTHY: Mr. Chairman, do I have the floor?

BILL MOYERS: Millions of Americans lapped it up, but in the end Joe McCarthy would be done in by the medium he had used so effectively to spread his poison: television. The legendary broadcaster Edward R. Murrow bravely exposed McCarthy's tactics on the CBS program, See It Now.

ANNOUNCER: On the week's news.

EDWARD R. MURROW: This is no time for men who oppose Senator McCarthy's methods to keep silent, or for those who approve. We can deny our heritage and our history but we cannot escape responsibility for the result. There is no way for a citizen of a republic to abdicate his responsibilities.

BILL MOYERS: Then for 36 days that spring, on live TV, during Senate hearings on McCarthy's charges questioning the loyalty of the Army, we saw the man raw. Exposed for the cowardly scoundrel he was. The climactic moment came as the Boston lawyer, Joseph Welch, defending the Army, reacted with outrage when McCarthy accused his young associate Fred Fisher of Communism.

JOSEPH WELCH: Let us not assassinate this lad further, Senator. You've done enough. Have you no sense of decency, sir, at long last? Have you no sense of decency left?

SENATOR JOSEPH McCARTHY: I know this hurts you, Mr. Welch.

JOSEPH WELCH: I'll say it hurts.

SENATOR JOSEPH McCARTHY: Mr. Chairman, as a point of personal privilege, I'd like to finish this.

JOSEPH WELCH: Senator, I think it hurts you, too, sir. If there is a God in heaven it will do neither you nor your cause any good. I will not discuss it further. I will not ask Mr. Cohn any more witnesses. You, Mr. Chairman, may if you will, call the next witness.

BILL MOYERS: McCarthy never recovered. His tactics had been opposed from the outset by a handful of courageous Republican Senators, and now they pressed their case with renewed vigor.
Then he went on in a general statement about it all:
I was working that summer on Capitol Hill during my college break, and finagled myself into the Senate chamber the very day one of them, Senator Ralph Flanders of Vermont, introduced a motion to censure Joseph McCarthy. When it eventually passed 67 to 22, McCarthy was finished. He soon disappeared from the front pages, and three years later, he was dead.

It all came back the other night, as Congressman West summoned those foul spirits from the vasty deep. The ghost stepped out of the past.

Like McCarthy, the more Allen West is challenged about his comments, the more he doubles down on them. Now he's blaming the "corrupt liberal media" for stirring the pot against him – a trick for which McCarthy taught the master class. And the Congressman's latest fusillades continue to distort the beliefs and policies of those he smears – no surprise there, either.

And to help him continue his fight for the "heart and soul" of America he's asking his supporters for a contribution of ten dollars or more. There could even be a super PAC in this – with McCarthy's ghost as its honorary chairman.

Plenty of kindred spirits are out there to sign on. Like the author of the book The Grand Jihad who wrote that whether the president is Christian or not, "the faith to which Obama actually clings is neocommunism."

Or the blogger who claims Obama is running the country into the ground "by way of the same type of race-baiting and class warfare Communism cannot exist without." She goes on to say his policies are "unbecoming to an American president."

From there it's only a short hop to the column that popped up on the rightwing website Newsmax, hinting of a possible coup "as a last resort to resolve the 'Obama problem.'" Military intervention, the author wrote, is what Obama's "agenda for 'fundamental change' toward a Marxist state is inviting upon America." The column was quickly withdrawn but not before the website TalkingPointsMemo.com exposed it.

So beware, Congressman West, beware: in the inflammable pool of toxic paranoia that passes these days as patriotism in America, a single careless match can light an inferno.

With all due respect, you would serve your country well to withdraw your remarks and apologize for them. But if not, perhaps there are members of your own party, as possessed of conscience and courage as that handful of Republicans who took on Joseph McCarthy, who will now abandon fear and throw cold water on your incendiary remarks.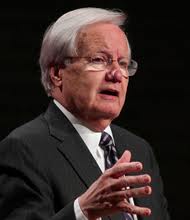 Bravo Mr. Moyers, as is the norm with you, you have spoken for doing the right thing.  The only  issue, Sir, is you may wait a long time for any Republican to respond or do the right thing.  You see the Republican party is not the Grand Old Party of yesteryear.  They have boxed themselves in to such a narrow ideology that they most likely cannot see their way out.  They have grasped at straw after straw to bring our President down and he has endured each attack with incredible patience and calmness, never once showing them the same disrespect.  I don't know what is going to happen in this election year.  I can only hope the American people open their eyes and listen really listen to what is going on around them.  For only by paying attention are we all going to save our country.  We cannot go on for another four years with a party who cares so little for the American people they spend all their time trying to take our President down.